The appointment letters of John Durancé George, Dental Surgeon
Writer: Earl of Morley
Date: 20th March 1848
Address: Kent House
Lord Morley presents his
compliments to Mr. George
and would be obliged by
an appointment on any
day except Friday, which
may suit Mr George's
convenience.

Kent House
March 20
1848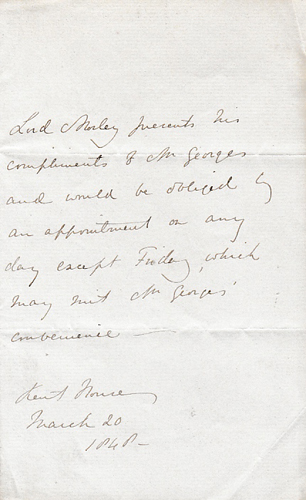 Notes:
Edmund Parker, 2nd Earl of Morley (10 June 1810 – 28 August 1864), known as Viscount Boringdon from 1815 to 1840, was a British peer and Whig politician.

Morley was the son of John Parker, 1st Earl of Morley, and his second wife Frances Talbot, and was educated at Christ Church, Oxford. In 1840 he succeeded his father as second Earl of Morley and took his seat on the Whig benches in the House of Lords. From 1846 to 1852 he served as a Lord-in-Waiting (government whip in the House of Lords) in the Whig administration of Lord John Russell. Morley was also a Deputy Lieutenant of Devon and a Lord of the Bedchamber to Prince Albert.

Lord Morley married his second cousin Harriet Sophia, daughter of Montagu Edmund Parker, in 1842. He died in August 1864, aged 54, and was succeeded in his titles by his son Albert, who became a prominent Liberal politician. Lady Morley died in 1897.