The appointment letters of John Durancé George, Dental Surgeon
Writer: Duke of Montrose
Date: Sunday 20th October 1850
Address:


The Duke of Montrose presents
his Compliments
to Mr. George & will call
upon him tomorrow soon
after three o'clock & hopes
he will see him for
a short time.

Sunday Oct. 20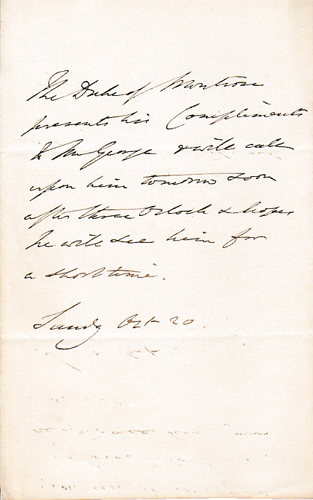 Notes:


James Graham, 4th Duke of Montrose, KT, PC (16 July 1799 – 30 December 1874) was a British politician. He was the only son of his father's second marriage (to Caroline Marie Montagu, the daughter of the Duke of Manchester). He married Caroline Agnes Beresford, the daughter of Lord Decies.

During the mid-nineteenth century he occupied minor positions outside the cabinet in the short-lived governments of Lord Derby. He and his wife had one son, Douglas, who succeeded his father to the dukedom on the latter's death in 1874.