The appointment letters of John Durancé George, Dental Surgeon
Writer: Miss Arnold, on behalf of the Dowager Queen Adelaide
Date: 31st November 1848
Address: The Priory
Miss Arnold presents her
compliments to Mr. George
but will feel obliged
by his early acknowledgement
of the enclosed from
Her Majesty,
the Queen Adelaide.

The Priory,
Nov. 31st 1848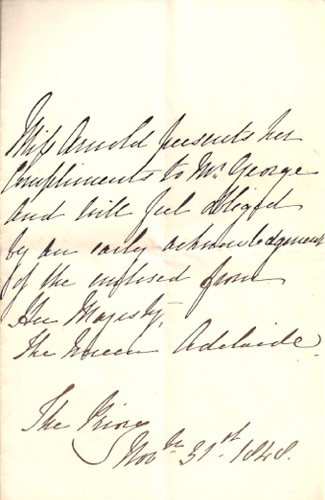 Notes:
Miss Arnold was a Lady-in-Waiting to Queen Adelaide. At the Queen's funeral, she was described as a 'Dresser to her late Majesty'

Queen Adelaide had been the consort of William IV, and was known as the Queen Dowager after his death and the accession of Queen Victoria on 20th June 1837.

The Priory was Bentley Priory at Stanmore, Middlesex – later to be HQ of RAF Fighter Command during WW2 – which Dowager Queen Adelaide had rented in 1846, and into which she had moved in 1848. By this time she was quite ill from dropsy (i.e. fluid retention), and on her arrival apparently found the stairs too much to cope with. A suite of rooms was prepared for her on the ground floor and it was in these rooms that she would receive Queen Victoria, her niece, and Prince Albert during their visits. She died at Bentley on 2nd December 1849 at the age of 57.

Queen Adelaide's sister was Ida, Duchess of Saxe Weimar, also a patient of John Durancé George.