The appointment letters of John Durancé George, Dental Surgeon
Writer: Duchess of Montrose
Date:
Address:


The Duchess of Montrose
presents her Compts to
Mr George & begs to know if
he can receive her tomorrow
at ¼ before the 6 o'clock
Thursday 31st Jany
1848
Belg. Sq.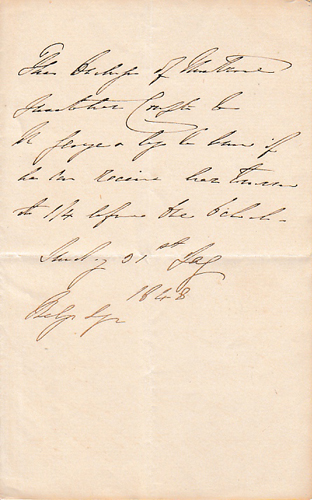 Notes:
The Duchess of Montrose was born Caroline Agnes Beresford, the daughter of Lord Decies.

James Graham, 4th Duke of Montrose, KT, PC (16 July 1799 – 30 December 1874) was a British politician. He was the only son of his father's second marriage (to Caroline Marie Montagu, the daughter of the Duke of Manchester). During the mid-nineteenth century he occupied minor positions outside the cabinet in the short-lived governments of Lord Derby. He and his wife had one son, Douglas, who succeeded his father to the dukedom on the latter's death in 1874.