The appointment letters of John Durancé George, Dental Surgeon
Writer: Lord Robert Montagu
Date: -
Address: 48 Albemarle Street
48 Albemarle St.

Dear Mr George
Could you give me
a quarter of an hour some
time before tomorrow
afternoon, as I have split
one of my teeth so that
the stuffing came out?
I remain
Yours Truly
Robt Montagu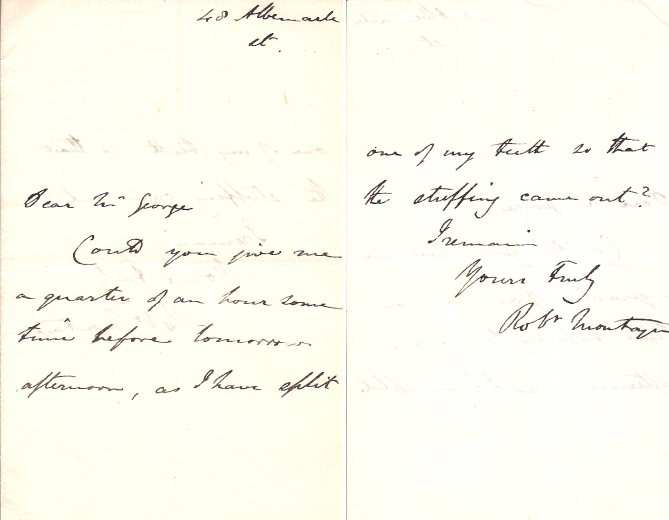 Notes:
Lord Robert Montagu (1825 – 1902), was a Conservative Party politician. He was the second son of the 6th Duke of Manchester and Millicent, née Sparrow (see here under Duchess of Manchester). He was educated at Trinity College, Cambridge, and graduated in 1848.

He was the Conservative MP for Huntingdonshire from May 1859, and for Westmeath from February 1874 until he retired in 1880. He favoured protectionist policies.

He died in 1902 at 91 Queens Gate, South Kensington, London and is buried in Kensal Green Cemetery.