The appointment letters of John Durancé George, Dental Surgeon
Writer: Lady Morton
Date: Monday, 7th February 1848
Address: Wicken Park



Lady Morton presents her Compliments
to Mr. George and would be much
obliged to hearing he could see her on
Wednesday next the 9th of Feb'y in the
morning, as she is anxious to see him
without loss of time as she is only
intending to pass thro' London. Lady
Morton would beg Mr. George to have
the goodness to write to her at 7 Old
Palace Yard, London, where she hopes to
be tomorrow to tell her at which time on
Wednesday would be most convenient to
see her.

Wicken Park

Feby 7th Monday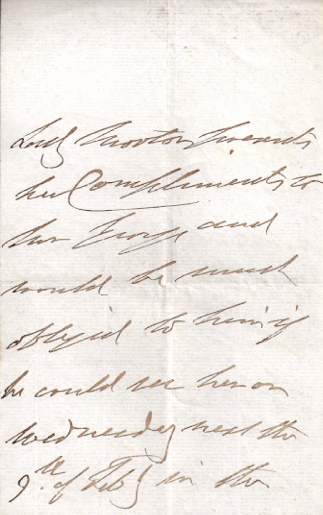 Notes:
Frances Theodora, daughter of Sir George Henry Rose, married George Sholto Douglas, 17th Earl of Morton, in 1817. Their second son the Hon. George Henry Douglas became an Admiral in the Royal Navy. On Lord Morton's death in March 1858, their eldest son Sholto succeeded to the earldom. Lady Morton died in 1879.

Wicken Park (which lies just to the west of modern Milton Keynes) was formerly one of the lodges of the Whittlewood Forest, was sold in 1716 to Charles Hosier who enlarged it. The house came into the Prowse family through marriage. Their descendants lived there until 1860 when it was sold to Colonel the Hon. George Sholto Douglas-Pennent, later Baron Penrhyn, who enlarged the house and restored and enlarged the Church. The Penrhyn family lived at Wicken Park until 1944 when the estate was sold.

Wicken Park would probably have been well known to Sholto Douglas, if his mother was staying there in 1848.