The appointment letters of John Durancé George, Dental Surgeon
Writer: Charles Dickens
Dates: 3rd February 1848; 18th February 1848
Address: Devonshire Terrace



Devonshire Terrace
Thursday Third February 1848
Dear Sir
I am much obliged to you
for your communication, and
hope to have the satisfaction of
joining the meeting at your house
tomorrow evening.
Dear Sir
Faithfully Yours
Charles Dickens
Durancé George Esquire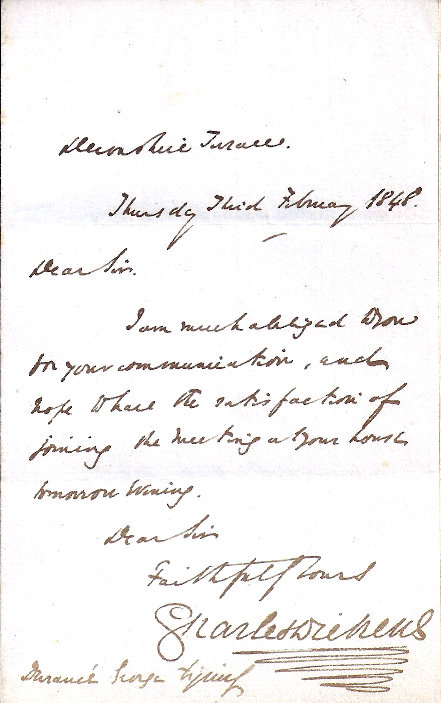 Devonshire Terrace
Friday Night Eighteenth February
1848
My Dear Sir
I need not say that I am
very much indebted to you for
your kind note, and that your
small patient will attend on
Monday.
Faithfully Yours always
Charles Dickens
Durancé George Esquire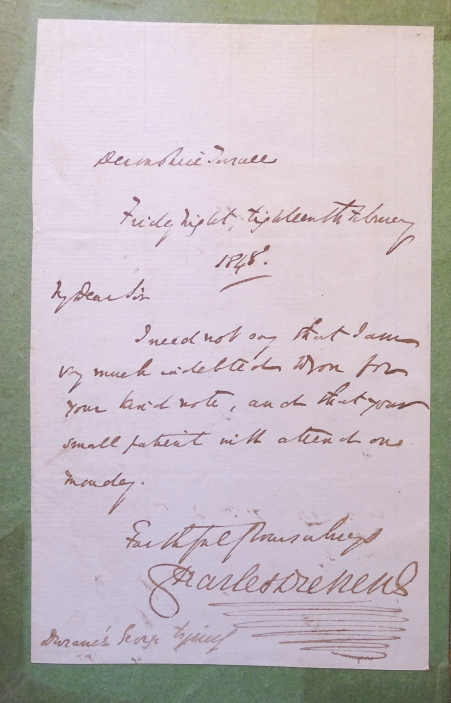 Notes:
Durancé George was a member of a busy cultural circle. The first letter indicates a soirée to be held at Durancé's Old Burlington Street home.

The second letter, written a fortnight later, confirms that one of Dickens's children needs some dental attention. The letter is pasted into the front cover of a 1st edition of Pickwick Papers, published in 1837, and with illustrations by Richard Seymour and by Hablot Knight Browne ('Phiz'), and two by Robert William Buss.

Dickens lived at 1, Devonshire Terrace from 1839 to 1851. Five of Dickens's children were born there. The house, located on the Marylebone Road opposite the York Gate entrance to Regent's Park, was demolished in 1960 and replaced with an office block.

In 1853 Samuel Cartwright (the younger), Durance George's cousin, became Dickens's dentist.