The appointment letters of John Durancé George, Dental Surgeon
Writer: Lord Crofton
Date: July 26th 1848
Address: East Cowes, Isle of Wight
East Cowes,
Isle of Wight

Dear Sir,
Lady Harriet Paget,
my connection and neighbour,
is anxious to consult you
for her daughter, on Saturday
next – she has therefore
requested me to write &
ask you whether half
past two o'clock on that
day would suit you to see her.
If you are engaged at the
time named will you kindly
state some other hour, after
two o'clock, as she will not
be in town sooner.

Miss Paget has lately
recovered from a severe
illness, the consequence of
which is the loss of her front
teeth. I think it more
than probable she will not
be prepared to have anything
done at present,
but Lady Harriet is
desired of knowing the
best course eventually to
take, therefore as her present
visit will be one of
consultation perhaps should
your uncle be in town
he will also give her
the advantage of his
long experience – but
I am sure she cannot
be in better hands
than your own.
Let me have one line
addressed as above,
Believe me to remain,
Yours truly
Crofton
July 26th / 48
JD George Esqr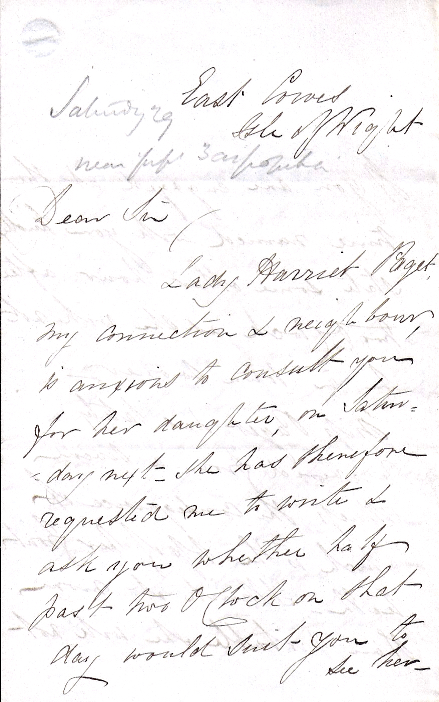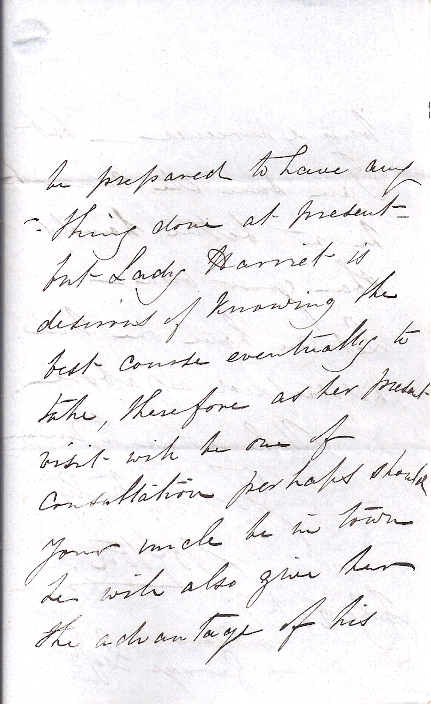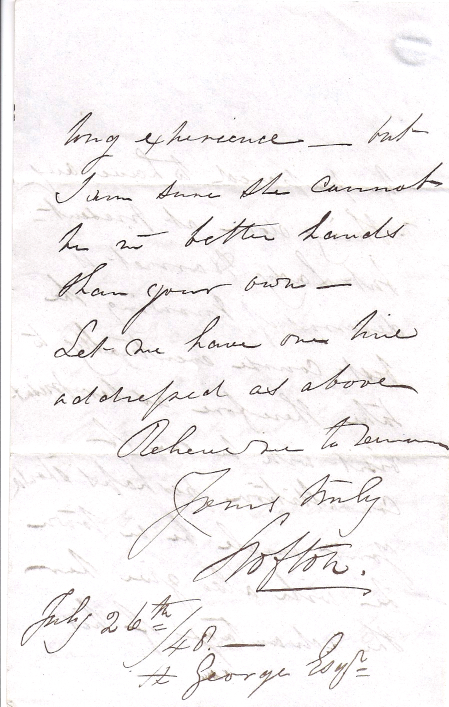 Notes:
Edward Crofton, 2nd Baron Crofton (1806 – 1869), was an Anglo-Irish Conservative politician.

Crofton was elected an Irish Representative Peer in 1840, and served in the Conservative administrations of the Earl of Derby and Benjamin Disraeli as a Lord-in-Waiting (government whip in the House of Lords) in 1852, from 1858 to 1859 and from 1866 to 1868.

Lord Crofton married Lady Georgina, daughter of Henry Paget, 1st Marquess of Anglesey, in 1833. He died in December 1869, aged 63.

Lady Harriet Paget had been born Harriet Legge, daughter of George Legge, the 3rd Earl of Dartmouth, K.G. She married Edward Paget in 1815, and produced ten children (two of whom died in infancy), including six daughters. Which daughter had unfortunately lost her front teeth is unknown.