The appointment letters of John Durancé George, Dental Surgeon
Writer: Lady Cowley
Date: 29th July 1848
Address: 107 Park Street, Grosvenor Square

107 Park St.
Grosvenor Square
Saturday 29th July

Lady Cowley presents her
Comps to Mr. George, & wd be
very much obliged to him
if he would receive her
at 10 o'clock on Monday
morning; she leaves Towns
at 12 so hopes Mr. George
will be able to oblige
her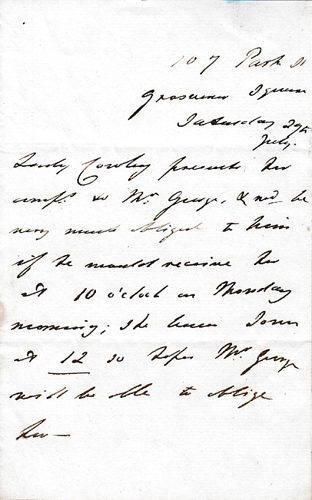 Notes:
Lady Cowley was born The Hon. Olivia Cecilia FitzGerald (d. 1885) daughter of Lord Henry FitzGerald (fourth son of the 1st Duke of Leinster) and the 20th Baroness de Ros, and in 1833 she married Henry Wellesley by whom she had three sons and two daughters.

Henry Richard Charles Wellesley, 1st Earl Cowley KG GCB PC (17 June 1804-15 July 1884), was a British diplomat. He was the eldest son of the 1st Baron Cowley (1773-1847), and the former Lady Charlotte Cadogan, daughter of the 1st Earl Cadogan, and was consequently a nephew of the 1st Duke of Wellington. Wellesley followed a career as a diplomat.

July 29th was on a Saturday in 1843 and 1848. I have assumed the latter date to be that of the letter.