The appointment letters of John Durancé George, Dental Surgeon
Writer: Lady Willoughby de Eresby
Date: Wednesday
Address: 142 Piccadilly
142 Piccadilly
Wednesday


Ly Willoughby de Eresby presents
her Compliments to Mr. George
& requests to know when he
can receive her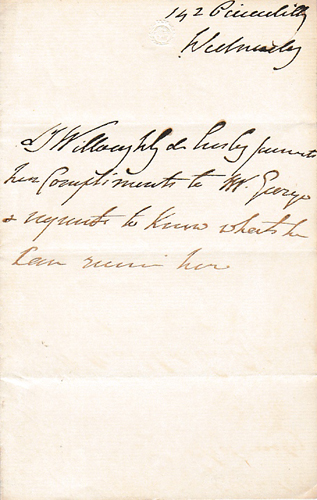 Notes:
Lady Willoughby de Eresby was Sarah Clementina née Drummond, daughter of James Drummond, 11th Earl of Perth and Clementina Elphinstone.

Her husband was Peter Robert Drummond-Burrell, 22nd Baron Willoughby de Eresby, 2nd Baron Gwydyr. He was the son of Peter Burrell, 1st Baron Gwydyr (died 1820) and Priscilla Bertie, 21st Baroness Willoughby de Eresby (died 1828). From 1812 until 1820, he was MP for Boston in Lincolnshire. On 29 June 1820, he succeeded his father as 2nd Baron Gwydyr, 3rd Baronet Burrell of Knipp and Deputy Lord Great Chamberlain. And on 29 December 1828, he succeeded his mother as 22nd Baron Willoughby de Eresby and Joint Hereditary Lord Great Chamberlain.

Sarah Clementina married Willoughby de Eresby on 19 October 1807. They had three children:
Clementina Drummond-Willoughby, 24th Baroness Willoughby de Eresby (1809–1882) — had issue;
Charlotte Augusta Annabella Drummond-Willoughby (1815–1879), who married the 2nd Baron Carrington;
Albyric Drummond-Willoughby, 23rd Baron Willoughby de Eresby (1821–1870).
Sarah Clementina died on 26 January 1865. Her husband died just a month later.