The appointment letters of John Durancé George, Dental Surgeon
Writer: Duke of Wellington
Date: 29th September 1841; et al.
Address: London
London Sept 29th 1841
The Duke of Wellington requests
that if not inconvenient to
him Mr. George will be so kind
as to call when he's in Picca-
dilly this afternoon at ½ past
six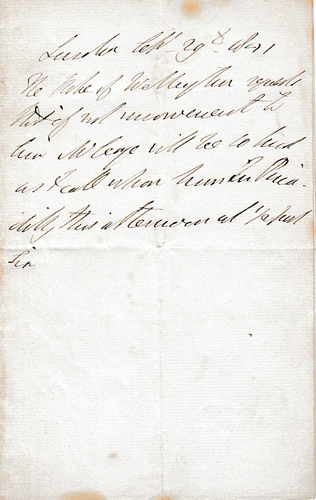 London August 9th 1845
Dear Sir, If I'm free Must will be
in town, I am afraid that
it will be necessary that I must
see you again for a moment.
I will call this afternoon
after the Prorogation of Parl-
[iament]. But I am afraid that I shall
scarcely be able to leave the
House till after half past three
o'clock. Ever yours most faithfully
Wellington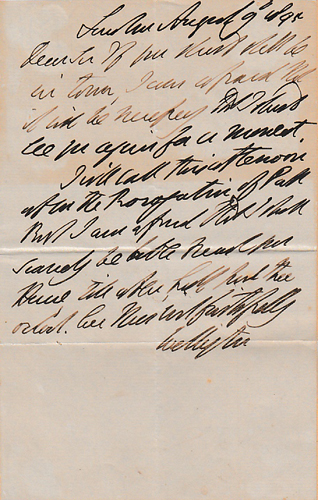 London July 15
Dear Sir
I send you the inclosed;
and will wait upon you
shortly after ten o'clock
tomorrow.
Ever Yours most faithfully,
Wellington

S. Cartwright Esq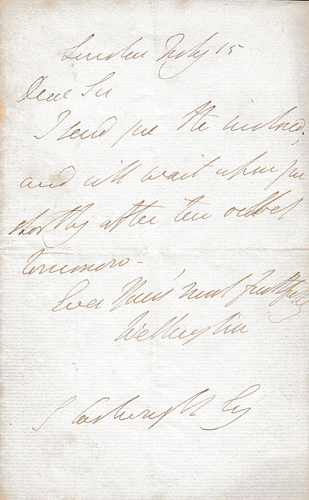 London June 26 1848
Dear Sir, I shall be very much
obliged if you will have the
necessary repair given to the sett
included in the accompanying
packet. Yours most faithfully, Wellington
I dare to ask to have it back as soon
as may be convenient, as it is
the most convenient of the two!

S. Cartwright
Old Burlington Street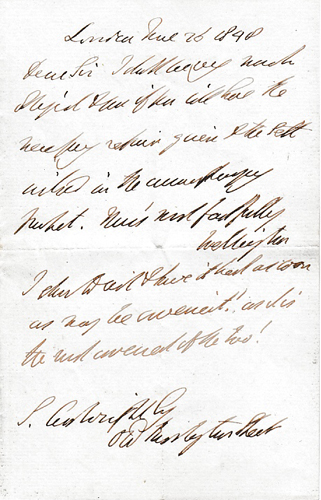 Notes:
The Duke of Wellington.... 1769-1852. I hope that someone else wrote down his orders - his handwriting is abysmal!