The appointment letters of John Durancé George, Dental Surgeon
Writer: Sir Edward Brackenbury
Date: 13th August 1848
Address: Skendleby House, Spilsby
Skendleby House, Spilsby
13 Augt 1848
Dear Sir,

I was suddenly called from
Town which prevented me
from seeing you as I had intended.
I hope to be in London on
Tuesday next or Wednesday
and I will write you a line
requesting you will fix your
own time for seeing me when
I shall not be in such a
hurry.
I am Dear Sir
Yours faithfully
E. Brackenbury
J.D.George Esqe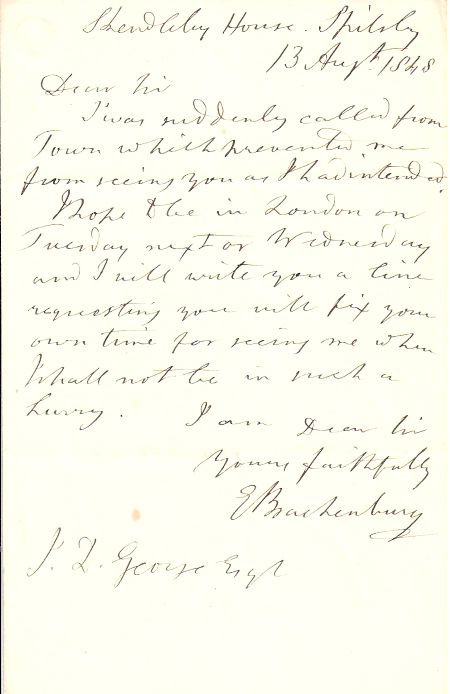 Notes:
Lieutenant-Colonel Sir Edward Brackenbury (1785 – 8 June 1864) was a distinguished British Army officer.

Brackenbury, a direct descendant from Sir Robert Brackenbury, lieutenant of the Tower of London in the time of Richard III, was second son of Richard Brackenbury, of Aswardby, Lincolnshire, by his wife Janetta, daughter of George Gunn of Edinburgh.

Brackenbury, who was knighted by the king at Windsor Castle on 26 August 1836, was a magistrate and Deputy Lieutenant for Lincolnshire. He was promoted Lieutenant-Colonel in the Army on 10 January 1837 while serving in the 33rd Foot, and purchased a Majority in the 69th Foot in 1846. The following year he sold his commission.

Brackenbury died at Skendleby Hall, Skendleby, Lincolnshire, in June 1864.