Dear Sir
May I hope that
you will not be
offended by my
asking you to accept
the accompanied little
trifle as a remembrance
of you. Than[k]fully
and sincerely
Jenny Lind

Clairville, 15th of May, 1849



We're lucky to have a draft of Durance's reply:
Dear Miss Lind,

I am much obliged by your kind recollection of me and assure you I value very highly the beautiful present you have sent me. You must be almost wearied with receiving thanks from every body.

I was sorry not to be able to take a public farewell of you but ever since I had last the pleasure of seeing you I have been in the doctors' hands and such a thing was strictly forbidden.

You must allow me to take this opportunity of pressing my most sincere wishes that the retirement which every one else regrets may be attended with happiness to yourself still [..]earing through a long life, which must ever be brightened with the thought that you have used your glorious talents in affording the pleasures of the fortunate and in lessing the sorrows of the miserable.

Believe me dear Miss Lind

Yours very sincerely

Durancé George

Old Burlington Street
May 16th 1849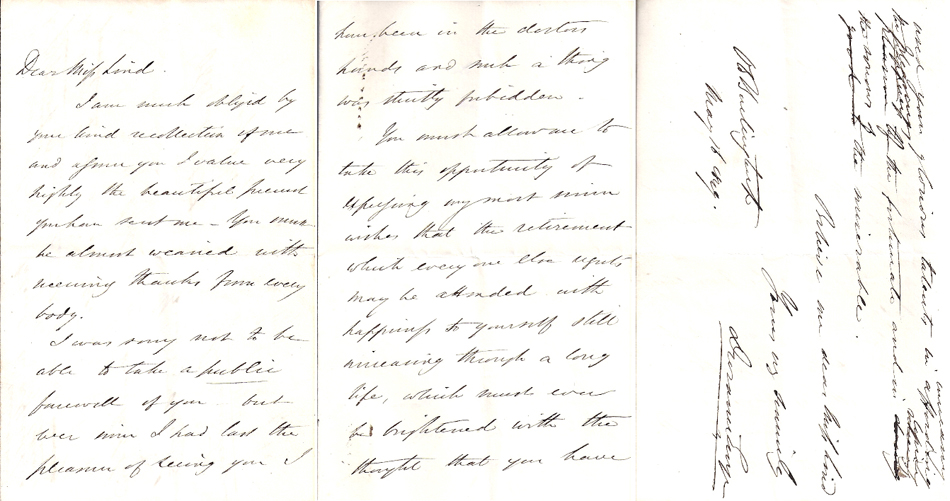 Notes:
Johanna Maria Lind (1820 – 1887), better known as Jenny Lind, was a Swedish opera singer, often known as the "Swedish Nightingale". One of the most highly regarded singers of the 19th century, she performed in soprano roles in opera in Sweden and across Europe. She was a member of the Royal Swedish Academy of Music from 1840.

Lind became famous after her performance in Der Freischütz in Sweden in 1838. Within a few years, she had suffered vocal damage, but the singing teacher Manuel García saved her voice. She was in great demand in opera roles throughout Sweden and northern Europe during the 1840s, and was closely associated with Felix Mendelssohn. After two acclaimed seasons in London, she announced her retirement from opera at the age of 29, her last opera performance being on 10th May 1849. Lind's letter is written just five days later, and this is the 'retirement' to which Durancé George refers.

In 1850, Lind went to America at the invitation of the showman P. T. Barnum. She gave 93 large-scale concerts for him and then continued to tour under her own management. She earned more than $350,000 from these concerts, donating the proceeds to charities, principally the endowment of free schools in Sweden. With her new husband, Otto Goldschmidt, she returned to Europe in 1852 where she had three children and gave occasional concerts over the next two decades, settling in England in 1855. From 1882, for some years, she was a professor of singing at the Royal College of Music in London.