The appointment letters of John Durancé George, Dental Surgeon
Writer: Duke and Duchess of Leeds
Date: July 21
Address: Clarendon Hotel
Clarendon Hotel
July 21

The Duke of Leeds would
be obliged to Mr. Cartwright
to say if any day or what day
next week he could spare
him a few minutes to call &
have his teeth looked at
between 10 and 12 or 2 and
3 would be most convenient

Cartwright Esqe
Dentist Burlington Street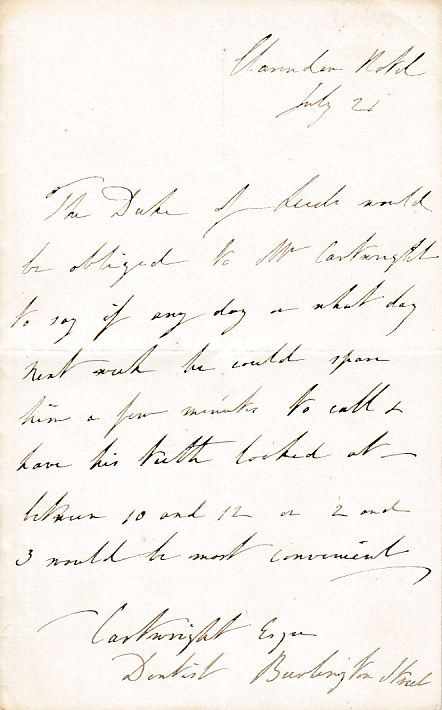 Clarendon
Monday

The Duchess of Leeds
and Miss Lane Fox
will be with Mr.
George tomorrow
between 12 and
one o'clock

Monday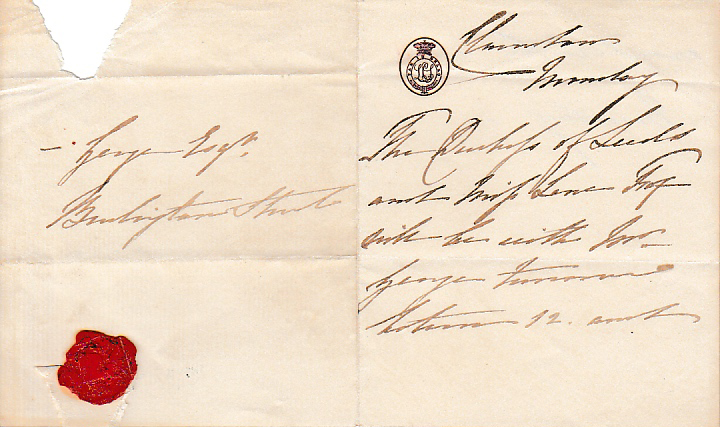 Notes:
Francis George Godolphin D'Arcy D'Arcy-Osborne, 7th Duke of Leeds (1798 – 1859) was a peer and politician. He was styled Earl of Danby from birth until 1799 and Marquess of Carmarthen from 1799 until 1838.

Osborne was the son of George Osborne, 6th Duke of Leeds and his wife, Charlotte, a daughter of George Townshend, 1st Marquess Townshend. As Marquess of Carmarthen, he held the parliamentary seat of Helston from 1820-30 and on 2 July 1838, was summoned to the House of Lords in his father's barony of Osborne. A few weeks later, he inherited his father's dukedom and added the name of D'Arcy to his surname by Royal Licence in 1849.

On 24 April 1828, the duke had married Louisa Hervey-Bathurst (the widow of Sir Felton Hervey-Bathurst, 1st Baronet and third daughter and co-heiress of Richard Caton of Maryland). The couple had no children and on his death in 1859, his titles passed to other members of his family: the dukedom of Leeds to his cousin, The Lord Godolphin and the baronies of Darcy de Knayth and Conyers and the Portuguese countship of Mértola to his nephew, Sackville Lane-Fox.

The Miss Lane Fox in the Duchess's letter would have been either Elizabeth or Lora, twins aged 15 in 1848 and nieces of the Duke and Duchess.

The Clarendon Hotel was in New Bond Street.