The appointment letters of John Durancé George, Dental Surgeon
Writer: Charles Fox
Date: 5th May 1848
Address: Hill Street



My dear Mr George,
Mademoiselle Delville
who is staying with Lady
Cleary wishes very much
to have an early if possible.
Will you see her?
She is a Par-
isienne & would be
interested to hear how
her City looks.
Yours very truly
CR Fox
Hill St
5 May Wy 48
I saw Cartwright at the R. Scy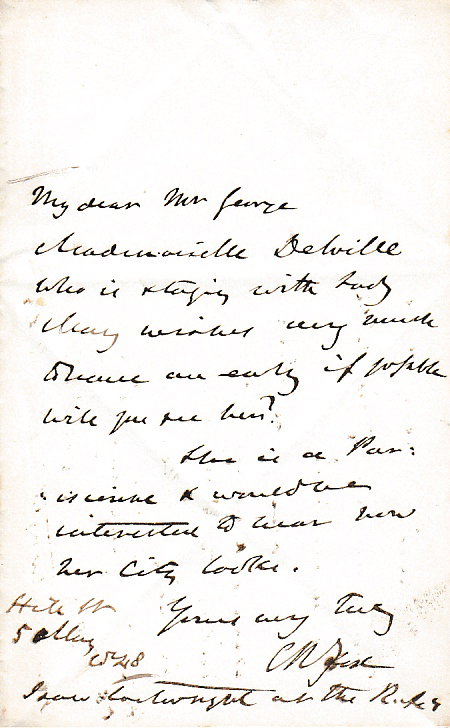 Notes:
This is probably Charles, later Sir Charles, Fox who became one of the most eminent engineers of the Victorian era.

He was born at Derby in 1810, the son of a prominent doctor. While articled to his brother, Douglas, a surgeon, he prepared a great deal of apparatus for his brother's lectures at the Mechanics' Institution, and gradually his interest in matters mechanical overtook his interest in medicine. After a pupilage under a Captain Ericsson, during which he experimented on rotary engines, he obtained a post as an Assistant Engineer on the London and Birmingham railway, then being built. With his partner, John Henderson, he built the Crystal Palace for the Exhibition of 1851 in Hyde Park. For his connection with this work, Charles Fox, together with William Cubitt and Joseph Paxton, received knighthoods. Subsequently, he was employed to remove the building from Hyde Park, and to re-erect it, with many alterations and additions, at Sydenham, for the Crystal Palace Company. He also carried out during this period the East Kent, the Cork and Bandon, the Thames and Medway, the Portadown and Dungannon, the Lyons and Geneva (eastern section), the Macon and Geneva (eastern section), the Wiesbaden, the Zealand (Denmark), and other railways. Amongst many large bridges, he executed those over the Medway at Rochester, over the Thames at Barnes, Richmond, and Staines, over the Shannon, over the Saone, and over the Newark Dyke. The roofs of the Paddington, Waterloo, and Birmingham (New Street) stations, and also slip-roofs for several of the Royal dockyards were carried out by him. He also had a considerable share in the construction of the Berlin Waterworks.

He was later Engineer to the comprehensive scheme of high-level lines at Battersea for many English railways, together with the approach to Victoria station, and the widening of the Victoria railway bridge over the Thames; and railways in Australia, Canada and South Africa.

He died, after an accident, on the 14th of June, 1874, at the age of sixty-four. He was a Member of various scientific societies.