The appointment letters of John Durancé George, Dental Surgeon
Writer: Earl of Gainsborough
Date: Thursday
Address: Cook Square


[ ] Square
Thursday

My dear Sir
I am sorry
that maldisposition
will prevent
my waiting upon
you to morrow
according to your
kind appointment
but I hope it may
not be inconvenient
to you to see me
either Wednesday
or Thursday in
next week, or
even Tuesday
should it suit you
better.

I am vexed to be
so troublesome and
am, My dear Sir Truly yours
Gainsborough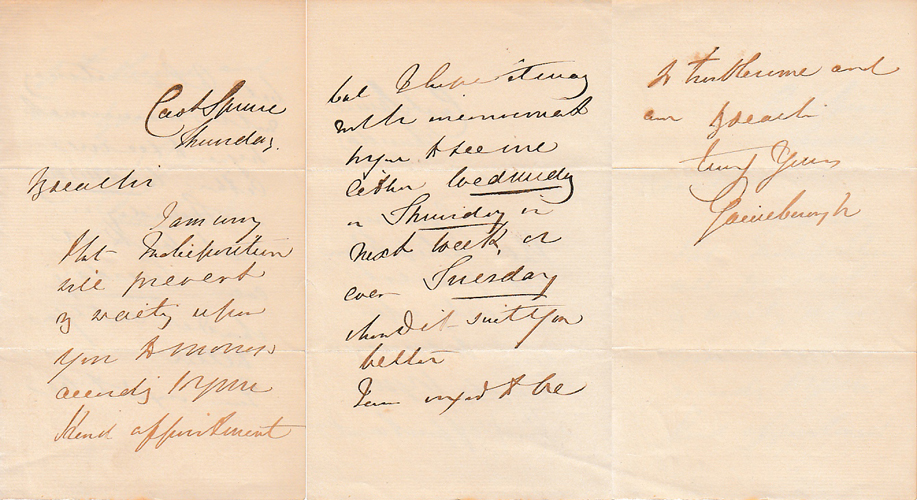 Notes:
Can someone read that address? I can't.

Sir Charles Noel, 1st Earl of Gainsborough was born on 2 October 1781. He was the son of Sir Gerard Noel Noel, 2nd Bt. and Diana Middleton, Baroness Barham. He married four times:
Elizabeth Welman in July 1809.
Elizabeth Grey, daughter of Hon. Sir George Grey, 1st Bt. and Mary Whitbread, on 13 May 1817.
Arabella Williams, daughter of Sir James Williams, 2nd Bt., on 29 June 1820.
Frances Jocelyn, daughter of Sir Robert Jocelyn, 3rd Earl of Roden and Hon. Maria Frances Catherine Stapleton, on 25 July 1833.
He died on 10 June 1866 at age 84.