The appointment letters of John Durancé George, Dental Surgeon
Writer: Lord Forester
Date: 11 Feb 1849; 10 July 1849
Address: Various
Belvoir Castle
Sunday Feby 11th

Dear Sir,
I shall be in London on
Tuesday the 13th. Can you see
me at 12 o'clock or a little
before on Tuesday morning.
Perhaps you will send me
a line at 21 Charles St., Berkeley Sq.
yours truly
J Forester



Dear Sir, Could you make it convenient to see me some time today between 12 and 5 o'clock? I remain yours truly
J Forester
21 Charles St.
Monday 10th July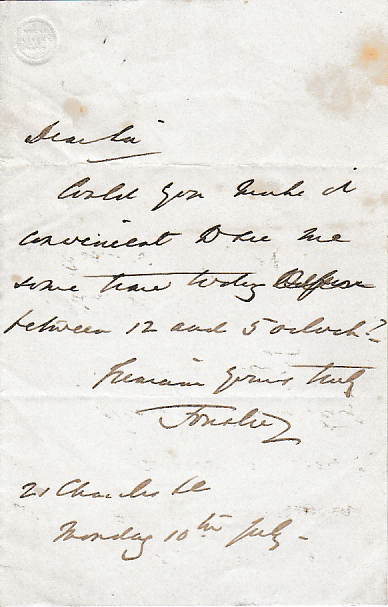 Notes:
John George Weld Weld-Forester, 2nd Baron Forester PC (9 August 1801-10 October 1874), was a Tory politician.

Forester was the eldest son of the 1st Baron Forester, and Lady Katherine Mary Manners, daughter of the Duke of Rutland. Elected as MP for Wenlock 1826 - 1828, when he succeeded his father as 2nd Baron Forester and entered the House of Lords. In 1841 he was appointed Captain of the Honourable Corps of Gentlemen-at-Arms (i.e. government chief whip in the House of Lords) in the Tory administration of Sir Robert Peel, which he remained until the government fell in 1846. He was admitted to the Privy Council in 1841.

Lord Forester died in October 1874, aged 73. He never married and was succeeded in the barony by his younger brother George Cecil Weld-Forester, who was also a Tory politician.