The appointment letters of John Durancé George, Dental Surgeon
Writer: Lord Elphinstone
Date: July 21st, 1848
Address: 14, St. George's Place



Lord Elphinstone presents
his compliments to Mr. George
& would be obliged to him
if he would appoint an hour
when he could receive Lord
Elphinstone tomorrow. Ld E
would not detain Mr George
many minutes.

14 St George's Place

July 21st 1848.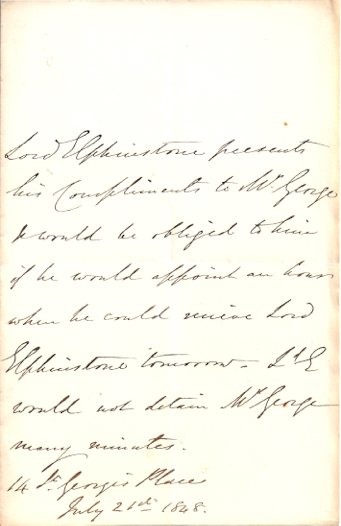 Notes:
John Elphinstone, the 13th Lord Elphinstone and 1st Baron Elphinstone G.C.B. G.C.H. P.C. (23.06.1808 - 19.07.1860) was twice elected to Parliament as a Scottish Representative peer, serving once from January 1833 to December 1834, and then again from September 1847 to April 1859. His political career also included the governorships of Madras (March 1837 - Sept. 1842), and of Bombay (Dec. 1853 - April 1860), which period included the Mutiny (May 1857 to July 1859).