The appointment letters of John Durancé George, Dental Surgeon
Writer: Lady Georgina Fane
Date: Wednesday
Address: 5, Upper Brook Street



Lady Georgina Fane regrets
very much that it is
impossible for her to call
on Mr. George at ½ past 4.
She will tomorrow about
4 if that time sd suit
him.

5 U. Brook Stt

Wednesday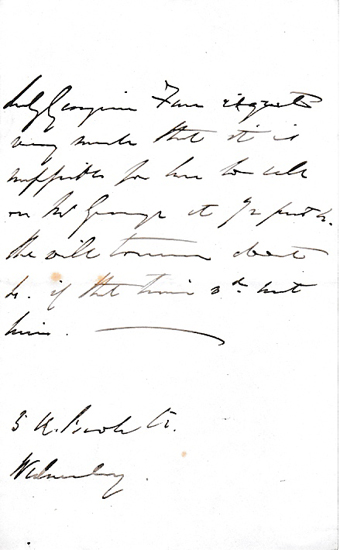 Notes:
Lady Cicely Jane Georgina Fane (1801-1875) was the daughter of the Earl of Westmorland and his second wife, Jane Saunders. Lady Georgina never married.

1851: CHARLES GREVILLE writes in his diary: "The only thing worth recording is a matter regarding the Duke of Wellington. He has got himself (at eighty-two years of age) into, if not a scrape, an embarrassment with Lady Georgina Fane. Who is half cracked. It seems that he has for some years carried on a correspondence, writing her what might be called love letters, and woefully committing himself.

"He has now broken with her, and she persecutes him to death. He will not see her, or have anything to do with her. She tries to get at him, which she can only do as he comes out of church at St James's and she made a scene there not long ago. She says all she wants is that he should behave kindly to her, which is just what he will not do. Meanwhile she has placed his letters in the hands of her solicitor, Mr Frere (an outrageous thing)."