The appointment letters of John Durancé George, Dental Surgeon
Writer: Earl of Ellenborough
Date: 28th March
Address: 42 Eaton Place

42 Eaton Place
March 28

Dear Sir,
I wish to send a
very young lady who
is under my charge
to have her teeth
looked at some
Wednesday or Saturday
about 3 o'clock.
Would you have the
goodness to inform
me on what day you
could see her at
that hour?

I shall send a maid
servant with her.

Yours faithfully,

Ellenborough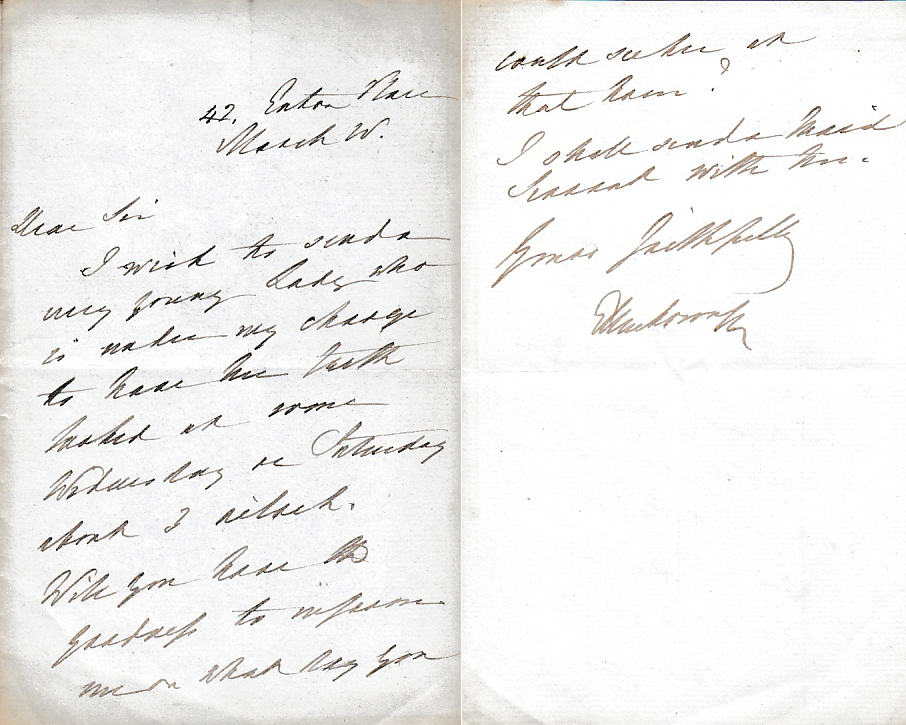 Notes:
Edward Law, 1st and last Earl of Ellenborough, was born on 8 September 1790, the son of Edward Law, 1st Baron Ellenborough and Anne Towry. Although married twice, he had no children who survived infancy. He succeeded to the title of 2nd Baron Ellenborough in 1818.

He was four times President of the Board of Control (responsible for overseeing the British East India Company and generally serving as the chief official in London responsible for Indian affairs), and also served as Governor-General of India between 1842 and 1844.

He was made a Knight Grand Cross, Order of the Bath (G.C.B.) in 1844, and created 1st Earl of Ellenborough, co. Cumberland [U.K.] on 22 October 1844.

He died on 22 December 1871 at age 81.