Assorted George Letters
Writer: Edward Nightingale
Date: 1st October 1838
Recipient: Josiah George

Embley. Saturday Morg

Dear Sir
I enclose a letter just received
from Col. A Court – which I shall be obliged
to you to let my servant have tomorrow
morning when he calls at Post-time.
You will I think perceive the
necessity of requiring a return of those
inmates of "House" who may be
called deserving as distinguished from
those who have no pretension to any
other character than that of recklessness or
profligacy, & if the board at Rumsey
explain of the difficulty of making the
separation of "the Clean" from "the unclean".
I shall venture to observe that
inasmuch as they wish to make a
Poor House a House of Joy for one
class of the Community it is absolutely
necessary that they should avoid ma-
king it so for another.
I happen to have in very comfortable
Cottages 4 old women, whom I allow to live rent-free, but if Beef
& plum pudding are the order of the Day
at Rumsey poor House, I shall apply
for an order of admission immediately,
so that the Door will be opened
with a vengeance on Xmas Eve, yrs tly,
Nightingale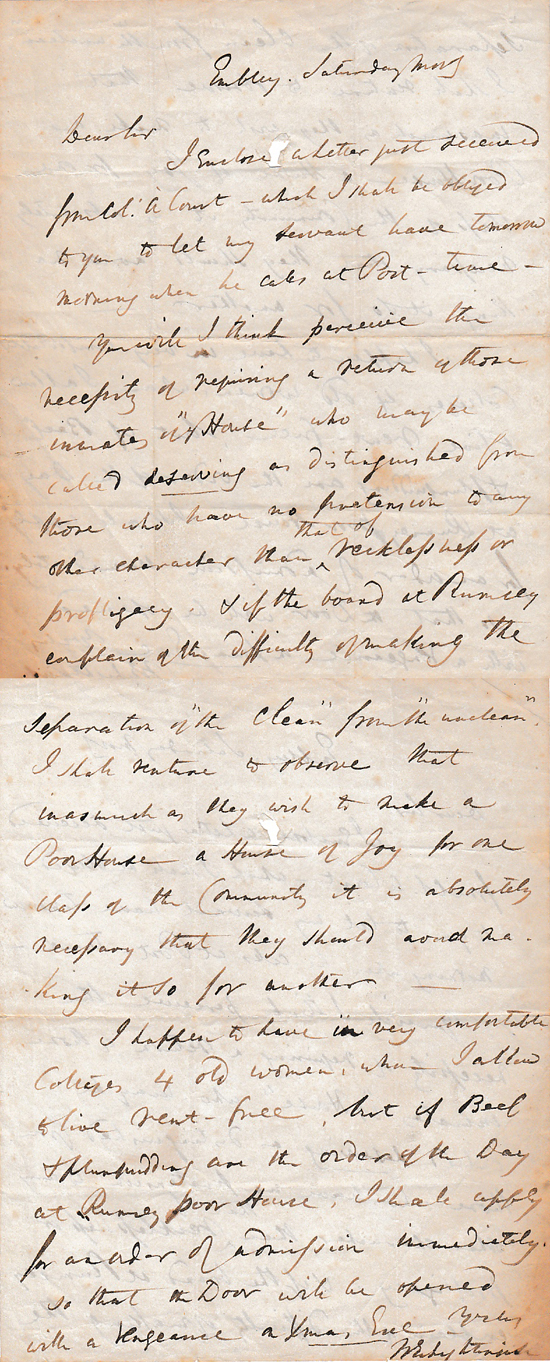 Notes:
William Edward Nightingale was born William Edward Shore in 1794. His father was William Shore. His mother was Mary née Evans (who died in 1853 at Tapton House, Sheffield). She was the niece of one Peter Nightingale, a lead mining entrepreneur, under the terms of whose will William Shore inherited his estate, Lea Hurst in Derbyshire, on condition that he assumed the name and arms of Nightingale. He also owned Embley Park, an estate near Romsey in Hampshire.

In 1817, he married Frances "Fanny" Smith (1789–1880); they had two daughters, both born while the family was on the Grand Tour of what would later become Italy. The elder, Parthenope Nightingale, was born in Naples and named after the city's Greek name. The younger was named Florence, best known for her nursing career but also notable in the field of statistics.

William Nightingale had a keen interest in politics, and in 1829, he was appointed as the High Sheriff of Hampshire. In the summer months of 1834, he stood for parliament as a Whig candidate for Andover. He supported the Reform Bill, and opposed any form of bribery for the encouragement of the electors. His views cost him the election, which left him shocked. As a result, he resolved never to be persuaded into political life again.

Josiah George had been Chairman of the Romsey Union - in other words, he had been responsible for payment of parish relief in return for work. He was not, however, unsympathetic to their condition. In April 1836, Josiah George had reported to the Commissioners:
I think the improvement of the tone of moral feeling is in gradual progress, so far as it regards the behaviour of the labourers towards their employers; a disposition to obtain employment wherever it can be had, and a sense of the importance and necessity of depending upon their own energies, which it must be allowed the former system tended to undermine, if not almost to destroy. The proportion of able-bodied pauperism is much decreased, ....[snip].
It must not be concealed, that there are occasional cases which are difficult to meet without something approaching hardship; and I am still of opinion, as I ever have been, that the best results of the new system will be produced by a mild and rather modified application of the strict letter of the new Poor Law Act; coupling, with the desire to reduce the amount of poor-rate, such a demeanor towards the poor, and effort to find the means of their employment, as shall convince them that they are, in every sense of the word, guardians of their interests, as well as of our own.

Further reading:
Wikipedia article on Nightingale