The appointment letters of John Durancé George, Dental Surgeon
Writer: Antonio Tamburini
Date:29th July 1848
Address: 194 Regent Street


Sir,
I have the honor to send you a Box for this evening at the Royal Italian Opera Covent Garden where we shall give the Ugonetti.
I take this occasion dear Sir for to pray you again to receive all my thanks for your Kind Operation, wich as given to me a new good life, and my heart will never forget all your very great kindness.
In this same time Dear Sir, I come to pray you if it would be possible to allow me to come and see you again before the end of this week, for I would wish to make you new questions and receive from you, good advices.

Receive I pray you
Sir my very respectfully
compliments, and believe
me
Your most Affe Servant.
A. Tamburini

July 29th 1848
194 Regent Street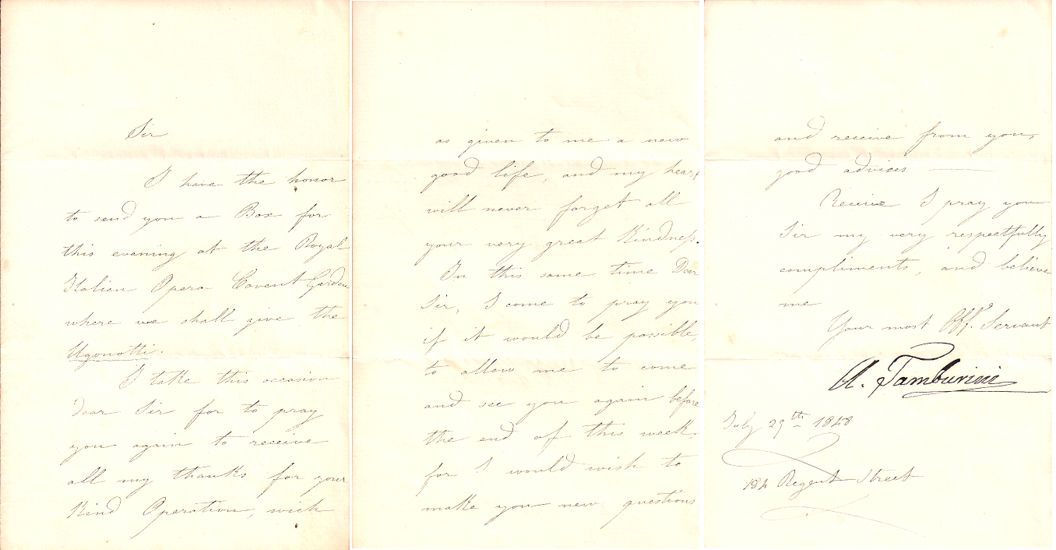 Notes:
Antonio Tamburini (1800-1876) was an Italian baritone. Born in Faenza, he became one of the finest baritones of his age. He had a beautiful, flexible voice that can be seen in the music written for him.

He was renowned at the time also for his good looks and terrific stage presence, often working with the tenor Giovanni Battista Rubini and soprano Giulia Grisi. He is most famous for his association with Bellini - he was one of the "Puritani Quartet", along with Grisi, Rubini and bass Luigi Lablache. He was married to the contralto Marietta Gioia-Tamburini, with whom he often sang alongside.

He died at Nice in 1876.