The appointment letters of John Durancé George, Dental Surgeon
Writer: Lady Sydney
Date: various
Address: Frognal House; Cleveland Square


Lady Sydney presents her
complts to Mr. George, &
would be obliged to him
to answer her, if he has
any time disengaged to see her
either on Tuesday or
Wednesday mor.g next
before 1 or 2 o'clock.
Cleveland Sqr
June 10th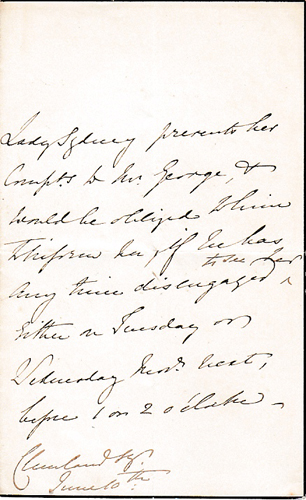 Lady Sydney presents her
complts to Mr. George, &
in answer to his obliging
note, begs to say that
she will be glad to keep
the appointment for
12 o'clock on Friday next


Frognal
Foots Cray Sept 20th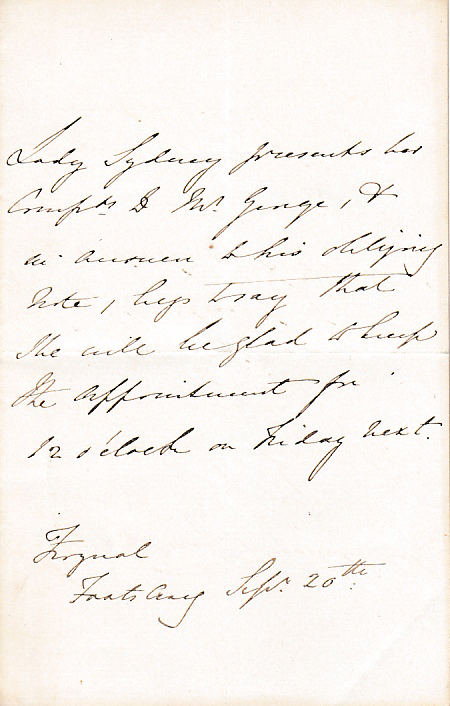 Notes:
Lady Emily Paget (1810-1893) was the daughter of Henry Paget, 1st Marquess of Anglesey, by his second wife Lady Charlotte Cadogan. She married John Townshend, 1st Earl Sydney, on 4th August 1832.
They had no children

Frognal House was purchased by Thomas Townshend in 1752 and became the residence of his son, Thomas Townshend, 1st Viscount Sydney, after whom Sydney, Australia was named. In 1915 the Marsham-Townshend family sold the house and 1,740-acre estate to the government.

The house is also famous for being the original building of the Queen's Hospital (later Queen Mary's Hospital), Sidcup, developed as the First World War's major centre for facial and plastic surgery, largely through the efforts of Harold Gillies.