The appointment letters of John Durancé George, Dental Surgeon
Writer: Lord de Ros
Date: February 28th
Address: Long Ditton
Long Ditton Feb 28

My dear Sir

Many thanks for
your obliging note which reached
me after I had gone up with
Ly de R who on learning your absence
from your porter went on to Parkinson
who filed away an offending corner
which pressed on another tooth &
set her at once at ease.

I hope you will enjoy your holidays
at Torquay – it is I think a
most delightful place – if you
fancy a sail there is a man
called George Turner near the
warm Baths who got me a good
Boat & was fair in his charges
for a trip to Brixham which
is a curious little place.

Yours very truly
de Ros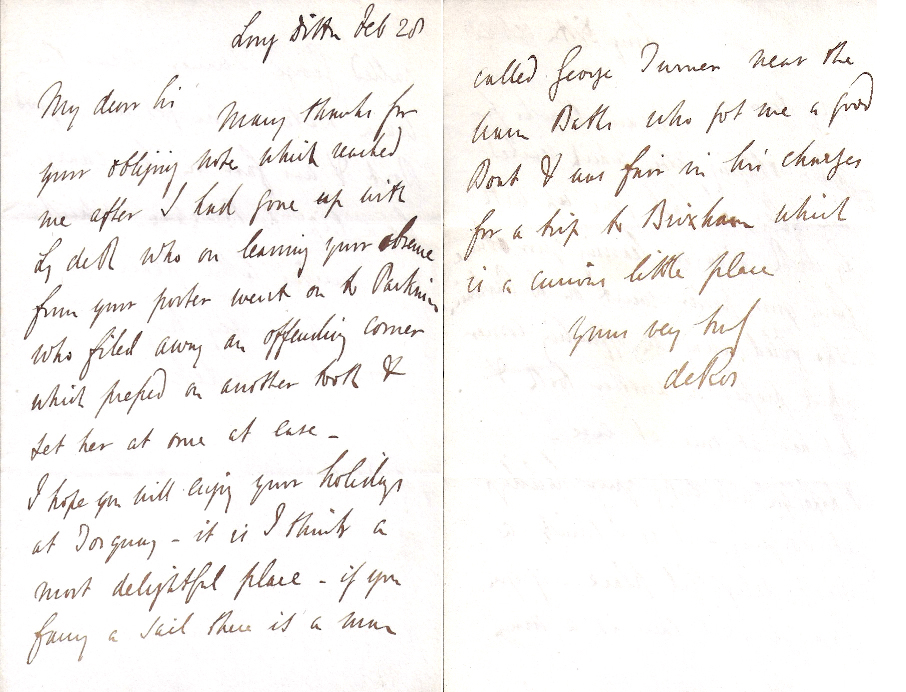 Notes:
The title of Baron de Ros (pronounced "Roose") is one of the most ancient baronial titles in the peerage of England, and was created by writ in 1264. The Barony may pass to heirs-general rather than just heirs-male, unlike most British titles. The barony may pass to daughters only if there are no sons. Under inheritance law, sisters have an equal right to inherit; there is no special inheritance right due for an eldest sister, as there is for an eldest son. Thus, it is possible that two or more sisters (and their heirs after their deaths) have an equally valid claim to the title; in such a case, the title goes into abeyance. The abeyance ends either when there is only one remaining claimant due to deaths of the other claimants, or when the Sovereign "terminates" the abeyance in favour of one of the heirs. The peerage has been held by a woman six times, more than any other peerage except that of Baron Willoughby de Eresby.

General William Lennox Lascelles FitzGerald-de Ros, 23rd Baron de Ros of Helmsley, PC, DL (1 September 1797 – 6 January 1874), was a British soldier and Conservative politician. A general in the Army, he also held political office as Captain of the Yeomen of the Guard in 1852 and between 1858 and 1859.

Lord de Ros married Lady Georgiana Lennox (1795 – 1891), daughter of Charles Lennox, 4th Duke of Richmond, in London on 7 June 1824. They had three children.