The appointment letters of John Durancé George, Dental Surgeon
Writer: Lady Mary Parker
Date: 24th June 1849
Address: Tamworth House, Brighton
Tamworth House
Brighton
June 24

Lady Mary Parker presents
her Compts to Mr. George, and
will be much obliged to him
if he can fix a time for
seeing her between the hours of
11 & 4 on Thursday next.
As she intends to come up from
Brighton for the purpose & to
return the same day, she will
feel very much obliged if he
can manage to see her punctually
at the hour fixed.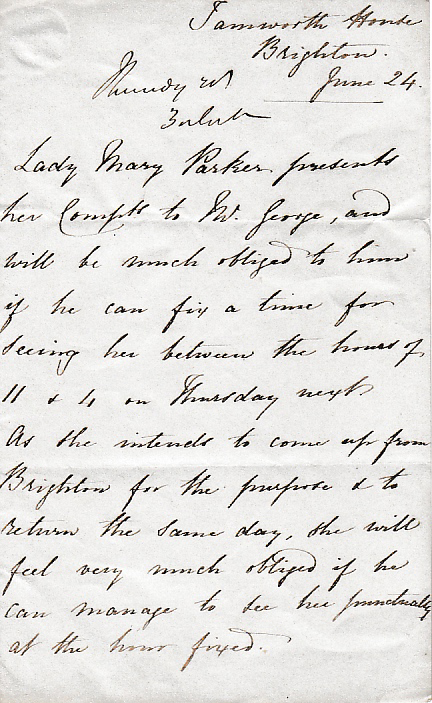 Notes:
Durancé George has noted the time and date of the appointment at the top of the letter: 3 o'clock on Thursday 28th June.

Lady Mary Parker was the second wife of the Earl of Macclesfield (married 1842), and was born Lady Mary Frances Grosvenor, daughter of the 2nd Marquess of Westminster.

Tamworth House is No. 76, Marine Parade, Brighton.