The appointment letters of John Durancé George, Dental Surgeon
Writer: Duchess of Manchester
Date: various
Address: various
Dean Lodge
nr Kimbolton
May 31st 1848
Dear Sir
I am requested
by Her Grace the
Duchess of Manchester
to ask you to make
an appointment to
see Lady Olivia Montagu
the beginning of next
week. I know that
after two o'clock on
Tuesday would suit
them well if it
would not interfere
with your other en-
gagements, but if not
convenient the earliest
day afterwards after
two o'clock
in haste
I am dear Sir
very faithfully yours
Richard Verity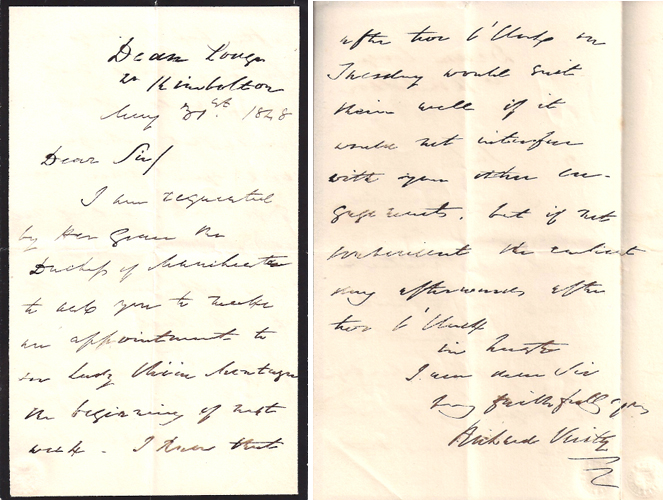 Lady Olivia Montagu
presents her compts
to Mr George &
Would be obliged
if he could see
her on Friday
anytime as
soon after 12 o'clock
as possible.

9 Lower Grosvenor St.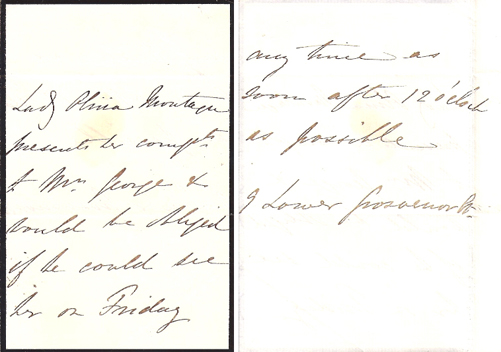 The Duchess of Manchester
begs to inform Mr George
that when Lady Olivia
fixed six o'clock on
Wednesday she was not
aware of an engagement
to an early dinner; if
any hour before wd
suit Mr George she
would be very much
obliged

Monday morning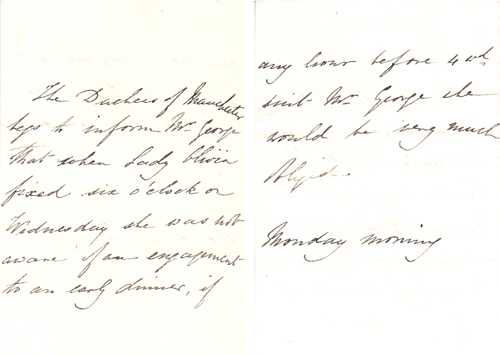 The Duchess of Manchester
would feel extremely obliged
to Mr George if he could
allow her engagement to
stand for 6 o'clock Saturday
instead of four - As she is
obliged to go into the country
& cannot return so early
as four o'clock

48 Albemarle St.

Thursday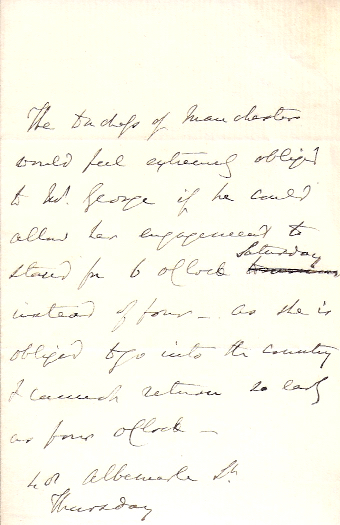 Notes:
The Duchess of Manchester was Millicent née Sparrow (1798-Nov 1848). In 1822 she had married George Montagu, 6th Duke of Manchester, etc (1799 – 1855). Montagu was Tory MP for Huntingdonshire from 1826 to 1837. They had four children:
William Montagu, 7th Duke of Manchester (1823–1892)
Lord Robert Montagu (1825–1902)
Lord Frederick Montagu (1828 – 1854), who died unmarried
Lady Olivia Montagu (1830 – 1922), married Charles Bennet, 6th Earl of Tankerville, at Kimbolton Castle, Huntingdonshire, 29 January 1850
Richard Verity, M.D., lived at Deane Lodge near Kimbolton.