The appointment letters of John Durancé George, Dental Surgeon
Writer: Earl of Clanwilliam
Date: -
Address: -


My dear Sir,
The servant
will call tomorrow
for your answer,
making any appt
you please, after
next Tuesday
very truly yours
Clanwilliam

Answer to be called for
tomorrow

D. George Esq.
Burlington St.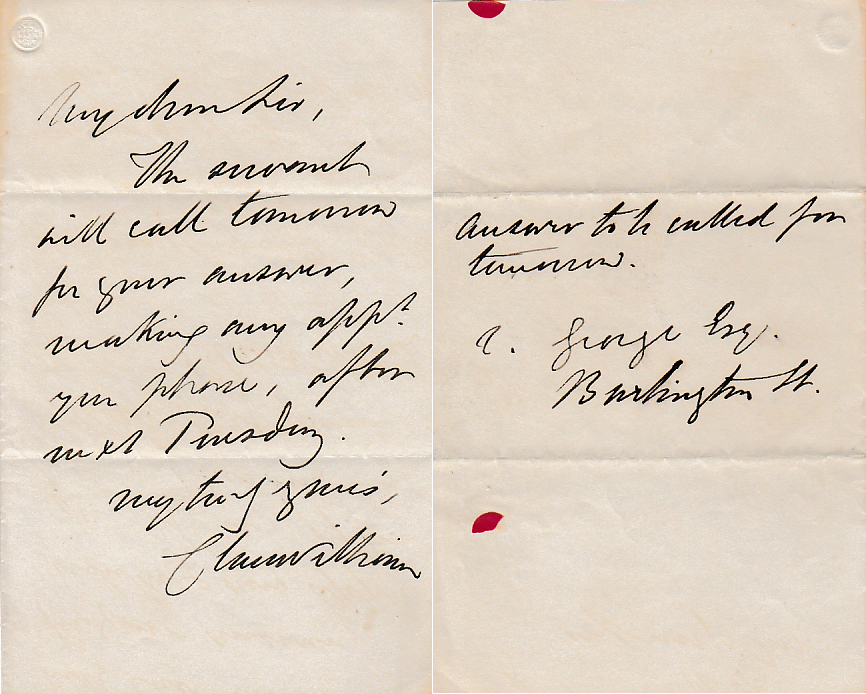 Notes:
Richard Charles Francis Christian Meade, 3rd Earl of Clanwilliam GCH (1795-1879) was a British ambassador.

The only son of the 2nd Earl of Clanwilliam (whose titles he inherited, aged ten), Lord Clanwilliam was educated at Eton and afterwards joined the Diplomatic Service.

He attended Lord Castlereagh's suite at the Congress of Vienna in 1814 and was his private secretary from 1817–19 in the latter's capacity as Foreign Secretary. He became Under-Secretary of State for Foreign Affairs in 1822 and afterwards Envoy to Berlin from 1823–27. In 1828, he was created Baron Clanwilliam in the Peerage of the United Kingdom and married Lady Elizabeth Herbert (a daughter of the 11th Earl of Pembroke) on 5 July 1830. He died in 1879 and was succeeded by his eldest son, Richard James (who became Admiral of the Fleet &c).

In 1851 he was living at Deal Castle, Kent.