An Uncommon Practice
The letters of John Durancé George, Dental Surgeon
John Durancé George was the third son of Josiah George, grocer and sometime Mayor of Romsey in Hampshire, and his wife Ann née Cartwright. Durancé was born in 1815 at Romsey, and studied medicine at University College, London. His uncle Samuel Cartwright (1788-1864) was Dentist in Ordinary to King George IV, and worked from 32 Old Burlington Street in Piccadilly. Durancé joined his practice, and also worked from that house, and over his short career worked for much of the aristocracy. His health, however, was a constant problem and he died in the bitter early winter of 1851 on November 28th, at the age of 36.

Durancé was registered as a medical student at University College, London, for three sessions: 1835/36, 1836/37, and 1837/1838. In the 1836/37 Session he won the Gold Medal and First Certificate for Principles and Practice of Medicine, and the Silver Medal and 3rd Certificate in Chemistry. He was examined and approved for Membership of the Royal College of Surgeons of England on 18th May 1838.

His first appointment was that of House Surgeon at University College Hospital. He then became Dental Surgeon and Lecturer in Dental Surgery at that Institution. He was also a Fellow of the Geological Society and of the Royal Medical Chirurgical Society.

The letters reproduced in this collection were saved by John Durancé himself and date, in the main, from 1848-1850. As most of the letters - and all of those from female patients - are written in the third person, one has to ask if they were written by the subjects themselves, or by a servant. The answer is clear in some cases – Miss Arnold writes on behalf of the Queen Dowager; I think the others are generally written by the senders. Certainly many of the signatures can be matched by attested examples. Perhaps dentistry was too personal a matter to be left to the butler?

Some of the letters are written on black-edged stationery to indicate mourning; I have indicated these, but have not investigated the underlying cause of mourning.

What these letters do show is that in addition to the practical skills of the dentist, qualities of patience, tolerance and diplomacy were of equal importance!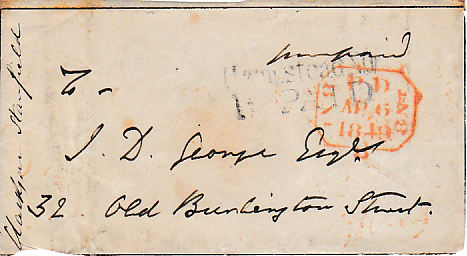 Letters presented by Simon Kidner, great-great-grandnephew of John Durancé George.