Assorted George Letters
Writer: Samuel Smith
Date: 19th December 1839
Recipient: Josiah George
13 Gt. George Street, Westminster
Dec 19 1839

Dear Sir,
To save time, I write direct to yourself
instead of replying to Mr Nightingale – on a subject
on which you have been in correspondence with
him, & he with me.

I do not know the account of the
Municipal Charities of your Borough – but the
cost of appointing new Trustees by application to the
Chancellor, even if unopposed, would reach probably
£70 or £80. To administer the Charities by the
existing Town Council, without such appointment, is not
in strictness, regular or legal – even tho' according
to the Will of the Donors – and Lord Portman introduced
a bill in 1838 (which was dropped) to remedy this
mischief. It was intended by Lord Brougham to
effect the same object by a general measure relating
to Charities last Session – this has likewise dropped
to the ground. Whether it will be proceeded with
I am unable to say – but in any case
if the annual Income of your Charities is
small (as compared with the above [....]
probable amount of Costs) I shall not
advise your going to the Court at present,
nor should I think that your continuing to
administer the Charities in the ordinary mode
agreeably to the Wills of the Donors (leaving no
room for cavil on this head) could be attended
with any danger. It appears to me
that this case cannot be assimilated to the
case of a mere stranger usurping the administration
of a Charity.
I am Dear Sir
Your obed. humble serv.
Samuel Smith


Josiah George, Esq.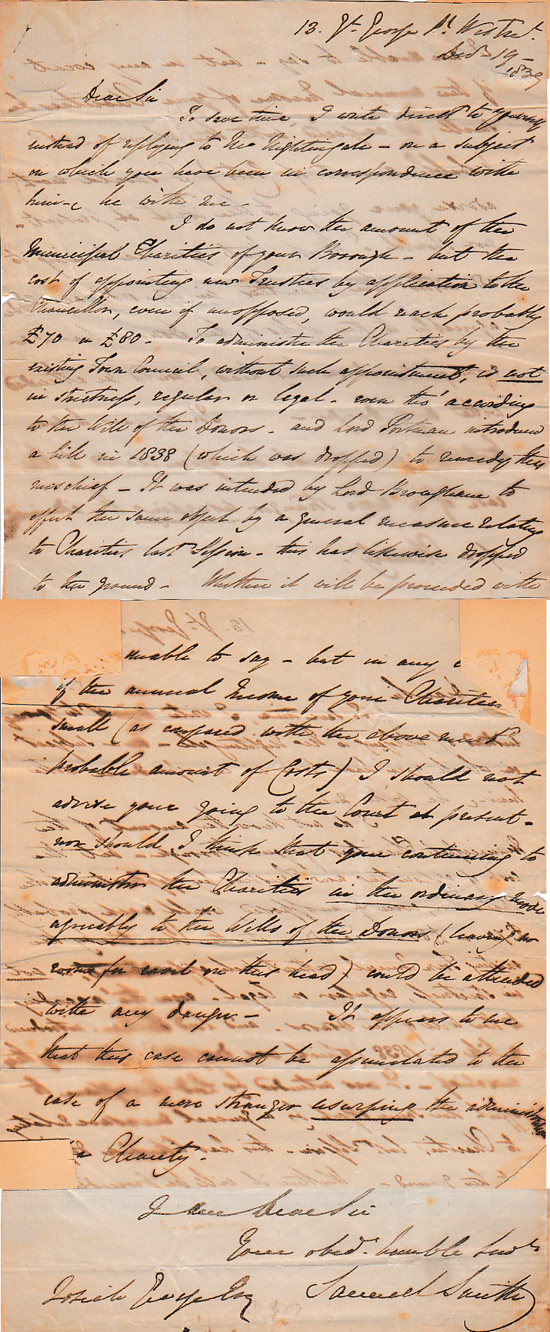 Notes:
The 1851 census records a Samuel Smith, Land Agent, born c. 1776, living at Gray's Inn; this might be the writer.