Assorted George letters
Writer: Charles Shaw Lefevre
Date: 7th September 1832
Address: Heckfield nr Hartfordbridge
Recipient: Josiah George, sen.
Private Heckfield nr Hartfordbridge
Septr.7.1832


Dear Sir
Your letter should not have remained so long unanswered, but that owing to the omission of the Post Town in the direction I did not receive it so soon as I ought to have done.

Be assured that nothing would gratify me more than to be able to send you the name of any individual to whom I thought the Electors of South Hants might apply in the present emergency to undertake the important trust of representing them in the next Parliament.

The names of Bonham Carter, Sir C. Mill, Morant of Brockenhurst, & Lord Palmerston are familiar to us all as steady supporters of Reform - but I fear they could not be persuaded to come forward. Lord Palmerston (If it was not thought an objection to him that he is a Cabinet Minister) would be the most likely person I should think. If there was a sufficient demonstration on the part of the Electors in his favor to render his success more than probable. When my lamented friend and Colleague was about to resign his Seat we looked everywhere for a Candidate and if it had not been for the public spirit of Sir Thomas Baring who came forward on that occasion most reluctantly, I know not what would have been the fate of the County.

It is very mortifying to me as a Reformer to watch the successful prospect of your anti-Reforming Candidates, knowing as I do that their principles are quite at variance with those of the Majority of the Electors of South Hants - and it is doubly mortifying to me identified as I feel myself with the interests of the Reformers of the whole county - to think that our Victory at the last Election will be productive of so little benefit (as far, at least, in the Southern division of Hampshire is concerned) in promoting the success of those principles which can only be permanently established by the next Parliament.

I quite agree with you in considering the Division of the County as merely a convenient arrangement for Electoral purposes - and that the Political Interests of North & South Hants and the Isle of Wight can no more be divided than the interests of Hampshire can be separated from those of the other Counties in the United Kingdom.
Believe me Dear Sir
In great haste
Very faithfully yrs
CS Lefevre
Josiah George Esq.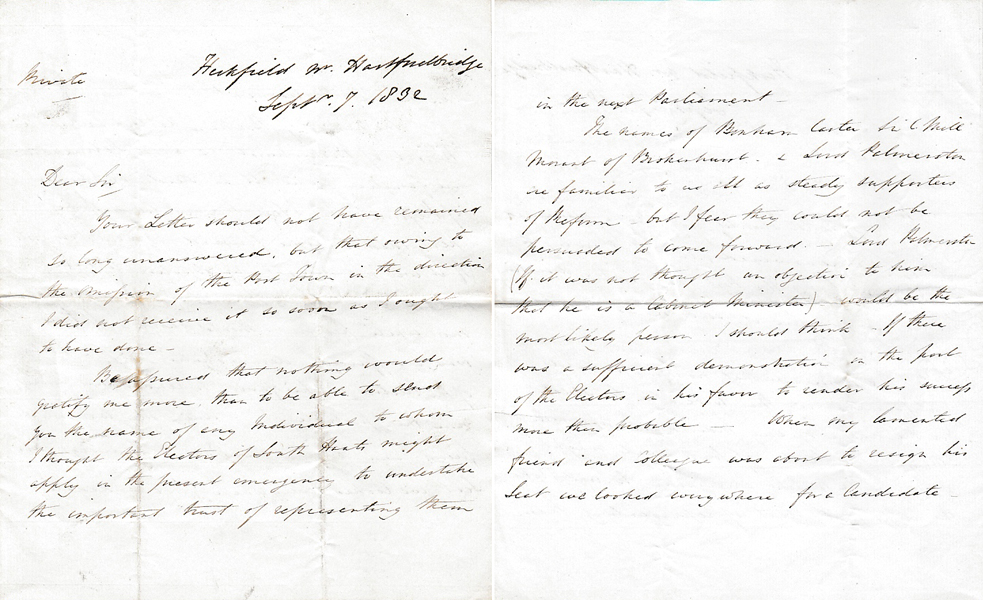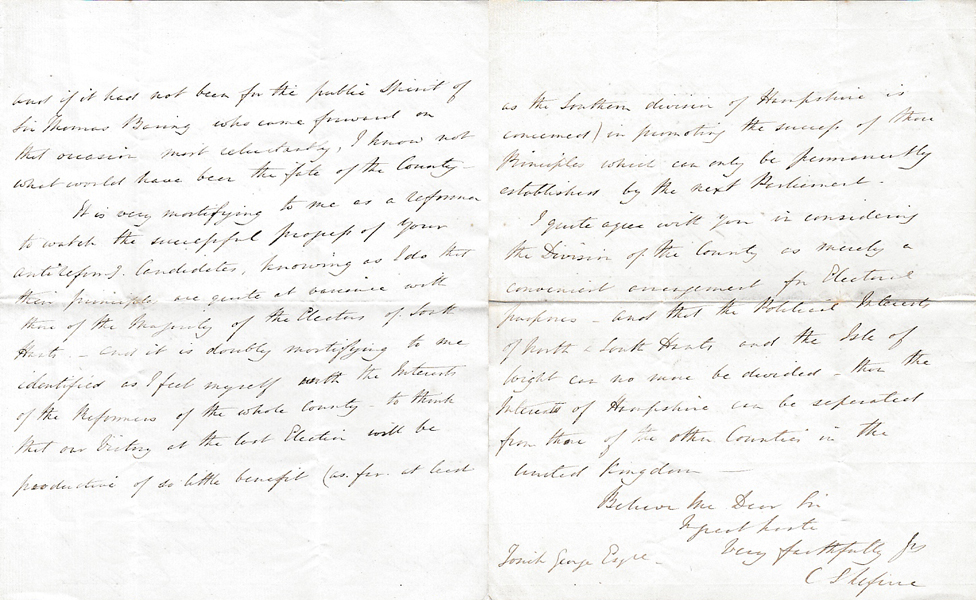 Notes:
A Whig, Charles Shaw Lefevre was Member of Parliament for Downton from 1830 to 1831, for Hampshire from 1831 to 1832 and for North Hampshire from 1832 to 1857. He acquired, says the Encyclopædia Britannica, "a high reputation in the House of Commons for his judicial fairness, combined with singular tact and courtesy." When the incumbent Speaker of the House of Commons retired in 1839, Shaw Lefevre was put forward as the Whig candidate and defeated the Tory candidate Henry Goulburn by 317 votes to 299. Shaw Lefevre remained speaker until 1857, by which time he was second-longest-serving speaker ever. On his retirement in 1857 he was elevated to the peerage as Viscount Eversley, of Heckfield in the County of Southampton.