Assorted George documents
Writer: Abraham Booth, dissenting preacher
Date: 25th June 1797

To the Church of Christ, under the pastoral care of Mr. Horsey, at Portsea.

Brethren, & Christian Friends,
Martha Wadmore, a member (as here understood) in
full communion with you, but for some time resident in London; having request-
ed full communion with the Church under my care; I was requested, at our last Church
Meeting, to apply to you for her Dismission. If, therefore, you percieve no reasonable ob-
jection against your giving her an honourable Dismission to the Church of which I
am the unworthy Pastor, you will, doubtless, comply with this request. Commending
you to God, & to the word of his grace, I remain,
Brethren & Christian Friends,
yours, cordially in the Lord,
A. Booth.
London, June 25, 1797
P.S. Christian respects to
Mr. Horsey, & to Mr. Miall.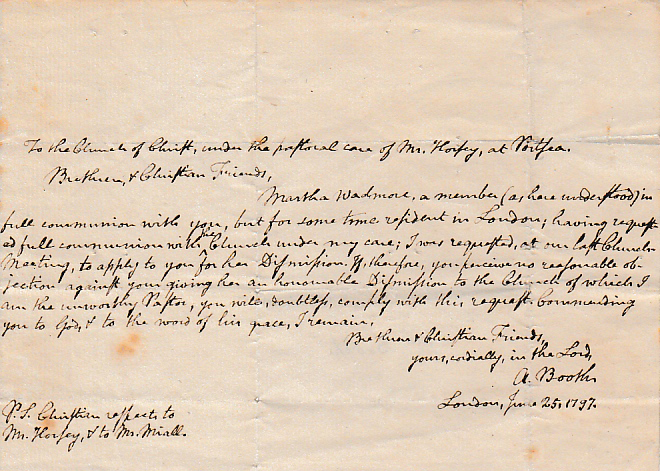 Notes:
Abraham Booth (1734–1806) was an English dissenting minister and author, known as a Baptist apologetical writer. He was pastor at the Particular Baptist Church in Little Prescot Street, Goodman's Fields, east London for 35 years.

Source: Full Wikipedia article