The appointment letters of John Durancé George, Dental Surgeon
Writer: Lady Warwick
Date: -
Address: Brunswick Hotel, Jermyn Street



Lady Warwick's Compts to
Mr. George Cartwright, and
requests to know if he can
see her at eleven o'clock
on Thursday morning, as she
is only in Town for a few
days.


Brunswick Hotel
Jermyn Street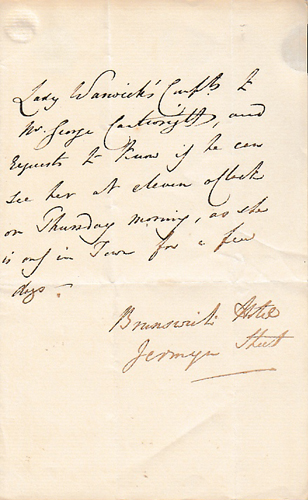 Notes:
Lady Warwick was born Lady Sarah Elizabeth Savile, daughter of John Savile, 2nd Earl of Mexborough, and widow of John Monson, 3rd Baron Monson. She married Henry Richard Greville, 3rd Earl of Warwick, (1779 – 1853) in 1816.

Lady Warwick died in January 1851, aged 64. Warwick survived her by two years and died in August 1853, aged 74.

Her letter to "Mr. George Cartwright" shows that she has conflated Durancé George with Samuel Cartwright.