The appointment letters of John Durancé George, Dental Surgeon
Writer: Louis Napoleon
Date: Wednesday Morning
Address: Clarendon Hotel
Monday

My Dear Sir,

I received your letter
only yesterday evening because
I returned to town only on
Sunday. I will be very glad
to see you if you will be kind
enough to fix a day in the
week.

Believe my yours most obliged,

Napoleon Louis B.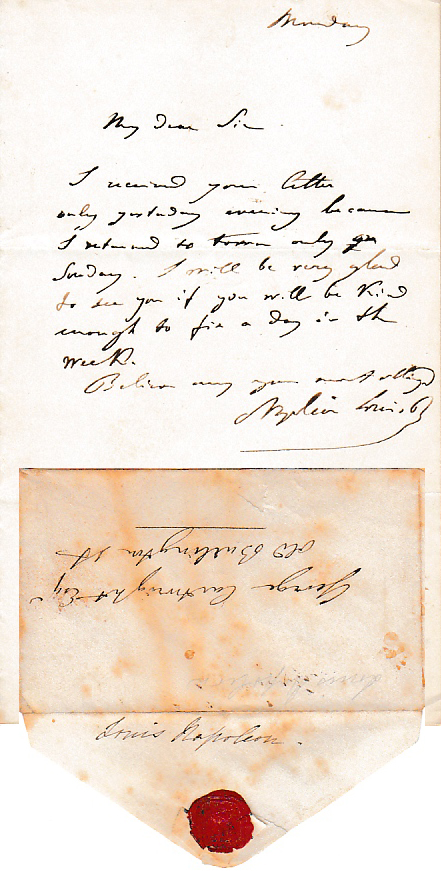 Notes:
Louis-Napoléon Bonaparte (1808 – 1873) was the only President (1848–52) of the French Second Republic and, as Napoleon III, the Emperor (1852–70) of the Second French Empire. He was the nephew and heir of Napoleon I. He was the first President of France to be elected by a direct popular vote. He was blocked by the Constitution and Parliament from running for a second term, so he organized a coup d'état in 1851 and then took the throne as Napoleon III on 2 December 1852, the forty-eighth anniversary of Napoleon I's coronation. He remains the longest-serving French head of state since the French Revolution.

The letter is addressed to George Cartwright Esq., another occasion on which Samuel Cartwright and Durancé George were merged into the one person.