5 Seamore Place
May Fair
Monday 13 Decr, 47
Sir FitzRoy Kelly presents his Comps
to Mr. George & begs to say
that Lady Kelly who has
been very unwell from Influenza
wishes to take the first op-
portunity of her being able to
go out to see Mr. George
and will call on him on
Wednesday next between One
& Two. Lady Kelly will
be very glad if Mr. George can
receive her at that time
as she is leaving Town
almost immediately,
& cannot go out at
any later hour of the day.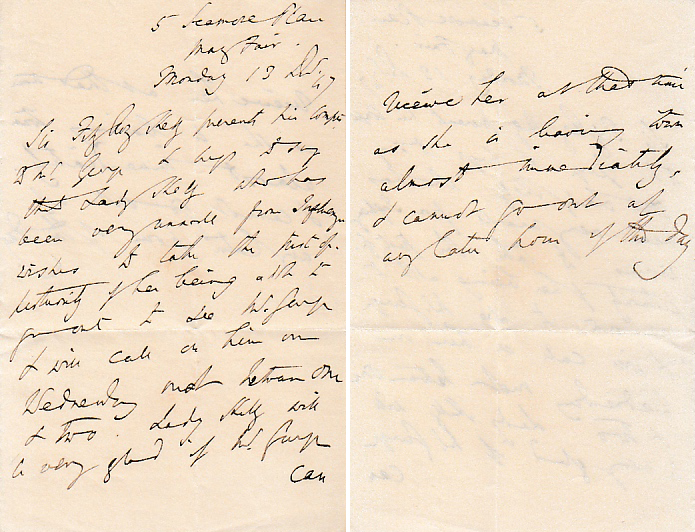 Notes:
Sir Fitzroy Edward Kelly PC (9 October 1796 – 18 September 1880) was an English commercial lawyer of remarkable and precocious talent, a politician and a judge.

Kelly was born in London, the son of Robert Hawke Kelly (died in or before 1807), a captain in the Royal Navy, and novelist Isabella Kelly née Fordyce. In 1824 he was called to the bar by Lincoln's Inn, having already gained a reputation as a skilled special pleader. In 1834 he was made a King's Counsel, remarkably after only 10 years' call. A strong Tory, he was returned as MP for Ipswich in 1835, but was unseated on petition. In 1837 however he again became member for that town.

From 1843 to 1847 he was MP for Cambridge, and in 1852 was elected member for Harwich, but a vacancy suddenly occurring in East Suffolk, he preferred to contest that seat and was elected. He was solicitor-general in 1845 (when he was knighted), and again from February to December 1852. In 1858–1859 he was Attorney General in Lord Derby's second administration. In 1866 he was raised to the bench as Lord Chief Baron of the Exchequer and made a member of the Privy Council. He died at Brighton on 18 September 1880.

Seamore Place is the name of a row of handsome but somewhat old-fashioned mansions, which occupy a sort of cul de sac at the western end of Curzon Street. They are only nine in number, and their chief fronts look westward over Hyde Park.