The appointment letters of John Durancé George, Dental Surgeon
Writer: Marchioness of Cholmondely
Date: 1st March
Address: 12 Carlton House Terrace


The Marchioness of
Cholmondely is anxious
to know whether Mr. George
cd receive Her tomorrow,
Tuesday, at 2 o'clock, or
¼ past 2 - instead of
at ½ past one o'clock.
12 Carlton H. Terrace
March 1st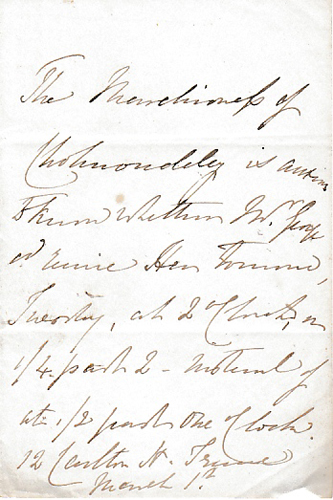 Notes:
This Marchioness was born Lady Susan Somerset and was the 2nd wife of the 2nd Marquess of Cholmondeley. She was the daughter of Henry Charles Somerset, 6th Duke of Beaufort, and Lady Charlotte Sophia Leveson-Gower.

She was born on 10th April 1804, was married in May 1830 at Grosvenor Square, London, and died on 4th February 1886 aged 81 at Thorneycroft House, Leatherhead, Surrey. (cf entry for Mrs Elizabeth Knight).

Her husband, the 2nd Marquess, was George Horatio Cholmondeley, born on 16 January 1792 and died on 8 May 1870 aged 78 at Cholmondeley Castle, Nantwich, Cheshire. He had no children from either marriage.

Cholmondeley became a Privy Counsellor on 19 July 1830, and was appointed Joint Great Chamberlain of England between 1838 and 1870. He held the office of Constable of Castle Rising between 1858 and 1870.