A list of Passengers on bord the ship Sesostris.
A. Yeats, Esq., Commander from England to the Cape of Good Hope and India 1829 and 30.
Passengers for the Cape
Mr Harris
Mrs Harris
Mr J. Phillips
Mr Phillips
Mr Amyall
Mr Alvurley
Miss Banks
Master Cater
Jno. Lane
Mrs Lane
4 children


For Celon

Mr Cameron
Mr Kean


For Bombay

Mr Wade
Capt. Sandwitch
Miss Pollexfen
Miss Louisa ditto
Mr Liss
Mr Flyn


For Madeira

Mr Blandy
Mr Blandy jun.


From the Cape

Mr Smaley
Servant


4 Native passengers to Bombay

John Lewes
Lewis Antonie
Jno Martin
Denis Caton
---
Notes
The Blandys of Madeira
The Blandy family had been established in Madeira since 1809, the family firm being founded in 1811. The Mr. Blandy referred to in the passenger list was John Blandy, born in 1783, married 1810, died 1855, and originally a farmer from Piddletrenthide in Dorset, who went out to Madeira when the island was garrisoned by British troops during the Napoleonic campaign. He served as a quartermaster.
Mr. Blandy jun. must have been one of his sons: Charles Ridpath Blandy (1812-1879); Alfred Blandy (1822 - 1883); or Frederic Blandy (1824-1896).
In 1828 Don Miguel had seized the Portuguese throne. Madeira, however, had remained loyal to the Emperor Pedro of Brazil, who was Don Miguel's elder brother and heir to the throne. In the same year, a fleet manned by Miguelite forces sailed from Lisbon and after a certain confusion took command of the island. It may be that John Blandy had resolved to visit England after this invasion to reassure his family. He and his son had probably embarked at Portsmouth.
Source: private correspondence with Richard Blandy in 1984.
---
C.H. Cameron, passenger to Ceylon
Charles Hay Cameron (1795-1880), a barrister, was appointed with a Colonel Colebrook to the Commission of Inquiry on judicial establishments and procedure in Ceylon, the report of which was published at the end of January 1832.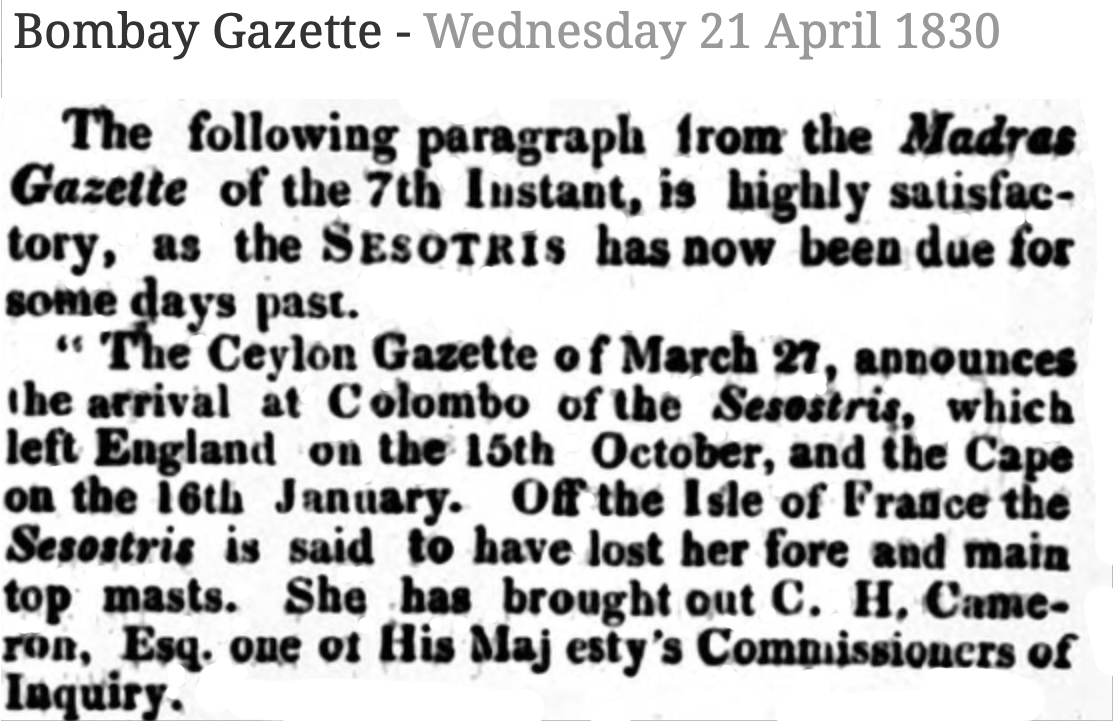 In 1838 he married Julia Margaret Pattle, the photographer who came to be known as Julia Margaret Cameron.
---
The Misses Pollexfen, passengers to Bombay
Were these two women related to John Pollexfen, who had been the Chief Shipwright at Bombay until his death in 1829?