William Newton 1797-1882
A future Master Mariner's voyage on Sesostris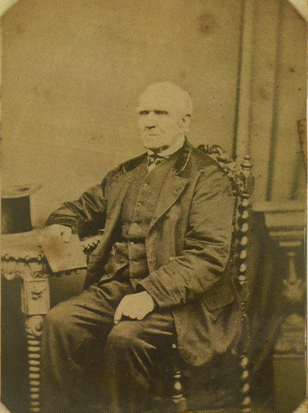 Above: William Newton, c.1870
I am indebted to Mrs Patricia Labistour for kindly sending me the following details of her great-great-grandfather, William Newton.
William Newton joined the crew of Sesostris when he was 19 years old, on 27 March 1817, for a voyage to the East. This was the maiden trading voyage of Sesostris. At the end of this voyage he was given his discharge paper from the Captain, Thomas Thompson, attesting to his service and to his good conduct. Dated 25 September 1819, it reads as follows (with original spelling and punctuation):

I hereby certify that Wm. Newton of West Stockwith, shipped on Board of the Ship Sessostris, March 27th 1817 on a Voyage of Twenty-Two Month's and Seventeen Days to India calling at Maderia for 100 pipes of Wine, from thence to Calcuta in the East India's and then discharged her Cargo and took in a Cargo for Pulo Penang or Prince of Wale's Island in the Straits of Mallacca, took from thence a Cargo for London in England and throughout the Voyage he conducted himself as a Steady, Sober Good Seaman.

It is signed by Thos. Thompson, Commander, and witnessed by James Tullock, Chief Mate.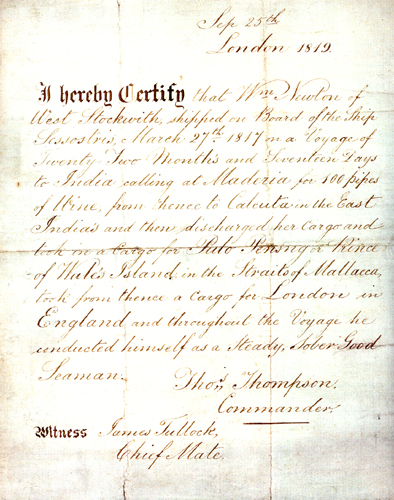 Click for a larger copy of the image in a new window.
Patricia Labistour also has the discharge paper from one further voyage that William Newton made, on the Tula, under Thomas White, Commander:

"We hereby certify that Wm. Newton Sailed with us in Ship Tula, from London to Giberalter and there discharged her Cargo, and from thence proceeded to Cadiz and took on Board a cargo of Wine for London in England, and through the whole of the Voyage he conducted himself as a good and steady Seaman for the term of 4 months and 21 days."
The paper is signed by Thomas White and by the Chief Mate, one J. Brown.

We know the details of no other voyage. We do know that he married Mary Bingley of Bole in Lincolnshire, fathered three children and attained recognition as a Master Mariner.

On 31 July 1867 he was granted his Pension Ticket from the Merchant Seamen's Fund when he was aged 69, entitling him to an annual pension of £3-8-0 (Three Pounds eight shillings). He died at the age of 84 in the place of his birth - West Stockwith - on 9 June 1882, and now lies buried in Misterton churchyard.

---
This page last updated 2nd May 2020
Back to Sesostris Home Page