5. Sicily
2nd August 1943 – near Centuripe, Sicily
We embarked at Sousse on the 26th July, personnel on an LCI, and transport on LST. After a miserable crossing, during which most of us were sick, we disembarked through Avola beaches, south of Syracuse, without incident. We collected and moved 50 miles inland to Palagona, where we found our balance of transport.
We have since moved every day, and this morning are moving to a point just south of Centuripe which the Division is in the process of capturing. Everything has been very straightforward so far – some mine lifting, but mostly road work and some crater filling.
Sicily is a great improvement on North Africa, but still very hot and dusty. There are almonds and grapes ripe now, and the oranges are coming on. We sit and bake, with Etna towering over us, wherever we may be. We had our first mail since landing, two days ago.
8th August 1943 – near Aderno
We have been pushing on steadily, and are in Bronte 10 miles to the north today. It looks as if the Hun is getting out and we are just fighting his rearguard. Today we have had a welcome rest, after ten days of hard work. I had a bathe in a small aqueduct near here, and then searched for grapes and pears.
I have never seen such devastation as at Aderno. The whole town, perhaps a square kilometre, is utterly wrecked. The RAF has certainly done its job – efficiently and ruthlessly. Centuripe was not damaged so much, but was far dirtier and tumbledown. The only light touch I saw there was 'Tiger Lil' – our D7 – flick a Mk 4 tank over a precipice with its blade. The tank had been burnt, and was blocking the road. We have had our excitements. The Hun has done some good cratering and demolitions, and has usually kept them under artillery fire; but they have only held us up for a short while.
14th August 1943 – Randazzo
We got in here yesterday, practically unopposed, except by mines along the road. We lifted some 250 'S' and Tellers during the night and early morning; and now we have lost contact with the enemy, and are getting forward to the coast. The Americans seem to be going on from here. Our position seems a bit vague. We are opening up the road to Linguaglossa, where we meet the 51st Division from the coast.
The War here is over as far as I can see. The town here is more damaged than any other I have seen. As in Bronte, the Hun added to the devastation of our bombing by the demolition of buildings across the streets. 214 Company did a fine job getting a route through by 2200 hrs last night.
On the whole, this campaign has gone well, but has been tedious – slow progress against widespread mines and demolitions with little real enemy opposition other than artillery and mortars, and of course, against shocking country – lava and stone walls, such that it has been at times impossible to get off our one and only road.
Last night we heard a description (?) of the crossing of the Simeto, by the BBC observer out here. It made us laugh, as the description gave one the idea of a Forth Bridge, rather than an 80ft FBE trestle bridge!
The Hun did a fine demolition job on the Alcantara here – blew a 200 ft. gap in the viaduct carrying the road, and the river bed is 100ft below! The Yanks have the job to put it right, although it was nearly ours.
16th August 1943 – Randazzo
We have stopped here, and the Yanks have carried on up the road through to Castiglione, while the 50th (and 5th?) carry on up the coast road. We are now to re-equip – I hope we move to a better spot, near the sea.
We opened up the road to Linguaglossa yesterday where we met 51st Div, Eric Kear being the first to contact them. We beat them to it, and had the road open almost before they started, although we were each meant to do half. We put in a 40ft Bailey 5 miles east of Randazzo.
Our main worry yesterday was 'S' mines. The Hun has laid them all along the road, often deep, and people are continually getting killed. It is impossible to sweep for them with 100% success. The rock here is magnetic, and the deep ones get passed over. So far, luck has been with us. I am glad that we are out of it, but it is hard luck on the Yanks – they have got the worst part, and are far less experienced than us. From what I have seen of them, though, they have done well.
The mail is catching up again, and I have had letters from both Mum and Pat posted in August. It is still hot, but not so bad, and cool at night. The grapes are getting ripe, and we all ate too many yesterday, when we parked for 24 hours in a vineyard! I found one ripe fig.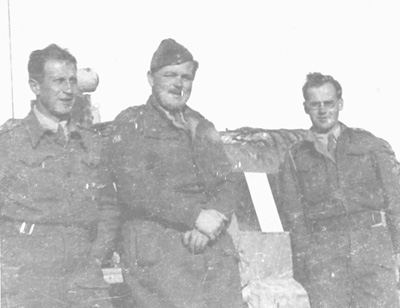 25th August 1943 – San Biagio
We have up here on the north coast for five days now, a few miles east of Patti. It is a glorious spot – a narrow flat coastal strip of vineyards and orange groves with the hills rising away behind us. It is one of the most beautiful stretches of coast I have seen. The bathing is grand, and fruit everywhere.
We are working hard, re-opening the roads to the south – through Novara and San Piero. All quite straightforward. I fancy someone will have some trouble some time, as we have not had time to culvert any of the crossings. We have put in two Baileys on the San Piero Road.
We had two inches of rain two nights ago! We all got soaked. However, the situation was saved from complete disaster by the large number of Italian tents we have collected. Another pastime of ours has been the salvaging of enemy vehicles. We have four trucks running now, which replace our deficiencies all but one. The fitters enjoy themselves no end, making one vehicle out of about five damaged ones.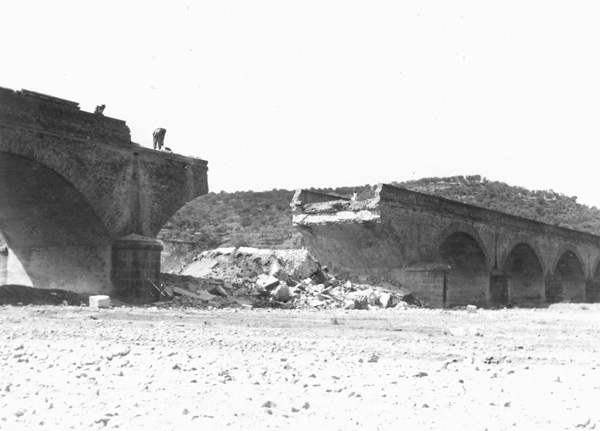 Friday 3rd September 1943 – San Biagio
Fourth anniversary of the War! We had a special service for the Div. R.E. this morning. The occasion was suitably marked by the invasion of Italy by 13 Corps. So far we have had no definite news of progress yet.
We are still working on the roads. We put a 100 ft. T/S Bailey in over the river here, having fun trying to build it without removing the parapet walls, by building the whole bridge backwards. We called it Tuckbridge after George, who was i/c.
As things ease up on works we are tightening up on general discipline and 'bullshit' as the troops call it. Everything is running well. We have got hold of a piano, which at the moment is the backbone of much noise over in the Sergeant's mess! Tomorrow night we have a Div. RE Concert Party. We are still bathing every day, and near making ourselves ill on grapes and figs.
The invasion of France is the hot favourite at the moment; we all agree that it is due this week! The air force are doing tremendous things over there already. We have five airfields within three miles of us – all built since the campaign ended, where there used to be vineyards, and see hundreds of 'planes going over each day.
Tuesday 7th September 1943 – San Biagio
Operations are going well in Italy, against little opposition other than demolitions and mines. Work is coming to an end, or rather changing its tune. We are starting to dismantle bridges, or replace equipment with improvised spans. It should bring along some interesting jobs! We spent this afternoon searching for a motor launch which we could make run, but in vain. All the engines have been systematically smashed by the Hun.
We are getting weather now very much like an English September – cool, sunny, with quite a few heavy showers. The sea is still warm, and we have grand bathing – yesterday there were big rollers, after a stormy night.
Thursday 16th September 1943 - San Biagio
No very great change. We are resting at last, and have had some fun on the beach with our 'Navy' - Mild and Bitter, two cutters and Lucy Long, the motor launch. Resplendent in their 51s and Battleaxes, they are a great asset. The troops enjoy rowing the cutters, and unconsciously learn a lot doing so.
We have worked for a week now on the launch, and she is almost fitted out. When we collected her from the railway yards at Milazzo she was a wreck, with her engine seized up and partly stripped. Mitchell and Harrison have had a great time on her. News is good all round. 5th and 8th Armies should join up soon, and 5 Corps are in the heel – what ho!
48 hrs leave in Palermo with George Tuck.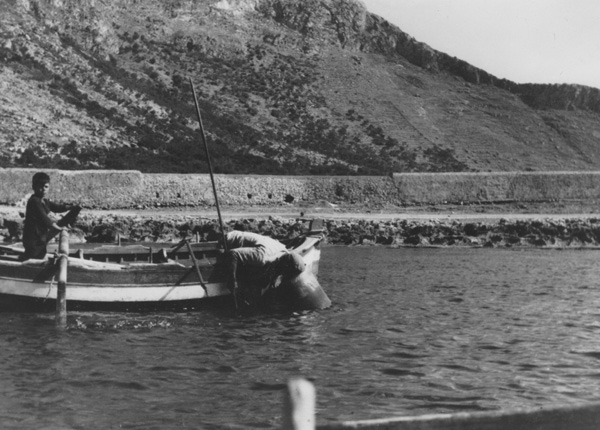 Last updated on 10th March 2017