1. Outbreak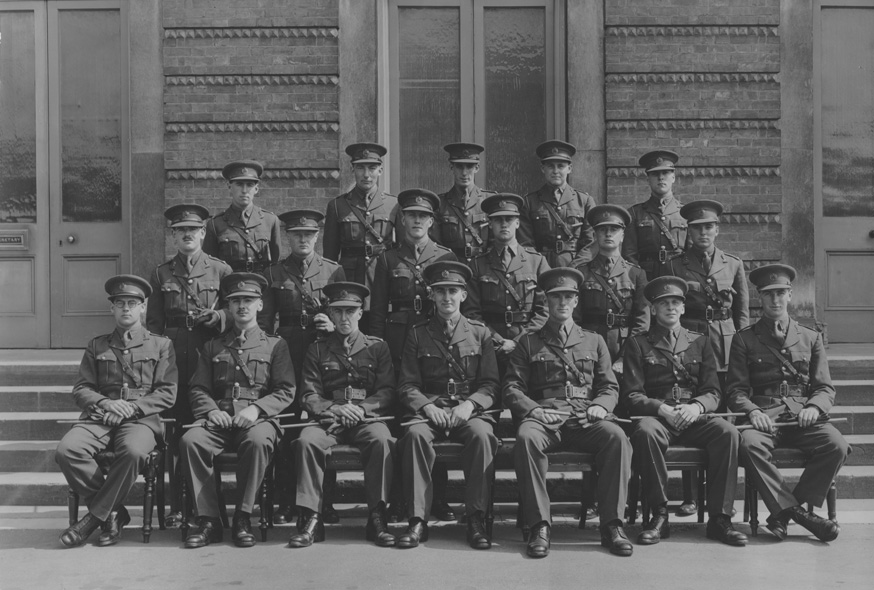 [Note: Britain declared War on Germany on Sunday 3rd September 1939]
Tuesday 5th September
The War: MOBILISATION is now complete, as is the evacuation of 700,000 women & children from the cities. No major actions are yet reported on Western Front, but we have bombed naval ports & vessels at Wilhemshaven, Kuxshaven, & other German harbours, which were completely successful. Air Force reconnoitred large areas of W. & N. Germany, & dropped 6,000,000 leaflets explaining the traitorous action of the German Govt. No air-raids in Britain yet.
Sunday September 24th
Nearly 3 weeks since last entry! First – the War:- Poles have put up a fine show but have crumpled rather quicker than I thought they would. However they are still holding out very finely in Warsaw & other points.
A week ago, Russia invaded, & has occupied, 2/3rd of Poland with very little opposition, & this must have been the price Germany paid for the Russo-Nazi pact.
Nothing much has happened on the Western front yet, but I think things are working up.
We lost H.M.S. Courageous the other day & nearly 600 lives & 60 planes. A very sad tragedy, but our only serious naval loss so far. We have (N. Chamberlain) sunk at least 7 U-Boats, & captured 4 in the 1st fortnight.
I have been a week in hospital with 'flu', a pity but no great matter. We are doing a 5 month War course, & will join units in February '40.
R.A.F. have dropped a total of 15 million leaflets in first week of the War. No air-raid in England yet!
Rumours of German threat of invading Belgium &/or Holland. Roosevelt has asked Congress to repeal U.S. arms embargo in U.S. Neutrality Act.
Just back from pleasant week-end at home, saw film
The 4 Feathers
, 1st class film.
We are in B House – 4 of us together, & we have made the room very pleasant with some flowers, railway posters, etc.
Saturday 30th September '39
I am at Seaford tonight. I have 4 days leave – Wednesday-Sunday (tomorrow) & till today Mum & I have been at Bexhill where we have had great fun. We saw the film
Beau Geste
– good – and the play
Worth a Million
at the De La Warr Pavilion. Fair.
Today we took Elizabeth out to lunch & tea. She is enjoying herself at Micklefield it seems. She looked v. well.
We have finished our construction course at Chatham & on Monday we start our M.D.2. course.
Russia & Germany have concluded another Pact sharing out Poland & suggesting WE call the War off!! Everything is progressing slowly but very satisfactorily indeed. Estonia has allowed Russia naval & air bases in the Baltic.
Monday 9th October 1939
Came back here from Seaford last Sunday week after 4 1st Class days with Mummy. Last week & till Wednesday doing M.D.2 course, which is rather boring, except that we do quite a lot of shooting. Tomorrow we fire a Bren light machine-gun (L.M.G.) & have done a lot of Pistol shooting. I don't seem to be too bad at this.
Hitler made his long-awaited 'Peace Proposals' speech to the Reichstag on Thursday. It was a long tirade against us & Poland & contained no real peace proposals at all, while it renewed Germany's claim on her former colonies. However, Hitler seems really rather afraid of the result of continuing the War, & tries to shift the blame onto the Allies by the most clumsy forms of propaganda. In every country in the world the speech is regarded as a hopeless pack of lies & misrepresentations. Mussolini refused to sponsor the proposals, & the Italian press is cool & Soviet press says nothing. U.S.A. calls it 'a poor sort of joke'!
Meanwhile things are warming up on the Western front. The R.A.F. were pamphleting over Berlin the other night.
Yesterday came back from a pleasant week-end at home. Mary came to dinner on Saturday & we had a most enjoyable evening.
Last Wednesday had a 1st Class day in London with I.K.A. McNaughton. We saw
Me & My Girl
(for the 2nd time) & did a bit of a tour in the evening & discovered some good spots.
London in the blackout is blacker than anything else in the world; at times you can't see your hand in front of your face in important streets!
Friday 14 October 1939
This has been a very interesting week. On Monday we fired .303 ammo with our rifles & fired the Bren gun, & several pistol practices. Since yesterday we have been doing a very short, but very interesting Survey Course, under Brig. Winterbottom.
Yesterday Mr Chamberlain replied to Hitler's 'peace proposals' – so called – with a definite 'No' to all such proposals unless accompanied by deeds & adequate guarantees. Germany says 'Now the war will start', but seems extremely anxious, & says she may appeal to Italy & USSR for help. Anyhow, from now on the war is really 'on', but it is all rather a muddle. 3 days ago we signed a trade pact with USSR, & already she is sending us timber in large quantities – timber is contraband according to the German naval authorities. At the same time Molotoff, USSR Foreign minister, is in Berlin discussing war help to Germany & USSR are threatening to invade Finland. Russia claims complete control in the Baltic (true) & Germany of the N. Sea (ha! ha!).
This week I have been moved to House 14 Room 5. Quite a pleasant, but rather large & bare room on the top floor.
Sunday 29th October '39
This last week has been interesting but there has been no great event.
I have got some nice curtains, a tablecloth etc. For my room, which now looks quite comfortable. Last W.E. I brought some chrysanthemums from home.
Apart from one or two half-hearted raids on a convoy and Rosyth, there have been no important War developments – except our pact with Turkey. But everyone expects some developments of a bigger nature very soon. A lot of rumours about the possibility of a German landing in England or Scotland.
Monday 6th November 1939
The War has slowed down to a standstill – very nearly. There has been no development of importance during the last week – except the repeal of the U.S.A. Neutrality Bill, which is really of first importance. There has been a lot of fuss - & still is over the U.S. ship City of Flint. She was captured by the Nazi Battleship Deutschland, but stopped in Norwegian waters, & released & Nazi prize crew interned. Germany has sent several strong protests, but so far they have been rejected.
USSR is more and more dropping Germany, & an even greater proportion of German planes sighted have been shot down. Today 9 French fighters attacked 27 German planes, & shot down 9 of them, without losing a single plane – or man.
Last week we finished the 'Machinery' course which was interesting, & we are, till the end of this week, doing M.T., which is great fun – it is chiefly driving & some practical Maintenance & Administration.
Yesterday came back from a very pleasant week-end at home.
Sunday 19 November '39
Nothing of importance has happened in the War since 6/11/39. We have done the M.T. course & 1 week Fd. Works: chiefly digging at Darland, but good fun.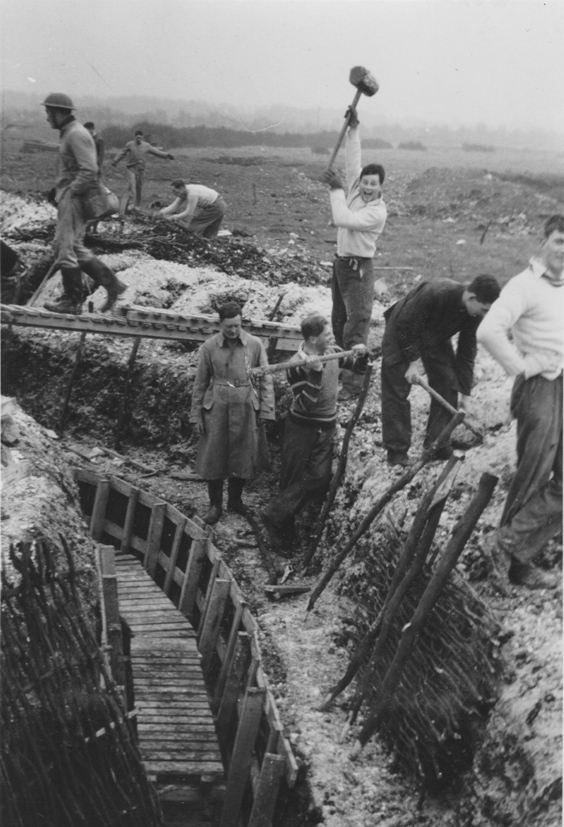 I have been home for last 3 week-ends & this weekend Michael was home & celebrating his birthday. We met in Town yesterday & saw
Under Your Hat
at the Palace Theatre, (Jack Hulbert & Cicely Courtneidge). A really 1st class show, & I think Mummy & Mick really enjoyed it. It is 2nd time I have seen it, but enjoyed it just as much. A first class weekend all thro!
Wednesday 29th November 1939
The War: German 'Mine Warfare' has produced a general outburst of protest from most countries. The Huns have been sowing floating (unanchored) mines haphazard along the merchant shipping routes & in harbour mouths round our coasts.
On Wednesday they dropped Magnetic Mines (used widely elsewhere as well) in the Thames estuary by seaplane – one was shot down that night. They are aluminium-cased, 6' long x 2' diam, weighing 400 lbs; each plane carries 4.
The Minenkrieg is now openly admitted (& defended) by the German propaganda Ministry. We have lost about 20,000 tons of shipping during last week (7 days), but much more neutral shipping has been lost.
There was considerable enemy air reconnaissance activity all round the South & East coasts, and bombs were dropped on the Shetlands (killing one rabbit!). We have had no raid-warnings here recently.
Last week (Thursday) we visited the C.D. batteries, etc., at Sheerness, which was extremely interesting – especially the control Centre of the counter bombardment (9.2") batteries. We visited the Fletcher 9.2" battery & the Sheerness fort batteries & magazines.
We finished the Darland trenchwork scheme on Wednesday. This week we are doing a week's tactics course. This consists of outdoor schemes and discussions on set subjects – quite interesting, but a bit monotonous.
Last week-end I had a very pleasant time at home.
I have bought an electric Record-player which I think will be really worth having, but I must keep down the money on records!
Thursday 30th November '39
Russia Invaded Finland Today.
Sunday 3rd December '39
Finland. Helsinki bombed many times, but no great damage, some casualties – about 200, nearly all civilians. Russia has made no progress of any import, & Finns say they will never give in.
Our War. Today it is reported that R.A.F. bombed units of Nazi fleet at Heligoland, scoring several direct hits, and shooting down one Messerschmidt – the only one engaged. All our planes have returned.
Nothing else has happened to note. Looking at the papers since Thursday, one would think the Finnish War the only one on.
This week I am on duty (Fire). Yesterday saw film
Wuthering Heights
. It is rather too dreary & sentimental for my liking. Last Wednesday saw Clarke Gable & Norma Shearer in
Idiot's Delight
, an unusual and impressive film, as well as quite cheery. Well worth seeing.
Last week we were doing Tactics. Interesting, and mostly outdoor schemes.
Sunday 10 December 1939
Russo-Finnish War: The Finns have been fighting magnificently, and the Russians have made very little headway anywhere. Italy, Germany and Gt. Britain have been sending planes & munitions to Finland – what a world! There has been no serious air attack on Finnish cities since the first two days.
In 'Our War', nothing of outstanding importance has happened - anywhere. Germany is now threatening Rumania & Turkey as well as Sweden, Norway, Denmark Belgium & Holland. There seems to be a general expectancy of a tremendous spread of the war in Europe & into the Balkans before long. Pray God it is wrong! Germany is working to bring Russia & us to war against each other.
This week has been a good one. We have started Heavy Bridging, which is interesting & rather fun.
I have been up to Town twice this week:- On Wednesday to shop, & I saw the film
Thunder Afloat
– a story of the war against U-boats in American waters in 1918. On Friday I went up with McNaughton & Bellingham-Smith on a 'razzle'. We had dinner at the Majorca Restaurant & went to the Little Revue, at the Little Theatre. Got back here about 1.30am. A first-class afternoon & evening.
Just back from a very pleasant week-end at home. Have got Mummy Beethoven's 6th Symphony (Pastoral) for Christmas.
Monday 18th December 1939
Good week bridging. Have finished our Composite bridge and done S.B.G. (Small Bridge Girder) & Hamilton bridges. At the moment we are doing the L.B.G. (Large Bridge Girder) & today launched the first girder successfully after 5 hrs work on bank seats, banking & preventer gear, etc.
Orderly Officer on Saturday. On Friday we did our S.B.G. night bridging scheme.
The War is going pretty well. The Graf Spee has scuttled herself in the River Plate estuary yesterday after the battle with the British cruisers Exeter, Ajax, & Achilles (8900 ts, 6 x 8"; 7000 ts, 6 x 6"). This has been the leading newspaper headline all over the world. We have also torpedoed three German cruisers (2 sunk) this week. There have been 2 big air-battles over the North Sea this week in which we have lost 10 planes for 18 Messerschmidts. Our planes were Blenheim bombers on security patrols over the Freisian Isles. They have been fitted as long-range fighters, but it is with some surprise that we find such big planes can deal with the German fighters.
Xmas leave for 1 week on Wednesday.
Wednesday 10th January 1940
We had a grand week at Christmas – very much as usual. The Cannon came in to our Christmas dinner. Mick and I gave Mum Beethoven's 6th (Pastoral) Symphony. The Cake was a perfect model of the Caravan the family spent camping in, in August.
The whole week was great fun but with few really outstanding items: We went over to Windsor on Saturday before Christmas (23rd), and saw Priestley's play
Laburnum Grove
. First class.
Petrol was beginning to get very short, but Mummy has now got an extra 9 gallons a month.
New Year's Eve was on a Sunday – and a very foggy one, so I saw the New Year in on Strood Station.
Last week-end I met Mick, Mary, & Joyce Dampney in Town and saw the play Judgement Day by Elmer Rice at the Phoenix Theatre. It is a skit on the Reichstag Trial – with a different plot & names and ending, but such characters as Hitler and Goering were obvious and it was all magnificently done. I have seldom enjoyed a straight play so much.
We are doing wet bridging course now.
Finland is so far beating back the Russians, who have had no success at all.
Rationing started the day before yesterday. We get 7 oz. butter & 10 oz. sugar per week (civilians 4 oz. and 10 oz.). It has very little effect on meals though.
Monday 22nd January 1940
Daddy arrived home last Friday from India. I got a letter from him from S'hampton in the morning, & one from Bombay in the evening saying he had got a passage, so it was a surprise – He is very fit & it is marvellous to have him home. It has been very cold – no thaw at all except on about 3 days – for about three weeks now. The thermometer has been nearly down to zero many times. I was home last w-end, & on Sunday, Daddy & I went for a walk round Virginia Water where there were several hundred people skating. The ice was at least 6" thick over the whole lake, and we walked the length of the lake on the ice. Nothing has happened in our war, but in Finland there has been heavy fighting. The Russians have been back & have suffered terrible casualties. The Soviet has been carrying out very heavy air-raids on Finnish towns, as many as 600 'planes taking part in one day. Finnish casualties are negligible but considerable damage has been caused. Temperatures of 100° F below have been recorded this week!
Tonight I am on night duty at Kitchener.
Last Wednesday I went up to Town & bought a first-class trench coat at A & N Stores. Also saw cartoon film
Gulliver's Travels
. Wonderful! With Gwynne & McNaughton. We had a first class day.
Saturday 3rd February 1940
The cold weather has just broken it seems – it has been thawing all today. However, good stories are now allowed to be published in the papers, and all train services to Scotland were suspended for a week; they had several feet of snow in the Midlands and North. The coldest spell since 1894!
The Finns are still driving the Russians back, but Soviet 'planes have done great damage in extensive air-raids – very few casualties however.
Nazi 'planes are still attacking fishing trawlers & small merchantmen, & machine-gunning escaping crews. Three Heinkel bombers were caught & shot down today.
Wednesday 21st February 1940
Chester: I arrived here, posted to 5 T.B.R.E., on Monday.
We finished our courses at Chatham on the 10th; since then we had a week's leave which was great. Mummy & Mainie were in the middle of a nursing course at Botley's hospital, and were away from 9 a.m. till 4 p.m. every day which was a pity, but couldn't be helped. I went up to Town on Thursday with Dad, did some shopping including Mum's birthday present (lampshade) & saw film
The Stars Look Down
after Cronin's book. Well done and good but rather too tragic to be called an outstanding film.
The weather has at last really broken and this is the fourth day's thaw. A few weeks ago they had 200 men clearing roads for 10 days – such was the snow; there were drifts 10' deep and more.
On Sunday I tried to ski on St Anne's Hill, Chertsey, with Mary & Peggy Wilton. Mary's skis didn't work as the straps were broken, but it was good fun.
Wednesday 28th February 1940
I have been here nearly 10 days & feel more at home now. I am No. 8 Party (B Coy) Officer. The party are all Recruits who joined on the 16th inst., and are a pretty good lot. We are doing Drill & Musketry on alternate days. For Musketry we march out to the Cheshire Yeomanry Drill Hall, which takes an hour and is rather a waste of time. However this spot is much better than I thought at first.
Last Friday I went to a really good dance at the Grosvenor Hotel. Foord Kelcey – one of the W.E. officers here – introduced me to a girl, Elizabeth Reid, who was very attractive. It was a really good evening. We got to bed by 3.00 a.m.
On Sunday I, T. Wheatcroft & Kelcey went for a drive in another T.A. Officer's 3 ½ litre Bentley into Wales. Good fun.
Sunday 31st March 1940
This last month the party has come on well. The Pass-Off went really well; one section was the best turned out Colonel Low had ever seen, and No. 4 section, which came out top, only dropped 5 points out of 150, a Battalion record. We have now been on Fieldworks for 2 weeks.
Last week-end I got a long W.E. from Friday morning to Sunday night, & went home – marvellous. Dad will probably get some job as Lt. Col., so he says, until the war starts & they want senior officers; it seems rather a waste.
Nothing very outstanding has happened, the only incident being the German Scapa Raid, a very weak affair, followed by the R.A.F. attack on Sylt, which was (a very considerable, and) the biggest action of the war.
April 30th 1940
Off to Southampton for France tomorrow. Am going straight to 222 Field Coy, 2nd Corps, which should be First Class!
This last month has gone well. At Chester the party has been going on with fieldworks very well, and I am very sorry to leave them now.
I got a week's leave from 14th to 21st April which was great fun. On my birthday we all went up to Town & saw
The White Horse Inn
at the Colisseum: a delightful show.
I went back to Chester on the Sunday, & on the Monday morning I was called to the Adjutant's office with Tony Wheatcroft & W. Ingram & we had to toss for who was to go to the B.E.F. & I won!
I left Chester on Friday, & met Mum and Dad at the Cumberland where we stayed a night. On Friday night we went & saw a play
Jeannie
, very attractive, but not quite enough continuity and variation to it.
Saturday morning I shopped & in the afternoon we met Joyce Dampney & went and saw the film
Gone with the Wind
. It is all in Technicolour & lasts 3 hours 40 minutes – too long to really be able to digest it, but nevertheless very fine.
These last few days I have been packing and tidying up.
Last updated on 15th March 2017