4. North Africa
After our two months at Motherwell, a Corps HQ Advance Party was nominated, which included our Chief Engineer, Brigadier Caldwell (known as Hindenburg, or 'Hindy', by most), Colonel Shaw, Colonel Bob Roberts, myself and a few others. We were ordered to assemble for embarkation on S.S. Strathmore, moored at Gourock on the Clyde.
The Strathmore, a P&O ship, was to take some 1,000 men from the Corps HQ and advance parties from the major units earmarked to disembark at Algiers.
The Strathmore was a beautiful ship, recently modified to take troops but with the First Class accommodation retained to carry the officers (and politicians, perhaps) in considerable comfort. I shared a comfortable 4-bed cabin with Col. Dynes (C.R.E. Corps Troops), Major L. 'Mac' Young (Dynes's adjutant) and Peter Walker (HQ R.E. 5 Corps). All the officers had the use of the First Class Lounge and Dining Room and felt thoroughly spoilt. We embarked during the afternoon of 31st October 1942, a chilly day but with bright sunshine. Was that a good omen, I wondered?
We were not informed of the route to be taken, although to reach Algiers we clearly had to pass through the straits of Gibraltar. For security reasons we sailed out into the Atlantic and it was two weeks before we went through the Straits. We had an enjoyable and peaceful journey, and perhaps we were lucky, for one of the other ships bound for North Africa was torpedoed, but suffered few casualties. We disembarked at Algiers at 7.30am on Friday 13th November.
At this point I shall let my diary resume the story:
Saturday 14th November, 1942 – Algiers
Disembarked 0730 hrs yesterday, which involved a considerable fight whereby we were enabled to get off first. Billeted in L'Ecole des Filles, Rue Rochambeau. This is a clean and well-kept school which is ideal for our purpose. Stone floors throughout. We have got our M/Cs and a Humber utility from the V.R.D.
Algiers is a dirty town at first sight, but in fact it is not so bad, and the comparatively poor Frenchman seems to live well – clothes, and food are shockingly short. We have set up H.Q. and all is well; today I went over to Arba to find Col. Dynes. We may move east on Monday. Weather fine. Very warm, but not too much so.
Contacted (by luck) a local photographer who has photos of roads and bridges in Tunisia – a great find, and may be invaluable. He knows the whole country inside out! Brig. much pleased! Everything well so far. Bosch appears to be getting troops to Tunis, but small numbers only so far. French are fighting them.
Wednesday 18th November, 1942 - Djidjelli
Moved up from Algiers today via Bougie – 200 miles odd – and going on to Bône area tomorrow. Grand run, but rained now and then. Most beautiful scenery along coast after Bougie, with quite big rollers coming in. It was most interesting looking for the bridges and rivers which, according to my intelligence summary, should be coming! No news.
Thursday 19th November, 1942 – Bône
Arrived here 1500 hrs today after a good run of 165 miles. Rained all morning, but the road was better than yesterday. Some lovely scenery, especially in mountains 25 miles odd from Djidjelli.
Nearly killed a calf – it hopped out in front of me while I was doing 40 mph or so. Hit it hard, but it did not seem to be injured. I skidded right round, but did not come off the bike – luckily!
In excellent billet tonight. News is good. 78 Div. are in contact with the Bosch at two points – now for the fight! It is a pity that Adv. Corps are not out yet, as at present it is purely a Div. battle, and we are little more than onlookers.
Sunday 22nd November, 1942 – Bône
Still in our billet here, and quite comfortable. There has been little of consequence happening, as we are really little else than onlookers. The Hun has bombed the aerodrome here the last two nights. The first night, not hitting it at all – (but us instead); the second time doing a little damage, but nothing of consequence. Both nights we had a lot of incendiaries all around us – most explosive – and two 500 lbs H.E., one of which has not gone off. They are 150 yards from us. The one that went off smashed some windows and put all the lights out. It was quite an exciting evening.
Yesterday I went out with the C.E. to Souk Ahras, where we had lunch with 564 Field Company R.E., and then on to Ghardimaou in Tunisia. It lies at the head of the Medjerda Valley, a speck on a vast brown plain; as flat and even in colour as a table top, and ten miles wide by thirty miles long. We came over the top of a ridge to see it all below – a wonderful sight.
The road up was first class – zigzagging through great rolling hills. The distances here are beginning to tell – we did 280 miles yesterday, and were still 100 miles back from Algiers.
25th November, 1942 – Bône
Moving to Souk Ahras tomorrow. Nothing has been happening here, as the C.E. has been forward for 2 days now, and all the others except Scottie elsewhere. So we have been right out of touch with everyone. Adv. H.Q. should arrive tomorrow, so before long we should get ourselves organised.
A little excitement here now and then. The Hun is fond of sending over single planes to bomb the aerodromes or docks. He has done little damage up to date – destroyed a few planes on the ground, and one hit on the Base hospital – otherwise NIL. We have shot several Huns down – and two Italian planes.
I went over to Jemappe yesterday to see Army HQ but found they had moved. 100 miles for nothing, but it was a pleasant ride and a fine day. Weather is getting colder and wetter.
Thursday 26th November, 1942 – Souk Ahras, Algeria
I moved up here today independently, and others from Corps HQ came in this afternoon. We are in the local school which is a great big, airy, clean place. We are expecting all of Adv. HQ today or tomorrow, so have set up Corps HQ more or less complete.
Grand run up here today. Snow on the hills and a clear blue sky. I couldn't help stopping and admiring the view just before arriving here. Two feet of snow reported on the Ghardimaou road, but still passable. I hope it remains so!
Saturday 28th November, 1942 – Souk Ahras
I went off yesterday to do a road recce up to Tabarka – and down to Beja from Djebel Abiod. Started at 0630 – first light – and did the round 196 miles back to Souk el Arba by 1500 hrs, with the completed report. It was a great run. The weather was wet most of the way, but I was prepared for that and clothed suitably!
The whole route was good, with every possible type of scenery. The bare Medjerda plain, the thickly wooded hills to the north, the flat coastal plain, with sand dunes east of Tabarka, and the more open and bare hills north of Beja.
As for the War – the Hun has been strafing the roads a lot – he has been going for any vehicle that moves. I saw a 15-cwt. truck shot up, and the officer driving killed. The road along the coast had a great many damaged or burned-out vehicles, but all in, the losses are not very great. The Hun has also had a shot at bombing roads and bridges, with very little success. We fill in his bomb craters very quickly!
Saw 256 Field Company up at Djebel Abiod; in good form, but they have not done much in the way of sending back information.
Adv. HQ forming here in Khemis. Quite a good spot. It does not look as if we shall see much of this fight in Tunisia. 78 Div. are going to finish it off alone. They are in Mateur tonight, and will be in Tunis and Bizerta in 48 hours by the look of things. I think the Hun has had enough and is running away as fast as he can. A Dunkirk for him I fancy!
Just about completed 1,000 miles on my motorcycle since landing at Algiers.
237 have put across the first operational Bailey Bridge – at Medjez el Bab! 100 ft. triple single. Scottie came back from 78 Div with a machine gun bullet hole in his car! First battle scars. He wasn't hurt.
Sunday 29th November, 1942 – Souk el Khemis
Nothing much doing today. Into Souk el Arba twice this morning, and got a lot of information from the Ponts et Chaussées on roads south towards Tripolitania. Battle going well. Saw 75 Douglas Transports with fighter cover coming back from Tunis area after dropping Para Battalions.
Monday 30th November, 1942 – Souk el Khemis
We heard Churchill speak last night. He made a good speech – mainly aimed at the Italians. It looks as if we are expecting them to back out of the War all together before long.
Went up to Medjez el Bab today, to see Bailey put up by 237 Fd. Coy. there. The Hun had blown one arch of the bridge, using Teller mines, leaving a gap of about 60 ft. They required a 100ft. triple–single, since the adjoining arches were badly shaken. I took some photos of it. It is the first Bailey ever to be erected operationally.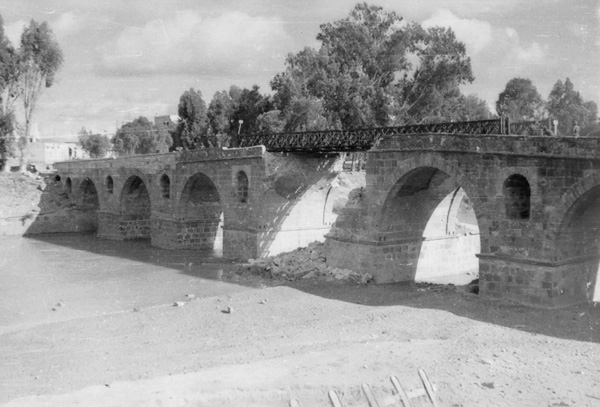 We have split into Adv. and Rear H.Q. today, and so I have moved to a new billet. It is a shambles at present, as no one has organised it. I am getting a bit bored with life – there is nothing we can do except look on at present. I hope we will take over command soon.
Wednesday 2nd December, 1942 – Khemis
No change – we are still gathering ourselves together. The trouble at the moment is the lack of our Transport, and with it, essential stores. In spite of the fact that we are not yet operational, we have quite a bit to do, and I am fairly busy all day. The Ponts et Chaussées, and Gènie are cooperative, and have given us a lot of information.
Sunday 6th December, 1942 – Khemis
We are operational at last, which is a great relief – no longer just onlookers. Things have been moving fairly fast here, the key question all the time being transport. We can make ends meet by a very small margin, and it takes time to make any progress.
Class 40 loads have been giving us trouble -- all the French bridges are only designed for 12 tons. So I have done quite a few diversion recces in the last few days.
The battle is now fairly static. The Hun has collected a considerable force now, and we are rather thin on the ground, so must pause to gird ourselves up. Even so we are within 30 miles of Tunis on D428. Not so bad!
Main topic today has been explosives and stores priorities. Fine weather recently, a little rain tonight. Yesterday we had a most wonderful sunset, which together with the colours on the hills, was glorious. The corn is coming up in the fields. Midnight, and to bed. We are working with a hurricane lamp in our very minute office, about 10 ft x 5 ft.
Friday 11th December, 1942 – Khemis
Have been working hard last few days. We are now almost complete in all that matters, and are functioning normally at Corps HQ. All going well. We have now reshuffled our forces. No major changes in the situation.
Sunday 13th December, 1942 – Khemis
Fine day, and bright moon tonight. Yesterday had an interesting day up with 36 Bde. They are in the valley forward of Sedjemane, with the Hun overlooking them from a hill sticking up in the centre of the valley. There is little fighting up there, but of course 256 Field Coy are working as hard as anyone. C.E. went up there today to tidy up their demolition policy, which appears to have gone astray. They are keen on blowing up everything!
Heard today that Paddy Geary has been killed by falling on some Grenades that he had been carrying.
F. Gp., including Jones, my batman, arrived today. It is a great relief to have them here.
Thursday 17th December, 1942 – Khemis
We are still here! I spend most of my time in the office trying to work, repeat trying. The times each day when there is quiet for more than a minute are few, and our office is very cramped.
Over to Beja and up the S'Nsir road to Leggatt of 564 Field Company, today, on motorcycle. It is a fine bit of country there, but at times lively. The C.E. got shot up for the second time there yesterday! A bomb about 20 yards in front of his car, which was badly damaged. Neither he nor Driver Deldafield were hurt.
Things are very quiet just now, but I feel that something is coming soon. The 'I' people are most interesting. They have the complete enemy order of battle amongst other things. They have had a lot of P.W.s and enemy deserters, all of whom seem very ready to give information. It appears that their morale must be low, as this is unusual for the Hun.
Tuesday 22nd December, 1942 – Khemis
Busy day today; out on motor cycle chasing Op. Order which got lost, and laying on loading and despatch of stores from Dump at Arba.
Got a letter from Pat, and one from Mum, two days ago. Pat seems well and cheerful, and it was grand to hear from her. Little news at present. All well, and set up for a show!
Wednesday 23rd December, 1942 – Khemis
Rain today. I was off to 281 Park Company with the Chief, but he cancelled the show due to the weather. Had all my kit packed and moved off to Adv. HQ, and then had to bring it all back! Quiet day.
Christmas Day, 1942
Quiet day. Held the fort at Advanced HQ until 1600 hrs. I heard the King speak at 1500 hrs, and very well he spoke. It was good to hear him – it is one of those things one has come to associate with Christmas Day.
Excellent dinner tonight – Roast turkey, beer, wines, oranges, etc. Quiet, but good fun. I think it is the first meal that I have had time to enjoy, and has not been entirely out of tins, since landing.
Saw work on Khemis bridge (nicknamed 'Balaam') going on this afternoon. They (564 Field Company) are putting over a 160 ft. T/D Bailey at low level as an emergency bridge so that we can replace the existing one, which is Class 12 and falling down. It is a big job, involving about 500 yards of approaches, and ramping down steep banks, the eastern one which is about 30 ft. high.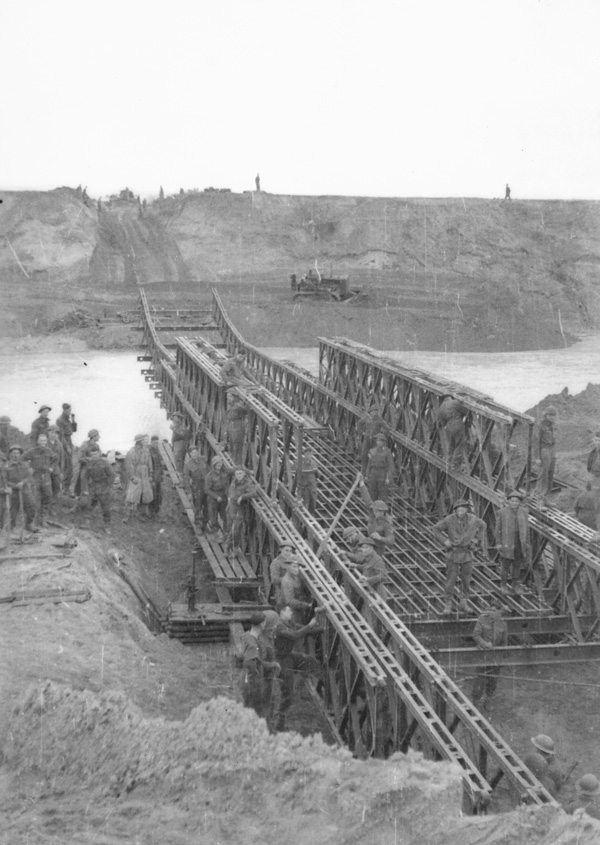 We have had a lot of rain the last few days, which has done a lot of harm to the roads, and generally hampered activity.
Tuesday 28th December, 1942 – Khemis
Pleasant day. Brilliant sun, but rather colder than of late. Spent morning at Q conference, and on way motor cycle broke down due to faulty work by workshops. However, soon put right.
New bridge (160 ft. T/D Bailey) at Khemis opened with suitable ceremony at 3 o'clock today. Corps Troops have done a good job there.
Had a so-called bath this evening.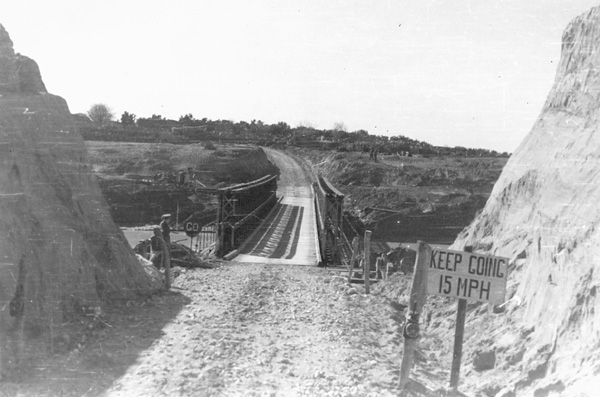 Friday 1st January, 1943 – Souk el Khemis
Still here, with very little happening. The weather has been grand the last few days, and quite hot at times. However, I feel we shall really get the rain before long. Some mail in yesterday and today. Three letters from home, and one from Pat with a WREN Xmas card. Mum sent out a Punch Calendar, which is most cheery and useful.
Saturday 2nd January, 1943 – Khemis
Another fine day. Went over to 78 Div this afternoon and saw Dick Cole and John Allardyce on business, and had a cup of tea there. It is a grand run over and a good road.
Some more mail today - a card from Sir Robert and Lady Knox, and a letter from Lillibet.
Sunday 3rd January, 1943 – Khemis
Rain and strong wind. Nothing happening. Wrote to Pat. Five new air photo sorties came in. Have not been through them in detail, but look excellent.
Monday 11th January, 1943 – Khemis
Moved my office yesterday into old G(I) room. Great improvement as it has a tiled floor and electric light. Very little happening at present. I am fairly busy on routine work as usual. Water supply, roads, bridges, air photos, and so on.
Friday 15th January, 1943 – Khemis
Had an interesting day today. Off on motor cycle this morning to Boff's bridge over Oued Tessa, where 8 Field Sqn. have 130 ft. T/T Bailey. Then to 6 Armoured Div, and saw Osterloh and had lunch. Then to Medjez to see Forth Bridge (170 ft T/D), Guards Brigade HQ and back via Oued Zarga and Beja. 150 miles in all.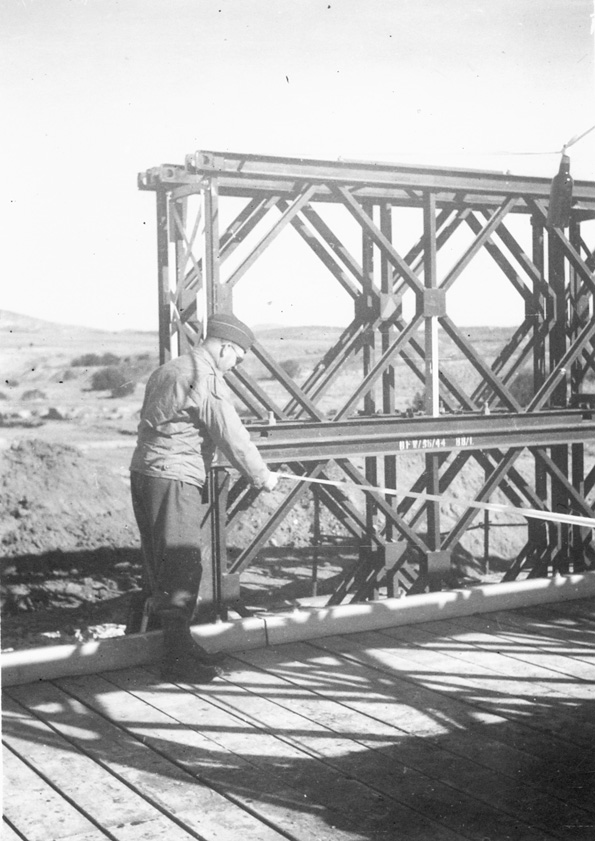 All the Bailey jobs are well done. The Tessa bridge is the first T/T ever erected anywhere, and has caused a lot of correspondence back to War Office, etc.! It was a fine day, with a shower now and then, and most enjoyable.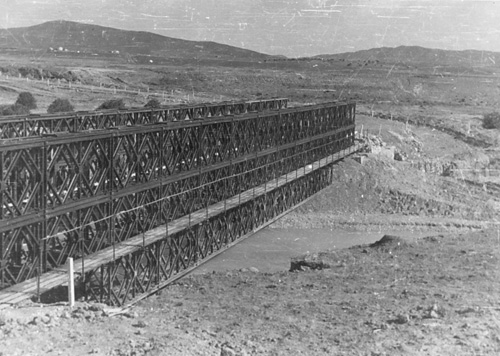 78 Div. have put in a good Class 70 ford at Beja, consisting of a reinforced concrete road running over a series of precast reinforced concrete pipes taking the river at all times except extreme floods. They have made an excellent job of it. Things are going well now, and we have at last used up local resources of plant, labour and materials. There is still the question of payment – money is useless to the Arabs unless we provide clothing etc. for them to buy.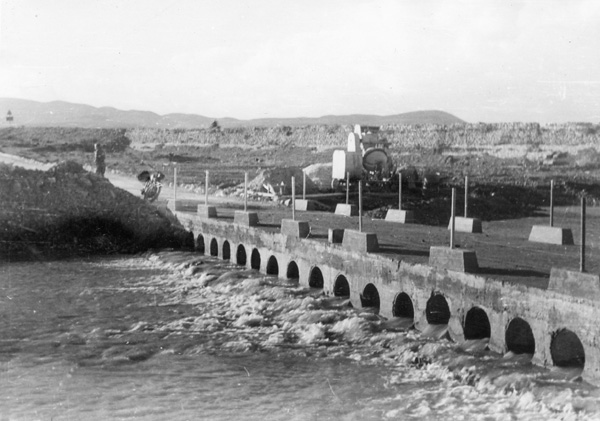 Monday 18th January, 1943 – Khemis
Day in the office. Adv. Corps have moved and C.E. is now in an LCV about 10 miles away from Signal centre. It is a wretched journey, the road being very bad, and on a motor cycle at night...! I have now an excellent office – clean and light – which I share with Lidiard, F.E. 14 Airfield Construction Group.
Slight battle today. The Hun attacked at Bouarada, was severely knocked and disappeared with about a dozen tanks destroyed. It seems likely to flare up again tomorrow.
Thursday 21st January, 1943 – Khemis
Went down to 6 Armoured Div. yesterday. Grand run over the world's worst roads. Divisional HQ was hidden away in an olive grove south of El Aroossa. It was refreshing to get into the atmosphere there – much more alive than here. Intermittent fighting has been going on in their area for the last few days. The threat to the S.W. of Pont du Falis has died out for the moment, although the French are in none too good a position there.
Letter from Mick yesterday. He seems well and cheerful, and enjoying life no end. Keen on airborne gunners. He has done well at Aberdeen so far, and is at present 5th out of 38 in his batch.
Over to 78 Div. this morning, in thick fog. Last few mornings have been very foggy, but with brilliant sunshine all day after eleven or so. Yesterday I wound my way up the Teboursouk road through thick mist, and as I reached the top of the ridge it suddenly cleared, and the whole country in front over Teboursouk and the south was spread out clear as crystal in brilliant sunshine, with small patches of mist lying in the valleys. It was a lovely sight.
The valleys are now sheets of emerald green, with a few patches of brown. The wheat is about 6 inches high. This country is a gift to an enterprising farmer. The soil appears rich, and land costs little to buy. This war will, I think, open people's eyes to the possibilities here. Full moon tonight.
Wednesday 27th January, 1943 – Khemis
To 256 Field Company at Robaa today on a road recce. Left at 1030 hrs. The road east of Silianah was so bad that I had to leave my m/cycle and walk the last mile – or rather push an ambulance on which I had begged a lift, and which was no more capable of getting there than my bike!
Found Morrison in a farm west of Robaa, and went on with him in his Utility. In all, I did about 150 miles over most indifferent roads; it was a tiring but enjoyable day. Got back just before six, just as it was getting dark.
Thursday 28th January, 1943 – Khemis
A hard day in the office, and got through a lot of work. Put my bike into Workshops for overhaul - 3,500 miles now since landing at Algiers.
Sunday 31st January, 1943 – Khemis
All well, without a great deal happening. Yesterday I went out on a photographing expedition – to Tessa bridge near Le Kef, and back via Souk el Arba, seeing 1st Army Troops working on the Mellegue ford on the way. It was a grand trip (just 100 miles) and as fine weather as we have had – hot sun, with just a trace of a wind.
I got prints of my first film from Army today. They have done them half-plate, and, though the negatives are a bit scratched, they are not at all bad. Wrote to Dad tonight.
Thursday 4th February, 1943 – Khemis
Had a day off today! I was late up, and went off about 1000 hrs, hitch-hiking into Souk el Arba, and then walking nearly to Chemtau along a rough track to the north of the valley. It was extremely hot, but at the same time enjoyable, and has done me a lot of good. I got back about 4 o'clock after walking about 12 miles.
Wrote to Pat, Mum and Dad tonight.
Tuesday 9th February, 1943 – Khemis
All going well, with few incidents of note. Two days ago went over to Beja and met 46 Div. R.E. for the first time – Lt. Col. Walkey, and his adjutant I.S. Keelan, a cousin of Pat Keelan. Produced a few suggestions the night before last on the control of minefields – laying, charting, etc. They have been accepted in toto by 'G Branch', and are being sent out to Divs.
I am doing a lot of work on photos just now, which is interesting, inclined to be tedious, but I have at last mastered the Parallax Bar, and am confident that the results produced are accurate.
Tuesday 16th February, 1943 – Khemis
Moved up to Adv. HQ at Mangouch Station two days ago. It is a great improvement, as I am now in the picture, and the work is lessened; there was previously much duplication. I am sharing a tent with Philip [Bradfer-Laurence], and things are going smoothly. Today I went down to see Lacey (564 Fd. Coy) at Gafour, leaving at 3.30, and getting back just after dark. This was a short "hop over & see Lacey" run, but was just 90 miles in the round trip! However, it was an enjoyable trip.
Some amusing things happen here. We have our 'Ghost Train' which runs up the line at night to the Aerodrome (Paddington). It is the only train to run on the line for 3 years, except for an engine and one cattle truck, which occasionally come up packed with 50 or 60 Arabs, who are working for the Railway Operations Coy up the line. The third train is the Commander's Train - a light trolley with a Motorcycle engine, which is normally used by Signals for line-maintenance, but used now and then to go up to Medjez area, by the Comd or GI. The farm is also full of pigs, which periodically invade us. On the whole it is a clean place, and a good site for HQ.
Sunday 21st February, 1943 – Khemis
No great change here. The Hun attacked the Americans in the south with all the strength he could muster, with the result that the Yanks have been pushed back. It has given the Hun more elbow room, but we have not really lost anything serious – so long as we hold the two gateways south – the passes at Sbiba and Kasserine. The Hun has got a hold on the latter, but I hope only a temporary one. 5 Corps are in both the key spots!
Had some mail in tonight – one from each of Mum, Dad, and Pat – most cheering. They are all early January, but none the less welcome for that. Wrote to Mum tonight, and Pat last night. Got prints of my second film the other day. The negatives have been scratched but on the whole, they have come out well.
Sunday 28th February, 1943 – Khemis
This week, the Hun has given up his attack in the south, and is having a crack up here. So far he has made little progress, with very heavy losses. I have been busier of late – having taken over responsibility for the Corps minefield records, but everything is going well.
We had a lot of Churchills over Balaam Bridge here two nights ago. I was up all night to see them, but gave it up at 0400 hrs. They actually arrived about 0630 hrs. The bridge took them without a murmur, of course!
Wrote Mum tonight (postcard).
Monday 8th March, 1943
No great amount of news. The battle has died down after about ten days hard fighting, during which we have hit the Hun hard. 46 Div R.E. have blown up ten Jerry tanks in the last week, and 8 Field Squadron another six. On the whole I think we have had the advantage, but it will delay any show to be started by us.
The weather has been poor recently – rain on and off for the last fortnight.
I have been in recently, except for one trip two days ago down to Mzoora and Sloughia to see the jobs there. We had a good RAF concert party last Monday, and a camp boxing tournament the next day, which Hindi refereed. I saw about ¾ hour of each, and well worth it. Wrote to Pat last night.
Saturday 27th March, 1943 – Ouargha
A lot has happened in the last 3 weeks. I have been 5 days with 256 Field Company R.E. and am just getting into the swing of things. On the whole, a first-class company, but discipline a bit weak, and an aversion to spit and polish! The O.C. is a Canadian – Brown – and very good, but also a bit 'anti-blanco'. I think he is probably right. The Company has had four months' really hard work and seen a certain amount of fighting; it is running smoothly at present, so the fewer changes the better. We are in Div. Reserve area at present, up in the hills south of Ghardimaou, working on roads. We are finding time to get equipment sorted and cleaned, and the odd bit of training now and then.
Before coming here, things had been going well at Corps. Nothing very unusual happening, but I managed to get out now and then – in particular one day I spent 'discovering' the old Roman road from Beja to Teboursouk. It was a fascinating trip, only possible on a motorcycle, but in places it was quite good with the Roman paving and drainage channels still in good condition.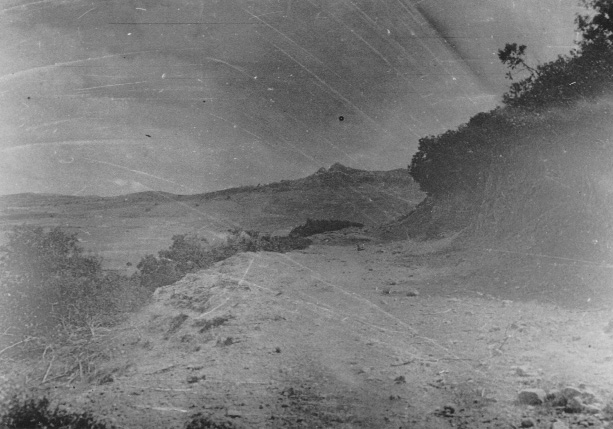 The Air Mail has started working, and last week I got letters from Mainie and Pat by air. I also wrote to Mum and Pat by air, and Mainie and Mick by ordinary mail. Mum and Dad are sending out the Sphere and Punch, which are most welcome – and popular!
Before leaving Corps, Hindi made a nice parting speech which was very encouraging. I handed over to Jerry Buckley, from 46 Div. as Intelligence Officer R.E. for 78th Div. and wished him the best of good fortune.
Thursday 1st April, 1943 – M'Zoora
Moved up here yesterday in daylight for rush road job. We have managed to get about half the transport off the road for three consecutive days during the last week, and it has been invaluable.
Weather is still very wet, and windy. Here, we are right up in the front again, and everyone is the more cheerful for it. They seem to get bored during our so-called rest! We are in a farm, and have two small rooms for Men and Office, and are quite comfortable.
Saturday 17th April, 1943 – Toukabeur
My birthday (!) but not much opportunity of celebrating – except in that we had Compo in place of bulk rations! We are in the open just north of Toukabeur, overlooking Medjez, and the battle has more or less died down – though we have a battery of 5.5s just beside us, who are still very active. The Div. attacked on the 7th, and since then we have worked hard – at first clearing mines and booby traps, and since on road work. On the whole, the Div. R.E. have done well, and everyone here has much praise for us – which is encouraging. In the first three days, we lifted some 500 Teller mines and 100 S-mines in the Company area. Since then it has been all road work – through country which only boasted mule tracks before last week. The Div. has completed in detail all it set out to do – except to hold Djebel Tangoucha, overlooking Longstop, over which fighting is still going on.
Within the Company, things are going well, except for a number of cases of 'shock' or 'nerves', and a bad CSM with whom I lost my temper tonight.
Jacko (J.C. Jackson) was killed on the first morning of the attack.
The Eighth Army are now holding a line south of Enfidaville, and have the XIX French Corps on their left. So it is all one big party now, with the Hun penned into a perimeter of about 80 miles or less.
Several letters from home. Mick still has 6 weeks pre-OCTU to complete. Pat still at Worthy Down, but in good form as ever.
Tuesday 27th April 1943
We have taken Longstop – that is, we and the Brigade. It has been three days of very bitter fighting, and the infantry have had casualties but, as usual, we have done what we set out to do. Things are going well all along the front, and the slogan is "Ten days to Tunis." Have been bad at writing letters recently, but we have been busy. In the last 3 weeks our 'score' of mines lifted has been well over the thousand, and several miles of new road built across hilly rock country, and one bridge – at Kelbine, just this side of Heidous. Heidous and Tangoucha fell to 36 Brigade two days ago.
John Townsend-Rose was wounded in the leg the other day, but we are still six officers strong – with three new subalterns in the last month.
The weather is getting hot, and the rain has just about stopped for good. The country is all corn, just about to ripen, and filled with red poppies, yellow daisies, and a blue flower like a small convolvulus which covers whole fields with a misty sky-blue colour.
Yesterday, I was up at Halte d'el Heri, east of Longstop, when one of 3 Section's mine-clearing party captured 31 prisoners, including an officer, with no weapon more deadly than a mine-detector!
Just had a bath, in my wash basin, and a new pair of trousers. So I am almost respectable. We are moving to Smidia this afternoon, on the Medjez - Tebourba road, just south of Longstop.
Friday 30th April 1943
Things have quietened down these last few days. We have been clearing minefields – lifting over 1000 mines during the last three days. We have now got our tropical kit and very welcome it is. The weather is just getting hot. I only hope it keeps moderate until we are in Tunis.
Today I was up at S'Merzoug, at the north end of Longstop, watching the battle, when I saw two Jerries – and collected them. They showed no fight, and only wished to be out of the war. They carried copies of our pamphlets with a safe-conduct on them – which we have been dropping on them.
I am getting rather sick of mines. We have been on mines & booby traps for three weeks, and are tending to get careless. So far, very few casualties.
We have got rid of our CSM at last, and Rowe, from 3 Section, has the job.
Thursday 6th May 1943
East of Medjez. We moved over here three days ago, and last night the big show started - at last! Today it has all been most impressive. The air full of our aircraft, and the noise of our guns. We have only heard of one Hun 'plane being seen. It is 100% air supremacy, which is a thing about which I have always been sceptical. We have up here our own Divs, and part of the Eighth Army, including the 4th Indian Div. Everything has gone well, but detailed news is rather lacking.
This morning I saw the Indians going in, on the second objective, preceded by a terrific barrage and a lot of Churchills. It was really most impressive. On the whole, I don't suppose anything quite like this has ever been seen before – seven divisions and two Army tank brigades on a five mile front! Blitzkrieg as even the Hun has not tried.
Our job has been one of holding – I suppose it really is someone else's turn. So we have had things fairly static – quiet would not be quite the word, with around 800 guns near us!
Mail a bit delayed recently, but naturally so. Letters from all at home, and from Pat, with a grand photo of herself.
The news indicates tonight that there may be a general collapse of the whole front – we have Tebourba, and possibly Bizerte and the road south to Tunis at Protville. In any case he is withdrawing everywhere, but it is too early to be over optimistic.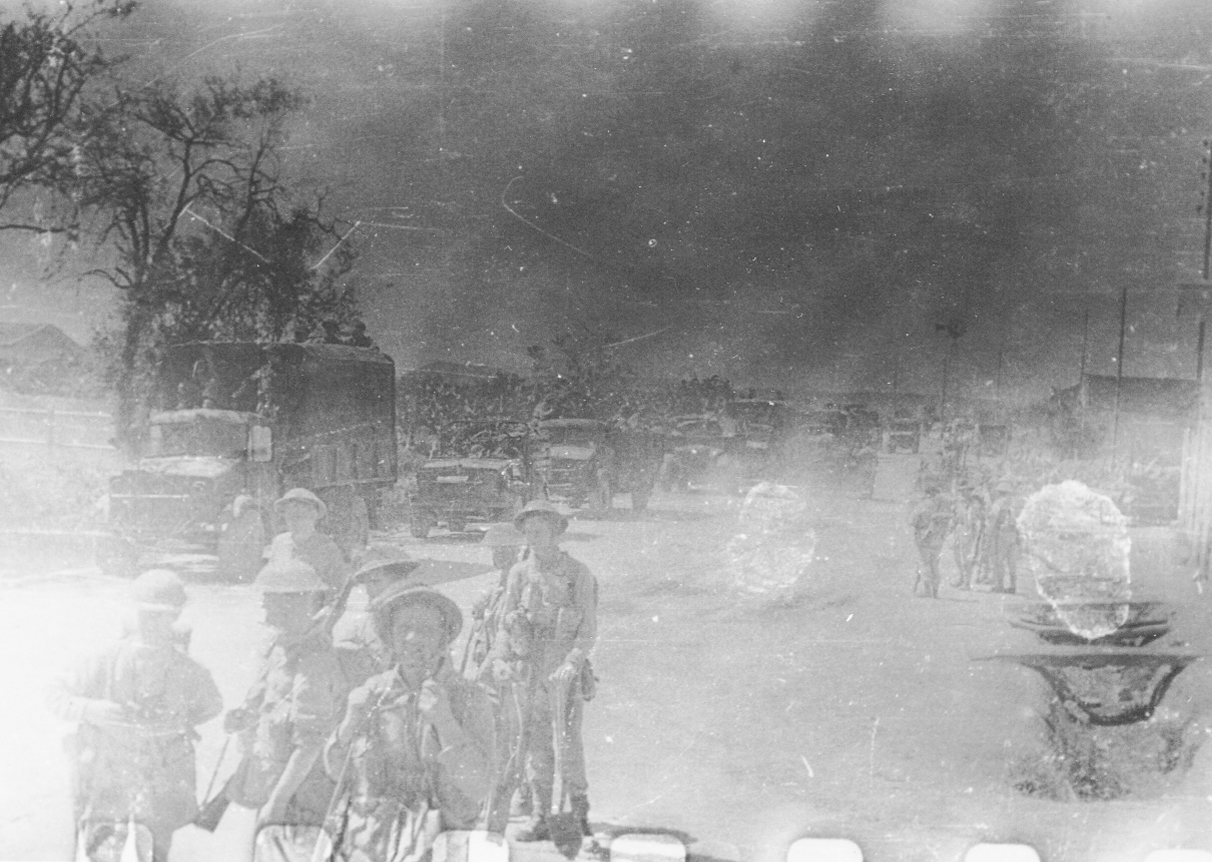 30th May 1943 - Guelma
The hottest day yet – I guess the temperature has run well over the 100o mark, but the top of our hill is still bearable as it catches any breeze there is. Sections are all hutting still.
Tuesday 1st June, 1943
On the 6th of May, the 22nd Armoured Brigade went right through to the outskirts of Tunis, and entered on the 7th, at 1530 hrs. That evening, I went up to 36 Bde H.Q. in Montarnaud, after going under command, and was just in time for an order group. We got orders to move off at 0600hrs. As I only got back to the Company at 0525 hrs, we had to get cracking! Anyhow, we were the first unit to pass the S.P., so had to wait for the Advanced Guard! Our destination was Djedeida, but as soon as we got there, we were sent straight on into Tunis – about 2 o'clock on the afternoon of the 8th. The Division was given the task of investing the city.
We were expecting to have to do a lot of mopping up, but in fact the Hun was broken, and gave himself up on first sight. The run up was for the first part cross-country (Toc Route), then by the main road. The only incident was a mine, which went up in the road in El Bathan, under a Churchill, just as I was passing it.
The Hun blew all the Medjerda bridges, and the Chafrou Bridge S.E. of Djedeida, but none of those on the main Medjez – Tunis road. He tried, but failed to destroy the Peter's Corner bridge over the Oued el Ahmar. All those bridges destroyed were replaced quickly by Baileys. Jerry did a job worth seeing in all cases – no replacement bridge was less than 130ft clear span. We set up for two days just outside La Mornaghia, and then moved to La Marsa area, near Carthage. It is a glorious bit of coast – clean and hilly and typically French. The sea was always blue, and warm.
Arnold Graves and I bathed nearly every morning before breakfast, and usually again in the afternoon. We did little work, apart from checking equipment. No. 1 Sec, and later 3 Sec, went back to clear the minefields at Longstop. It was here that Eric Kear and Henry Savage were wounded with 4 Other Ranks, but luckily not seriously. 'S'-mines, of course, laid in standing corn. We cleared around 4,000 additional mines, before handing the job over to 5 Corps, still far from complete.
On the 20th I took part in the Tunis Victory March, a wonderful show. We spent the previous evening in an assembly area just outside the city. In all, about 27,000 took part. The Division led the British contingent.
The day before, the O.C., Tom Coffin, and I went into Tunis to try and buy something, but with little success. We had a poor lunch at the Auberge Alsacienne, (for a mere 200 Francs each!) with Ronnie Denton, O.C. 214 Company.
Another good party we had was a concert party given by French artists, assisted with turns by the Div. R.E. at a big cinema in Tunis, followed by a grand couple of hours drinking at the Auberge Alsacienne, with the French Artists.
On 22nd, we moved to Guelma, Algeria, some 200 miles west, and 30 miles south of Bône, for training. Guelma is a nice spot, fairly civilized, with an Officers' Club, and a cinema! It also boasted a General Hospital, and the four of us had a merry and most enjoyable evening, with four QAIMNS sisters – dinner, cinema, and back by midnight.
The weather is now hot – temperatures are at times above 100o F, and, at midday, it is not possible to be over-energetic! We have an excellent bathing pool here – Roman, which is, of course, always crowded, but even so, very welcome.
2nd June 1943 – Guelma
Hutting has now been just about completed – and we start individual training tomorrow.
6th June 1943, Guelma
Training is in full swing. We have an NCO's Cadre class going, in which I am instructing in Bridging, Admin., Motor Transport, and Military Law. Apart from anything else, I am learning a great deal as well as the NCOs! Otherwise, nothing much happening. We start at 0500 hrs each day, to avoid the heat of the afternoon. During the pauses in training (which include the afternoon) I live in a whirl of M.T. exchanges, remobilization, Courts Martial, and so on.
I wrote to Mum tonight, and to Pat two nights ago. Also to Dad on the 2nd.
9th June 1943 - Guelma
Tom Coffin was evacuated to 97 General Hospital yesterday and is likely to be away for six weeks, which is a blow. So I am now commanding the Company. Remobilization and training are keeping me busy now from 0600 hrs till 2000 hrs! So to bed now. Wrote to Pat tonight.
16th June 1943 – Guelma
Tom Coffin has now been evacuated, and we are still only four officers strong. It is getting serious, as we shall find ourselves in a new battle with new officers who do not know the country. All is going well, but life is a bit hectic! Tomorrow the first lot of transport is off. We also have a big parade for lining the route for someone big – we think the King.
27th June 1943 – Hammamet
Yes – it was the King! We had a slap-up ceremonial parade, and marched out to line the main road near our camp, and cheered as the King passed. Later, I went into Guelma, and was stopped on the way by the CMP, and a few minutes later H.M. came past – so we had our own salute!
We marched down here the other day, and are still training; it is grand to be near the sea again. We have a bathing and P.T. parade at 0600 hrs each morning, just at sunrise. The water is warm, and the beach clean silver sand – whiter than I have ever seen. We are getting 12 hrs leave to Tunis again.
7th July 1943 – Hammamet
Slowly going brown, and melting away! Heat and dust and salt about sums up this part – plus sweat! We have been doing some hard and valuable training here, starting with P.T. and a bathe at 0600 hrs; Bde exercises and so on. I went into Tunis once last week with the O.C., and we had a very good day – two good meals and a first class ENSA show. All the Company are now fighting fit and ready for anything. Transport is still a headache at times though. Pack mules have been our latest form of amusement – shades of things to come?
A lot of mail during the last week – three from Pat, and one from Dad and two from Mum. Everyone seems really cheered at home over the News.
The Hun has started a new offensive in S. Russia, and we bomb Italy and Germany ceaselessly. The next step seems obvious, but exactly where, not so certain. Off to Sousse tomorrow.
12th July 1943 – near Sousse
We moved down here a few days ago, and are quite comfortably installed in the usual olive grove, and it is as dusty and hot as ever.
British, American and Canadian troops landed in Sicily three days ago. We saw 140 Dakotas and about 20 gliders go over just after sunset – it was a wonderful sight. Everything is going well, and we have occupied Syracuse. We are now wondering whether Sicily is our destination?
Wrote to Mum tonight, and to Pat on the 7th.
24th July 1943 – Sousse
We are still here in our olive grove! We moved down to an area near the sea a week ago, and are now in the marshalling area, awaiting embarkation – for Sicily. We have been here 24 hours now, at ½ hour's notice, very dusty and bored. We all manage to get on our light scales transport somehow! We have had some last minute flaps, as is to be expected – one C.D.F. ran a big-end two days ago; we replaced that from the Field Ambulance balance to W.E. transport. The Sousse water supply failed yesterday so that water has been difficult. We have heard that 4 ships have come in today, and are hoping to embark tonight.
In Sicily we now hold about ¾ of the island. The Italians have almost ceased fighting, and it has, as before, become a fight between us and the Hun. It rained last night – just as we got orders to move down here – it made people rather short-tempered, but was short-lived.
Have written home this past week.
Last updated on 10th March 2017