6. Italy
Tuesday 28th September 1943 – Trinitapoli
We are in Italy at last, south of Foggia, after a shocking journey by road from Reggio – 400 miles – which took us six days. Parts of the road were as bad as any in North Africa, with very many diversions round demolished bridges. It appears that at present there is little resistance ahead of us, so, when we start, we will probably move fast.
We left San Biagio with some slight regret. It was quite the best location we have had, and everyone enjoyed the time there. We had a rest camp going which, after a shaky start, proved a great success. Lucy Long ended her life by covering 12 miles in 35 minutes on her first trial, and then quietly sinking during the night! It was a great pity, but we had a lot of fun with her.
Sunday 3rd October 1943 – Serracapriola
Nothing very exciting has been happening. We have had two or three diversions to build and the repair of one bridge, and a lot of clearing of debris in Foggia. No mines, nor contact of any sort. Enemy resistance so far is negligible, and there has been little shooting.
We have constructed a diversion here, and are still maintaining it. For the first time we have met a river with water in it, followed by rain, and, although we have had no real trouble...
Wednesday 6th October 1943 – Campomarino
...our diversion near Serracapriola was washed away by a flood following two days heavy rain! What a sight it was at dawn – 25ft of raging, muddy water with nothing in the way of stores to make it good! We stripped channels off the old bridge, put in two piers of sandbags, and with sleepers for decking, had the road open by noon. We were, I think, justly proud of the job, which took continuous heavy traffic for the next week.
It rained for five nights running – yesterday was the first dry night – and so our journey up here, over no less than nine diversions, was a nightmare. We started at 0745 taking 1½ hours to get the Company out of the mud of our olive grove onto the road – shades of North Africa. We reached our temporary location near here, after a journey of 17 miles, by 1800 hrs! We were held up at two diversions for a long time while priority traffic – ammunition – went through. Just then a big show was going on at Termoli. We captured the town from the sea the day before. That day the Hun counter-attacked, with part of 16 Panzer Div, twice, forcing us to withdraw after some bitter fighting. The situation is now in hand. HQRE found themselves in a hot spot, and had to move fast!
There have been some exciting moments during the last four days. Some enemy air-activity, strafing and bombing, and some shell-fire. 214 Company did a very fine job when they put over a 100ft Bailey under accurate shell-fire. They had some casualties, but got the Shermans across in time to clear the situation ahead, which was becoming a little troublesome. Transport has been something of a nightmare recently. After the very hard journey up, the older vehicles have given quite a bit of trouble, but we are winning, and are today only two vehicles down. We still have our little Fiat truck (the 'Kiddy'). We had to find her a new gear box two days ago but succeeded.
We put a Bailey up here last night. Two more today and now have to get on to their replacement with semi-permanent timber bridges. Eric Kear's Bailey was gunned this afternoon. Bullets hit 'Tiger Lil' and his compressor but there was no serious damage. One 11 Brigade truck was burnt out.
George Tuck is making a success as O.C. No. 1 PIatoon, while Terry Hosie is his usual self with No. 2 PIatoon. John Townsend-Rose in H.Q. got a telegram congratulating him on an M.C., but we know nothing of it here. We put him up in North Africa, but thought it was quashed – it will give us two in the Company if it is true.
Thursday 7th October, 1943 - Campomarino
Rained all day, and we have been almost flooded out. I got soaked through this morning going round our 3 bridges in a Dingo, but luckily had a dry change available – some of the troops have not been so lucky. We got the bridges over just in time, for all the diversions are impassable today. There are now no less than eight Baileys between Serracapriola and Termoli – 20 miles.
All quiet today. The Hun has failed to regain Termoli, has been pushed back, and now seems to be withdrawing. We claim 16 German tanks destroyed in the last 48 hours!
Wednesday 20th October 1943 - Campomarino
During the last fortnight we have been slowly pushing forward and developing our line, but have not undertaken any major push. We are now meeting mines in quantity – Terry Hosie lifted 80 Tellers the other night in and around Montecilfone, where a lot of rather confused patrol fighting has been going on.
Work has been interesting. We are building three improvised bridges – one 35ft span now complete. Timber spans on brick piers or timber bents.
Bill Reid was killed on a mine yesterday.
Arnold Graves turned up yesterday to collect his kit, as he has been posted to 5th Army. Of course he was immediately grabbed and told that he was staying here. 15 Armoured Group have okayed it, but CRE has posted him to 237 Company, who are admittedly four weaker in officers than we are. He came up through Salerno and Naples, and says that there is little sign of heavy fighting that side, but somehow I feel he must have missed it.
Over there, we are well across the Volturno, while this side, we are just about to bump the Trigno – a wet gap some 1,000 ft. wide overall, and only the first of eight major rivers between us and Pescara!
We have had some Indian officers and ORs attached for experience; and just now are blessed by some fine weather following a very wet week.
Tuesday 26th October 1943 – Petacciato
We moved up here three days ago, and the Division has been fighting hard since then. We are just across the Trigno, but the Hun seems to have had nearly enough and in a few days we will be going on fast. There is a great barrage going up now – and we are only just behind the gun areas, so we know all about it.
Work has been largely at night recently – minesweeping, and one crossing of the River. This has meant that we have achieved only a little, but very important. The Hun has taken to putting down most complicated patterns of interconnected mines, booby-trapped, rather than scattering them singly. They are very slow to lift, and require great care, but in view of the reduced number, are no more trouble in the end.
Heard from Pat today – from Devon. She was on leave, and having a great time.
We were sorry to leave Campomarino. We were quite happy there, and had several most interesting jobs – Engineering rather than Pioneer jobs.
3rd November 1943 – Petacciato
We have paused for a week of foul weather, while we have worked hard on the crossing of the Trigno. Luck has been with us all the time, but the other Companies have both had casualties doing much the same work. Nevertheless, we had our fun – for two nights we worked on the far side of the river, with a lot of stuff flying, but it never caught us – even when a Jerry M.G. post popped up just in front of one party, between them and the Infantry covering party, and let fly! They had lain doggo and let the Infantry pass.
Today we have had a good battle – 3 brigades, with a lot of tanks in support, and even the Navy lending a hand from destroyers. The show started at 0430, and are tanks are already (1100 hrs) reported on the outskirts of Vasto, seven miles from the start line.
Things are generally going well with the Company. Today we have one platoon with the Infantry, one with the tanks, and one maintaining the main Trigno crossing. I get a bit fed up at times with my job – sitting back holding the fort more than doing anything worthwhile. However, I get out now and then and there is no alternative. Bathed in the Adriatic today.
5th November 1943 – San Salvo Station
We arrived here last night and are in excellent billets – but liable to be turned out by Div. H.Q. of course! The battle has gone well and we now hold the high ground above Vasto, and will be in the town today. There is still some distance to go to the Sangro though! We have not been as busy as usual – surprisingly – but no doubt we soon shall be.
Tuesday 9th November 1943 – Casalbordino
We only stayed at San Salvo Station for one night. Since then we have stopped in Vasto and then on to here. The battle has been fast, and furious until we occupied Vasto, but since then we have come up to the Sangro with only slight opposition.
Here, we look like staying for some time. We have good billets – including a very fine warehouse for two platoons. The town is small, but not too bad, and the shops have some goods left which the shopkeepers hid from the Germans – including some silk stockings, for which there has been a rush. I managed to get 3 pairs for Pat – probably quite the wrong size.
We have been employing Italians on the roads. I hold a pay parade each evening – we give them 50 lira a day (which is twice the local wage for labourers). It is always a most disorganised but amusing affair. Our pet Italian, George, is a great help. He speaks French, and we keep him as interpreter-cum-odd job man. He is also a wireless mechanic, and never shirks any job.
11th November 1943 – Casalbordino
Still here working hard. Today we are building a 200 ft. Bailey over the Osento – on two piers. It is the first job with more than one span we have done, so we hope it goes well! 214 Company did a similar one yesterday and had a lot of trouble.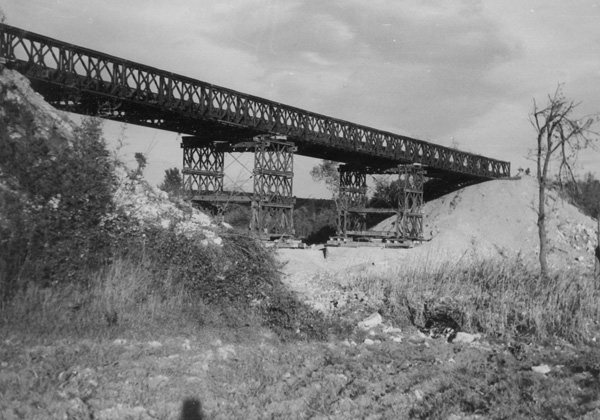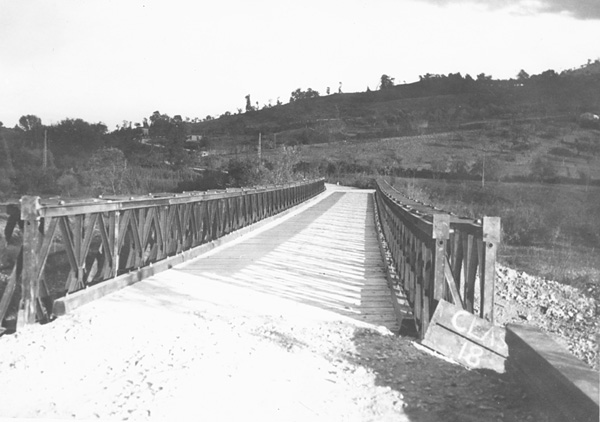 We are on the Sangro, and have had recces on the far side, without trouble, apart from dodging the odd Jerry patrol. George Tuck, Robin Dunn and Tom Price have all had exciting moments; Tom Price in particular – he was first into Torino di Sangro, having dealt with a Jerry machine gun post! He did a fine recce, and we have put him up for a ribbon.
14th November 1943 – Casalbordino
Still here. Things are beginning to warm up again, and we go a bit farther over the river each night. The Hun says he will hold us here for the winter, but it seems that we have different ideas! We shall see who is right.
Two nights ago, we built our biggest Bailey yet – 200 ft. on two piers. The next night we had a report from Div. that it had collapsed under the traffic! Of course totally incorrect and unfounded, but it shook us for a moment!
The weather has been fine recently – though cold. The mountains ahead of us, west of Pescara, are snow-covered, and quite beautiful against a blue sky.
16th November 1943 – Casalbordino
The last two days have been black ones. The C.R.E. was killed on the 14th when his Dingo overturned. It is a great loss, for a better C.R.E. would be very hard to find. He was always cheerful, and invariably present when any unpleasant job had to be done. Then, the same night, John Townsend-Rose took a sweeping party out beyond the Sangro, was attacked by a Jerry patrol, and is now missing, believed P.W., with eight of his men, including Tinto, his platoon sergeant.
It has rather knocked us back, in spite of the smallness of these casualties compared with the Infantry, for instance. I think because the lads are tired. They have been working most nights and frequently days as well, for a fortnight, during which we have had 18 casualties, 5 killed, and a lot of this work has been under shellfire, which has not helped. In spite of this dismal picture – not really bad at all – we have done a lot of good work, some of it really good. But a short rest is indicated.
21st November 1943 - Casalbordino
We are sitting aside the Sangro, awaiting the word 'Go'. We have been working down on the river each night – clearing mines, preparing ford approaches, etc. Tonight Tom Price is out with a sweeping party, and Terry Hosie building two F.B.E. Ferries. We may have to finish off a Bailey in daylight tomorrow, if Corps Troops do not finish tonight.
The German 65th Div is opposite us, and when we start, they will be treated rough. The weather is our worst problem. Fords are out of the question; and the ground is soft and muddy.
Friday 26th November 1943 – Casalbordino
Still here. Today we had a day off – almost unbelievable! We are working tonight on the diversion, which is becoming quite good. This river is a real beast (that's not how I described it), and any permanent crossing must be a titanic bridge – 751 Fd. Coy. have started on the first – a 500ft. Bailey (!) in 5 x 100ft. spans on piers. Fords are useless, as the river will rise 5ft. or so without any warning. It floods if we get rain, or it floods if we get it fine, since then the snow melts on the hills!
We are slowly pushing on, into his main positions, and the big attack will come when the ground will carry tanks. It should be soon. We had a 'personal message' from Monty today, saying that Rome was Army Grp's objective!
Terry Hosie was killed 3 days ago on an 'S'-mine.
Sunday 5th December 1943 – Marina di San Vito
The big attack started on the 28th November, and by the 2nd we had established ourselves along the whole of the San Maria – Fossacesia Ridge, and the so-called 'Winter Line' was broken, the [German] 65th Division being largely destroyed – we have about 1,000 prisoners.
We moved to a little farm NW of the Sangro on the night of the 29th/30th, where we had to lie low all the 30th. We were extremely lucky in our choice of this farm – it was passably comfortable, inconspicuous, and free of mines. The Hun shelled almost every other possible harbour in the valley except ours. From there we could be immediately available for work forward when the attack succeeded.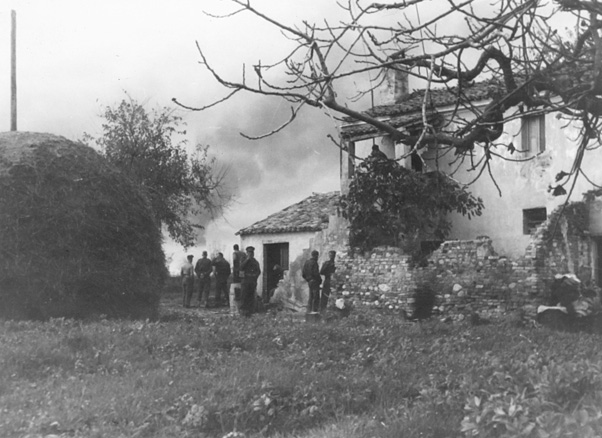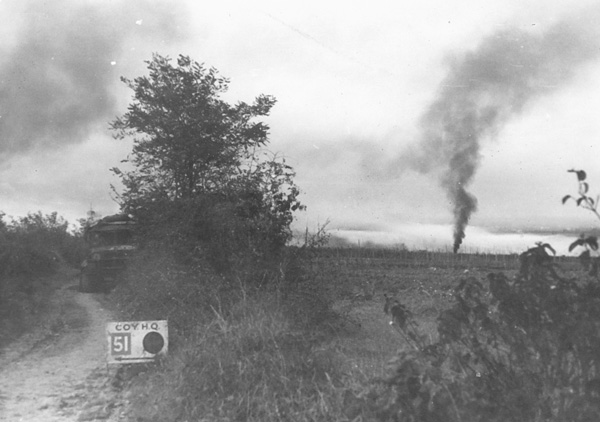 The show itself was fully successful, and quite terrific. We had about 400 guns supporting us, as well as 4th Armoured Brigade, and I have never seen such a show before. Over it all the air force bombing and strafing the Hun almost unceasingly. The medium bombers were not so numerous as I have seen them, presumably because of the difficulty of finding targets suitable should the battle become mobile. The Enemy tried everything he had – tanks, guns, 6-barrelled mortars, flame throwers, but was quite foxed by our plan, which started with the capture of San Maria, and then the rolling-up of his positions from the left to the sea. This worked, largely because he had expected a frontal attack, and his defences had no depth.
We took over 1,000 prisoners, and the enemy left a very large number of killed and wounded. Our main trouble all along has been mines, as usual! After the breakthrough, 38 Brigade followed up, with 214 Company in support, but we were called forward to San Vito to help yesterday morning. Behind the enemy's main positions we found no mines, so all we had to contend with was bridging, and fords.
The 1st Canadian Division take over tonight. We are in a good little billet on the coast road out of the town. We left the town as he shelled it, and initially were catching the overs from his machine gun fire!
Monday 6th December 1943 – Fossacesia
Back here again last night. On the 4th the Sangro rose 10ft! Result – we must do Corps Troops' job until the bridges are replaced – all three were washed away – when we should be on our way back to a rest area in Campobasso! However, it is a change to 'pot-hole' gently on the roads, instead of being shot at! Rain again today; it looks as though we may be here quite a while.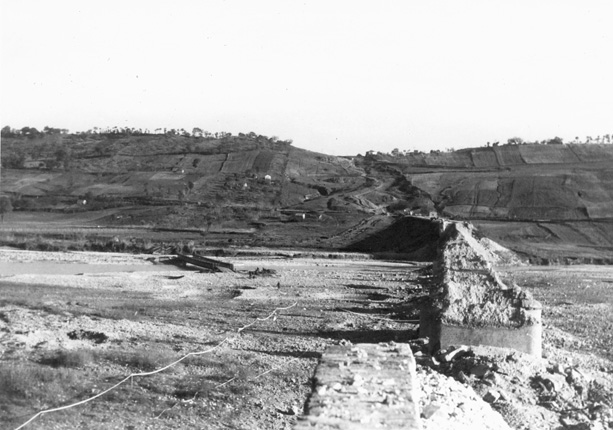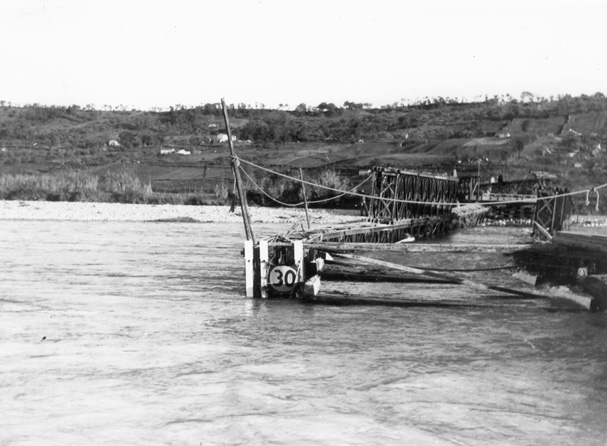 Tuesday 7th December 1943
Orders to move over river came in last night. Spent day drawn up in convoy waiting to move. Sent back to billets by Sugden, C.E. 5 Corps, at 1630 hrs!
Saturday 11th December 1943 – Fossacesia
We are still here, but really (?) moving back to Campobasso tomorrow. Our real job during the last few days has been the salvaging of the several Bailey bridges that were washed away or broken.
Our particular task was the salvage of a 110 ft. D/S bridge which had had several direct shell hits, and had finally broken in the middle under a Sherman tank! It lay almost entirely submerged below a 10 ft. bank. We got it out in the end with a D.8, a D.7 and a Diamond T tractor. The D.7 was only used as an anchor for the Diamond T, its winch and that of the D.8 got it out nicely (about a 16-ton pull). Not much of the bridge was worth salvaging, since the shells had been 210mm, and nearly all members had chunks missing.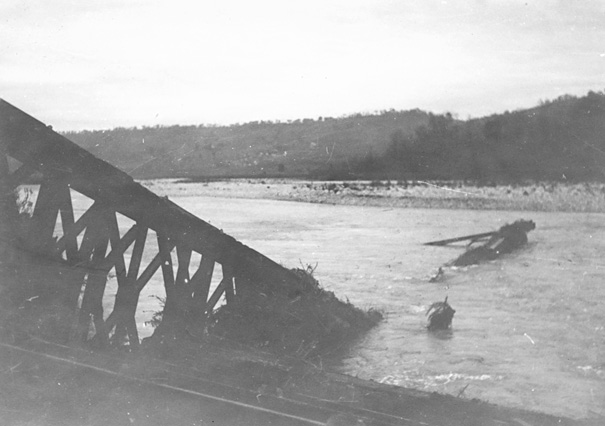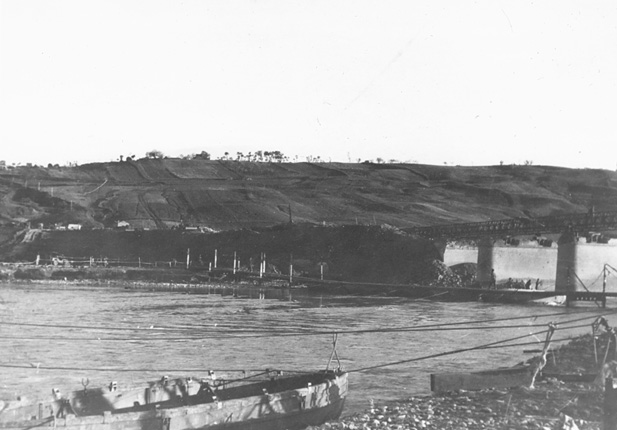 214 Field Company, and ourselves, are now the last units of the Division to leave. It is cold and wet now. The Canadians, who took over from us, are advancing slowly, against heavy opposition. The Hun tried to hold us on the Moro, but we are over that river, and today the Canadians are reported to be in Ortona. It will not be long now before we reach the Pescara – Rome line.
Thursday 23rd December 1943 – San Giovanni
Yes – we did move back here on the 12th. We are about eight miles south-east of Campobasso, in good billets, resting, though we are doing some training. How long we will be in this area no one knows; we hope for six or eight weeks. We are due to relieve 237 Company at Isernia after Christmas, but there is only one Brigade in the line, and that is in billets, just patrolling the very long front for which it is responsible. We are up against a sheer mountain wall, and any real fighting is out of the question. So the bulk of the Division is resting and re-equipping, no doubt extensive, if not intensive, training will follow.
Our village is small – about 3,000 strong, and was very dirty. I employed 100 Italians for three days on cleaning the street – for there is only one – and now the place is fairly clean. The street was literally inches deep in refuse of all kinds, and the smell was abominable. There was no organisation in the town, which seems to have been run by the local policeman, who fined all and sundry 100 lire for any offence, stole their farm produce and wood, and waxed fat! Now I seem to have become Mayor, and twenty odd Italians are locked up! We had great fun sorting them out with Almgot, collecting in Fascists and black marketers.
The local tax-collector, employed on a full-time basis by the local Italian government, was proud to have collected three men's taxes during the current year. The rest, he said, did not wish to pay! My only impression of these Italians is the same as before – they have no ambition or self-respect, are dirty, dishonest, and are in no way conscious or ashamed of it. They behave towards each other like bad-tempered children, quarrelling over any little thing. They bring their troubles to me, but these are invariably so petty that I have had to refuse to see them except through Nick – my interpreter.
Nick is an exception to the rule. He has lived in Canada for nine years of his life, and speaks fairly good English; he is well-educated, and has been invaluable in dealing with the civilians. He usually sorts out complaints and troubles himself, and any he brings to me are invariably important.
Campobasso is a great place. Organised by 13 Corps as a leave centre, it has everything (nearly) that the troops want, - First class troops' leave camps, where they get beds, good food, and no routine at all, two officers clubs, and four theatres. There are always two ENSA shows and two cinemas on at a time, and men on pass can always see a show. I have seen one ENSA show, and one film so far, and also Geraldo and a party taken from the vocalists of his orchestra – Dorothy Carless, Len Camber, Doreen Villiers, and two others. All tip-top. I have seldom in my life enjoyed a show so much. As for Doreen Villiers, she knew just what the troops wanted and let them have it! One day I must get a record of her singing 'Melancholy Baby'.
We have had all our transport, with a few exceptions, condemned, so I hope we will be re-equipped.
We now have a good recreation room going, a small canteen, and in fact are better off than at any time since leaving home. In fact it is Italy – end of Chapter ONE!
We have heard today that the Canadians are in Ortona – at last! When they relieved us, we were only three or four miles away!
The mail has been coming in well – a grand parcel from Mum, Christmas cards from Mum, Maynie, Pat and Lady Knox, and a host of letters and papers, all in the past week.
Snow expected any time now, and they say NINE feet of it on the roads we take over around Isernia – so we can expect work!
Christmas Day 1943 - San Giovanni
We had the Company Christmas Dinner more or less as planned, and it was a great success in that everyone had all they wanted to eat, a good deal to drink, and generally a good time. The NAAFI of course failed to produce the turkey they had promised; but we expected that, and collected in chickens and turkeys locally. In fact the NAAFI failure saved us a lot of money!
The Recreation Room is open, and definitely a success too. Watson sells wine at the canteen, and there is a sing song each night.
It is cold and wet, but no snow yet. We flew our Company Flag today for the first time!
Sunday 2nd January 1944 – Isernia
We came up here on the 28th; took over billets, and a very large works programme, from 237 Company. The billets are good, but overcrowded, and far less comfortable than our quarters just left. The whole Company except for the sergeants and our Messes are in the local school. The town here is a shambles. Heavily bombed by our air-forces, it is largely destroyed. It is said that between two and three thousand were killed out of a population of twelve thousand. I am a bit sceptical of these figures, but they are by no means impossible.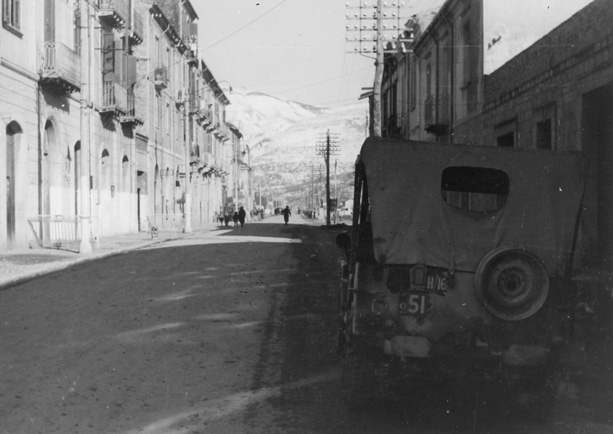 A lot of work on in this area, but we are handing over to 214 Company as we are off to the north with 36 Brigade. The O.C. went sick two days ago with jaundice, so life is busy.
Tuesday 4th January 1944 – Isernia
Heavy snow on 31st and 1st. All roads blocked with drifts of 4 to 6 ft. – we had one 15ft. drift. All Div. R.E. at work clearing, and since we took over things have gone well. There was a complicated scheme of road posts run by Div HQ, but when things became bad, after a feeble struggle, they told CRE to take over control – since then, of course, things have gone with a swing. We should reach Agnone tonight – that is some 30 miles of road cleared in 2½ days. We have been working round the clock with Infantry parties and civilian labour. The road post scheme was a failure as Infantry officers, with no experience at all, were in charge with mechanical Equipment under command! Result – all machines were sent out too early, while it was still snowing, and got snowed in and lost.
Eric Kear returned today, after some two months absence. We now have six subalterns.
Saturday 8th January 1944 – Isernia
It snowed again on the 5th and all the 6th – with a wind which blew the insides out of us, all the snow into magnificent drifts – many as deep as 20ft! In one case, the top ten inches and one insulator on a telephone pole was left; one D4 on the Capracotta road we found only the top of the exhaust showing – she had bellied in the blizzard, and had to be abandoned!
2 and 3 Platoons are up in Pescolanciano, and have been clearing snow day and night; mainly supervising civil labour, and cleaning up behind Angledozers. It has been a great struggle in bitter weather, but the troops have worked magnificently. We still have a lot of work to do. On the Capracotta road the snow is so bad that we are going across country to avoid the worst areas. The RAF have been dropping supplies at Capracotta and Agnone; we reached Agnone by road last night – they had been on half rations for four days.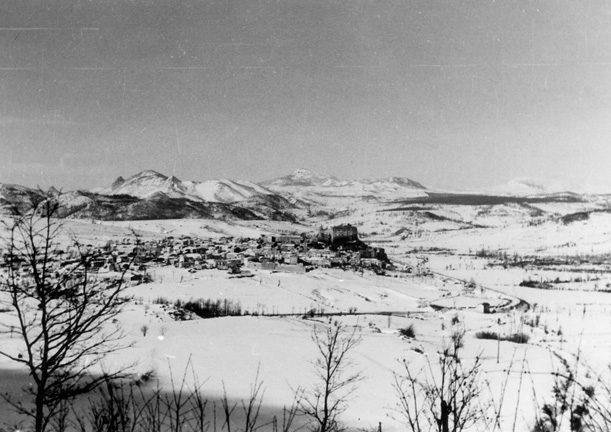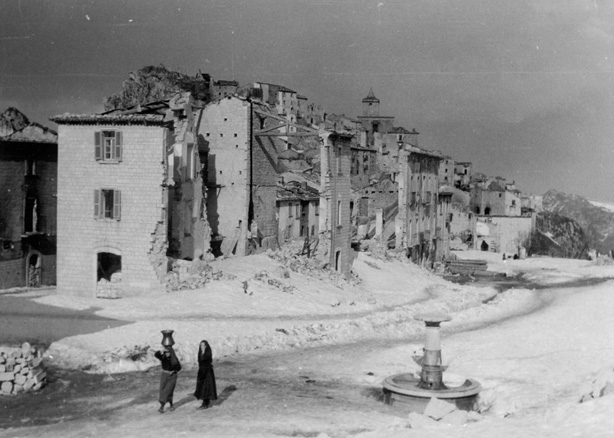 Harry Savage had some fun during the last few days – he took a white scout car to try and get through to Agnone with diesel for Tiger Lil. He stuck with only 4 miles to go – but found Tiger Lil snowed in and abandoned! They dug her out and got her going. We twice sent diesel and oil through to her using mules we hired locally.
All normal work has of course ceased for the time being. Today has been fine, so the snow may soon clear; but it has not yet thawed at all higher up. I was up at the top of the Capracotta road this afternoon. It is a wonderful spot, over 4,000 ft. up, quite surrounded by mountains, which seem to be below one – all snow covered. On a clear day I think one could see both the Adriatic and the Tyrrhenian Seas – Vasto in the east, and the bay of Naples in the west. It was shortly before sunset, and the colours were wonderful.
The news is good: Russians in Poland; 5th Army attacking' and lots of 'bush' about our going home! One of the first truck drivers out of Agnone today came out with "Good old 78th - we've beaten you to it! We're going home!" He was 5 Div.
George Tuck, Eric and No. 1 Platoon off to 36 Brigade at Casoli this morning. I am worried that they may have a difficult time there. Even the whole Company had a hard time to keep the Brigade's plans sane – how a platoon will manage I can only guess – and hope for the best. Eric will have little else to do except to nurse the Brigade Major – so it should be OK.
Monday 10th January 1944 – Agnone
We had a good reshuffle yesterday; a very rushed move, but all for the good. I had orders from the C.R.E. at 1000 hrs, when 2 and 3 Platoons were 35 miles away working on the Capracotta road. The roads are still only fit for one-way traffic, so it was 1500 hrs before orders reached them. Even so everyone was in billets (new) by 2130 hrs – except David Aitchison, who stayed on with a small party and two D. 7s all night; he got in very tired this morning.
Now we are all together in that we are responsible for a more or less continuous front with 214 on our left. George and his platoon in Casoli, 30 miles to the north, David Aitchison and H.Q. here, and Tom at the 'Red House' 12 miles south. But we have only one D.4, with a promise of a D.7, for some 40 miles of road. The Castiglione road is still closed over eight miles, with several 15 ft. drifts. The D.4 cannot deal with them, so they are being slowly cleared by hand.
A long letter from Pat tonight, she seems pleased with the stockings I sent her at Casalbordino – I hope so. They actually arrived on Christmas Day! Her plaster will be off by now, so she will be able to get about at last.
All our work is still snow. Two days yet before we hope to be through to either Capracotta or Pescopennataro – and the civilians say it will snow before then, and we start from the beginning again. It is a heartbreaking task. If only we could get some big rotary ploughs!
Saturday 15th January 1944 – Agnone
Still digging snow, but we have had a week's fine weather – hot sun all day. We have now reached the more ticklish bits on the Pescopennataro road, eight demolitions, on none of which has any work been done previously. One - the road block of felled trees is reported to be mined, and is under 3 ft. of snow.
We are well settled in here with, I think, the best billets in the town – rather to our own astonishment, as we were not the first here. The town is rather cleaner than most, but otherwise typical. It is on the tip of a ridge overlooking the Verrino Valley, some 4,000 ft. above sea level!
New transport is on its way to us! This news was received with somewhat mixed enthusiasm as it spoilt a lot of the 'bush' about our going home!
Wednesday 26th January 1944 – Agnone
Still here, without any great excitement. We have our so-called new transport – or most of it. All fairly new second-hand vehicles, but obviously poorly maintained and badly treated for months. We are still 3 shy, but can make the rest go. It is good to see the last of our C.D.F.s.
The Pesco' road is now clear of snow after some two weeks' hard work. We are working on the demolitions (eight in all), and should have the road open in a few days. A shadow has appeared in the form of a warning order to move east and open the road from Castiglione to Casoli. Somehow the Adriatic seems to be magnetic – we have slowly crept towards it all the time!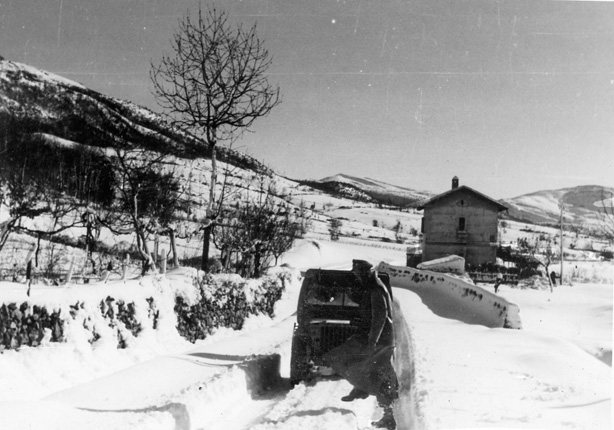 The O.C. came back from hospital three days ago. I enjoyed commanding the Company, as it meant that I got out nearly all day, (and always got my own way). What is more, it means that I have been able to keep my vacancy for the Advanced Bailey Course at S.M.E. which was scheduled for 1st January, but was postponed until 27th. So I am off at first light tomorrow to Capua! I hope it is well run; it will be the first Bailey course I have done.
Since we arrived here, I have had several rows with the Town Major over billets, etc. He insisted on inspecting billets in the town. I objected, but could not refuse him. The O.C. was able to send him a magnificent epistle on the duties of Town Majors – since then, we have not seen him!
Cinema show two nights ago – good. Always in my Heart, with Gloria Warren, who is a new edition of Deanna Durbin; inferior in looks, but with a very fine voice. I rather hope to take 24 hrs leave in Naples after this course.
Friday 28th January, 1944 – Capua
Arrived here (S.M.E.) last night just as it was getting dark, after a hectic journey. Robin Dunn left my jeep in a snow drift beyond Castiglione the night before (27th) which delayed our start until nearly 1100 hrs. I then ran into a 3-tonner near Red House on an iced stretch of road, luckily without serious damage. The journey was 155 miles in all, roads generally bad, and one long diversion in particular was shocking. We got bogged down once and had to dig ourselves out. I brought Heaseman along with me, driving the 15cwt. myself.
Tuesday 1st February, 1944 – Capua
The course is going well, but we lose to a certain extent by being the first course here, in that we have to hump a lot of our own stores. We are working hard, the results are a lot of stiffness and valuable knowledge! Dalton, Chief Instructor, is first-class; Murray, assistant instructor, not so good; he lacks practical experience, and has not sufficient theory to substantiate his arguments.
It is summer down here compared with Agnone. No snow, and the temperature quite 20o F warmer on average.
I am sharing a room with Smith, O.C. of an Army Field Company, and a Polish Officer, who says his Div. is in the process of relieving 78th Div.! We were expecting it, but not so soon, and I am wondering when the Div. will be on the move.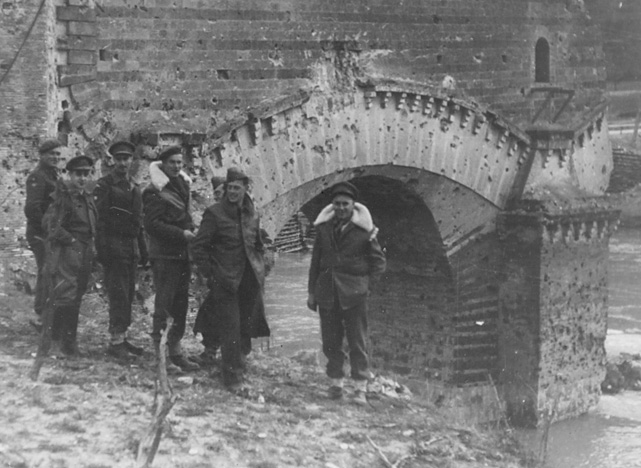 Saw a film two nights ago – A Yank at Eton, which I saw, I think it was in Sicily, and Battle of Britain. The latter is the American documentary and excellent.
News is very scarce; the BBC says very little, but all is good. We seem to have about 6 Divs in the Rome bridgehead, and have so far met successfully all counter-attacks. The Hun is still fighting hard on the 5th Army front, where we slowly plod forward in heavy, costly, fighting. In Italy now we are a real mixture: from Canadians, Indians, Poles, Belgians, to French, Italian, American, New Zealand and British formations! The 'United Nations' well and truly represented!
O.C. promised my jeep, with mail, and so on, but it has not turned up yet.
9th February, 1944 – Capua
Another 2 days of the course to go. The pontoon bridging exercise has been badly organised, and we have wasted much time, but I think I have learnt all I needed about the B.P.B. We have yet to do the Class 40 rafts.
Saw a really first-class ENSA show here a few days ago – quite the best ever. I hope to see it again before leaving.
Jeep arrived three days ago. On the 3rd I went into Naples (contrary to orders) with 3 others. We saw a bad film, had an excellent tea at the officers' club in the Opera House Annexe, and came back here to dinner. Although disappointing, I'm glad to have seen Naples. It is dirty, lousy (there is a serious Typhus epidemic), and far from being the fine city it is made out to be. But it has its good points. The country south is beautiful in the extreme – Pompeii, Vesuvius, Ischia, Capri, Sorrento, Salerno, and many other parts are worth seeing from all accounts. Ischia is, I believe, a real gem, far better than Capri.
There is an Opera season on, and it made me long for a week's leave! A new opera each day, and a symphony concert on Sunday.
24th February, 1944 – Capua
Back again after a long circuit! I got back to the Company on the 13th, after a tiring journey. We started by a 'blow-out' before we got to Naples, but after some two hours, I managed to get a new tyre and tube complete from an American Ordnance Company. It rained or sleeted all the way, and we gave it up at Sao Paulo at 1645, very cold and miserable, but found a warm welcome in 400 S.L. Battery R.A. who gave us dinner, bed and breakfast, and were extremely good to us. The next morning we set out, still intending to find the unit in Atessa, but while waiting to cross the Trigno bridge, saw 214 Company on the move and Joss Adams gave me the news and the Company's location – Montecilfone, near Termoli. So we turned round, and arrived by midday.
The course ended without incident, except for a demonstration by Yanks of the American Heavy Penton equipment, in which almost every movement was done by means of a crane or propulsion unit – but we still would not have changed the Bailey for it!
We were at Montecilfone for 3 days, and everyone was agog with bush – which generally agreed that we would move over to the 5th Army. We got move orders on the 16th, but no destination given! We spent the night of the 17th in the fields between San Severo and Lucera, as the Motta road was closed by snow. The next night was worse, as we got orders to move at 1600 hrs, and found ourselves in a blizzard after dark just above Motta. However we got all the troops under some sort of cover, and a cookhouse going in a morgue (we used a coffin for firewood!). Everyone had a fair night's sleep. Next morning we got moving slowly at ten, and moved all the way through to Capua, some 140 miles! We arrived at midnight, cold and tired, to find our billets an open field! Next morning, things cheered up – some billets, a warm sun, and a pleasantly flat countryside! It is a relief to be clear of mountains though we may still get them this side.
The G.O.C. spoke to us three days ago, and made it quite clear that we are NOT going home! It dispelled many ideas people had of going to sea – North Africa, France, Turkey, Greece, Burma and even Home! He said quite clearly that Italy was our war!
We are expecting to move into the battle around Cassino any time now. Saw Quiet Week-End in Capua yesterday, with the London cast. It was really good – one of the best shows I have seen.
Saturday 4th March, 1944 – near Cassino
Moved up here on the 26th, and it has been raining ever since! After two nights in billets in a village, we were turned out into the open by 10 Corps, in whose area we were. Now we are stuck in a sea of mud with the rest of the Div., entirely in the open. We have two 160 lbs tents, end to end, for a mess, and are really quite comfortable. We also have our 3-tonner for an office at last, and have been trying to fit it out as well as use it – not entirely successful, though we will soon be set up well enough for the time being. It is not possible to do a real job, until we get 10 days' rest – in Rome, maybe!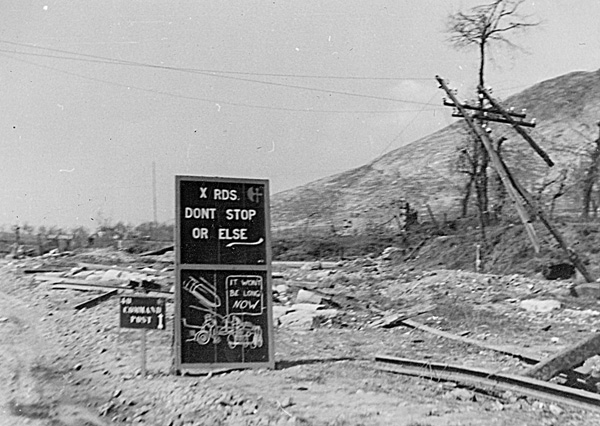 This is all in aid of a big battle - a breakthrough here to link up with the Anzio bridgehead. It is postponed each evening for 24 hrs, due to weather. One day it will no doubt stop raining, and then we will start. The bridgehead is in the midst of its third big battle for existence. The Hun upset our plan by reinforcing from France and Russia, instead of from here, and they have about ten Divs round Anzio, seven or eight on our front, and three others holding the rest of the front. We are all set to link up when the sun comes out!
5th March, 1944 – near Cassino
Rain may have ended – bit too early to be sure. It is much colder, and clear. Our mud-patch is getting steadily worse, but we put up with it, and are really quite comfortable.
The office truck (3-ton) is now usable, and a wonderful improvement. When we get time to do it up properly, it will be really good. E.M.G.'s inspection tomorrow.
12th March 1944 - still near Cassino
Still raining hard – all last night, and today. We had 3 fine days, and expected the battle to begin any time, but now we are back to where we were a week ago. Everywhere mud and slush. It is really a bit depressing, as it is not possible either to train or to do any useful work.
E.M.G.'s inspection over. He condemned 5 of our 9 3-tonners, which means that of 12 we had issued, 10 have proved unserviceable. It is a scandal that the transport issued to a fighting unit should be such muck, while all the new equipment goes to base units. I really feel that it is the fault of Ord., who will never push anything hard.
Our task in the battle is now clear. (1) Maintenance and construction of Div. Axis from R. Rapido back to the main road (2½ miles of rough track), and a special cross-country route for tanks. (2) take over the San Angelo bridgehead when 237 move on (3) support the Div. when it moves on through Pignataro. This looks like a lot of mine-clearance, road-work, and possibly assault work when it comes to the Pontecorvo line (Adolf Hitler line). We shall see! We have a sweepstake on the date of the second front – I picked the 1st April.
16th March, 1944 – Mignano, near Cassino
Yesterday, the Ides, the show started, and all is going more or less according to plan, though somewhat behind schedule. The Indians were delayed by rain and a very dark night last night, and we (N.Z. Div) could not get through Cassino, more on account of the devastation than the Hun. He is fighting very hard, and it is a slow job getting him out! The bombing was terrific. Some 530 bomber sorties on Cassino (1200 tons) followed by innumerable fighter-bombers in close-support of the troops. So far I have not seen one enemy machine. Our artillery is good, but not quite so concentrated as in the Sangro battle, although we have rather more guns (about 600).
Cassino Monastery Hill is giving trouble as expected. Some 900ft high, with steep rock sides, it is a stronger position than Longstop ever was. But we shall get there tonight I fancy. The N.Z. Division have a bridge over the Rapido, and their tanks are in action on the far side of the town. There is not one roof, and very few walls, left in Cassino town. The Hun prisoners say they reckoned on several days' house to house fighting, and had tanks dug into basements as at Ortona, but did not reckon on the houses being destroyed utterly before the fighting began! We have a report centre established, at the head of Red and Green Routes, and 11 Brigade should be over the Rapido at San Angelo if all goes well, by tomorrow night. Then we follow through.
I climbed to the top of Mount Camino two days ago, with Eric Kear and Robin Dunn. We had a wonderful view right up the Liri Valley. The weather was perfect, and visibility good. We could see all the features of the coming battle well. There were plenty of relics of the fighting for Camino. Ammunition and equipment everywhere, shell-holes every few yards, and many graves – mainly Scots Guards and Coldstream Guards.
Heard from John Townsend-Rose's fiancée today, giving his address in Germany.
17th March, 1944 – Mignano
The battle is going on well but very slowly. The enemy have 1 Para Div, part of 15 P.G. Div, and some tanks, in and around Cassino. The Para' boys do not give up. They fight to the last round and last man, quite literally. Tonight the New Zealanders are in the Railway Station, the Indian Div. on the greater part of Monastery Hill, but not in the Monastery itself yet. The enemy still have some troops holding out in the southern outskirts of the town, cut off of course.
Our show is again postponed, until the N.Z. Armour can work down south from Cassino.
Last updated on 10th March 2017