8. Caserta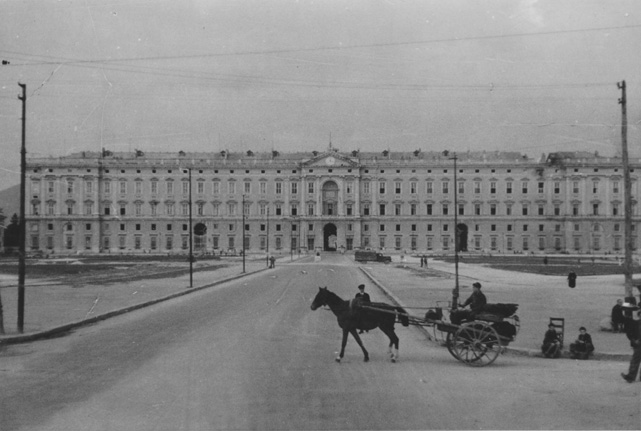 Sunday 16th July, 1944 – Caserta
We embarked on the Ville D'Oran at Algiers on Wednesday. We had on board some junior officers who were on troop-decks. We were not unduly uncomfortable and it is a good thing to know just how the troops fare on a voyage. I am convinced that our lay-out for troop-decks is far better than the American. They have separate living and sleeping accommodation, and fixed bunks. I slept perfectly in my hammock!
The Ville d'Oran is a small French ship of around 12,000 tons. She was quite comfortable, and in peacetime ran the Marseilles – Algiers – Oran route. We reached Naples in just 36 sailing hours; that is an average 21 knots.
I am not sorry to leave Algiers. It is as pleasant a city as I have seen in this theatre, but quite out of touch with the War. Here in Caserta, we are on the top floor, and can see Monte Camino from our window. That brings us almost to within sight of the War! In Italy we shall be far better in the picture. The move over was the expected shambles, but due to most people using their initiative, we have all arrived. The rear party follow in a week or so. All British officers are messing in the Palace as a temporary measure, until a number of smaller messes can be set up. At present the prospect is fair to good. At least we can walk to visit another branch; and we are in fairly pleasant country.
Saw John Laing yesterday. He has had little work to do, but is very fit. Today he leaves 2 G.H.Q. Troops to be adjutant 56 Div. with Brian Calvert. 56 Div. are just arriving from Mideast.
We have negligible work yet, since none of our office kit has arrived. Eventually we shall live in tents, but are sleeping in S.D. & P.'s office for the time being. We have showers, and all the usual offices just along the corridor. (The corridor goes right round the Palace, which is nearly ½ mile in circumference).
Have been reading
Oliver Wiswell
by Kenneth Roberts. Quite excellent. Also
No Nightingales
which Mum sent me; most amusing, but a bit repetitive.
Monday 17th July, 1944 – Caserta
Our forward baggage has still not arrived, so we have little work on.
Today, Tom and I went into Naples, and had a most successful day. We saw Jock Ewen and George Tuck in 92nd General Hospital. George was hit in the chest and stomach two months ago, nearby, near Frosinone, by mortar splinters. He is still very ill, and not yet out of the wood. I am a bit anxious. Today he was scarcely able to speak but, surprisingly, quite cheerful. Jock Ewen was out with 56 Recce in a Dingo, near Civitella, when they ran into an ambush. He was hit in the chest, twice in the back, in the leg, and finally by a splinter in the skull, which cracked the bone. He was 'out' for nearly two weeks. Now he is nearly fit and off to Sorrento for a month's convalescence. They sent a carrier up to bring him back, but it was mortared and had to come out. So Ronnie Denton collared a troop of Shermans, which picked him up and routed the Hun at the same time.
We had lunch at the Club, and saw
La Bohème
at the San Carlo theatre. Beautifully done, the story seems poor compared to the music. The orchestra and the singing are, as usual, first-rate. Tea afterwards at the Club, and then back.
Wednesday 19th July, 1944 – Caserta
Work is just beginning to come in at last! Tomorrow we officially open up shop. In spite of the lack of work, I have quite enjoyed the last few days. Last night we had an ENSA play in the Palace Opera House –
Jealousy
. It is a clever piece for only two actors, and was excellently played by Barbara James and - (I've forgotten his name).
Both yesterday and today I have swum in the pool in the grounds here. It is about 500 yards long by 20 yards wide, nowhere less than 4' 6" deep, paved or concrete throughout. The water is quite reasonably clean, owing to quite a considerable in-flow through the mouth of a giant dolphin at one end. Before I leave here, I am going to swim the length without a stop – that is, crawling. It is a hell of a long way! The air seems fresher and cleaner here than in Algiers, and we all feel fitter as a result. The troops are unanimous in that they far prefer Algiers!
Wednesday 2nd August, 1944 – Caserta
We are almost sorted out at last, though not everything has yet arrived. There are hints of an early division of responsibilities between A.A.I. and ourselves. When we get that sorted out, our work will be far more interesting, and effective.
Last Saturday I saw
Tosca
at the San Carlo theatre, with George Barker and 'Duke'. I was disappointed – the story is as dull as most operatic stories, but was not countered by the colour and gaiety of the others I have seen. Nor is the music quite so interesting. On Friday I hope to hear Barbirolli conduct the San Carlo Symphony Orchestra (augmented) in a Symphony Concert. It should be a treat.
Only the Stars are Neutral arrived as a pleasant surprise from Pat today. It looks like Quentin Reynolds's best. Tom is off to Rome tomorrow for 3 days' holiday.
We had Lovers Leap last night in the Palace Theatre, excellently done by an ENSA company. It is just the type of play that goes down with the troops – home life and a few topical cracks. I have been a bit 'browned off' recently with this job, but hope to shake it off. We get the feeling at times that our work is so much paper, and no one notices it. Met Tiny Allen (late Cam 5 Corps) today. He is with the S.M.E.
I had a big do the other day. The King wanted to see the Cassino battlefield, so I had some fun choosing a view-point on Monte Trocchio with 2 i/c 230 Fd Coy here. They swept and marked a track to it, but the next day H.M.K. did not have time to use it. It was a pity, but he apologised personally to Lewis the O.C. (late 107 Coy at Agnone). We came back here in the Royal Procession, after a Royal cup of tea! Maj. Gen. King, E in C, went home today after two weeks here. He helped us straighten a lot of things out with Coxwell!
Saturday 5th August, 1944 – Caserta
Heard Barbirolli conduct the San Carlo Orchestra in Naples last evening. The programme included The New World Symphony, On hearing a cuckoo in Spring (Delius), and other pieces. It was a delightful evening. Barbirolli is an education in himself to watch; all his movements are completely expressive, and his mass of black hair works like a flail! We had a snack at the Club at six. The place was crowded, and the queue was 200 yards long 75 minutes before the concert was due to start.
Friday 11th August, 1944 – Caserta
I went over to the S.M.E. this afternoon to see a demonstration given for senior officers of all arms – Rafting, Bridging and Mechanical Equipment. Quite good fun, especially as, of course, I met a lot of people: 'Pop' Carter, late 214, who is very fed up, having reverted from Captain to join a Field Company, and now finds himself an instructor at the S.M.E.; Tom Dalton, C.I. Bridging, and a chap from 5 Corps Troops whose name I can't remember. Lewis, O.C. 230 Field Company also there. John Fenton and Tocq came along, and we had tea with 697 A.W. Company. Marshal Tito, 'The Man of the Mountains', is going to the S.M.E. tomorrow to sight-see, complete with his interpreter, physician, secretary and body guard. He takes more people around with him than Churchill and Roosevelt together!
Sunday 27th August, 1944 – Ravello
Last Thursday I came up here for a week's leave, with Bill Rowlands and George Barker. Tom was up here the previous week, while I held the fort at Caserta. We are at the Belvedere Hotel, at Ravello. Some 1100 ft. above the sea we look down on Minori and Maiori, and the coast for about 15 miles to the east. The hills – mostly covered with evergreen shrub – rise straight from the deep blue sea to a height of 2,000 ft. or more. Every now and then the coast is broken by a cove with its own strip of beach – fine grey shingle. The beach at Maiori is the only long one within 15 miles. Maiori is a pleasant little town straggling up the foothills at the back of the beach. It has a long and wide main street running away from the sea; the rest of the town is a maze of alleys and steps.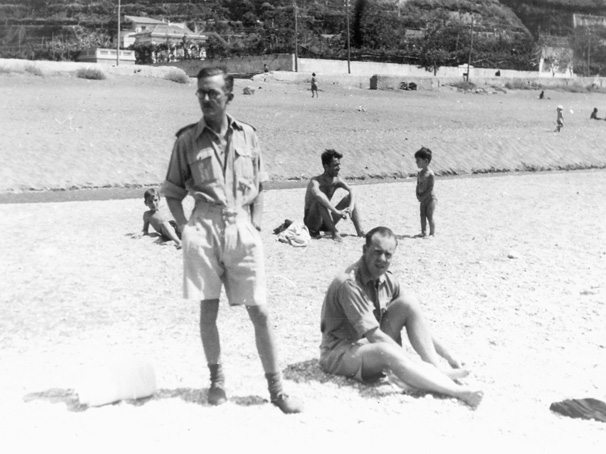 Amalfi, just below us, and Positano, 15 miles to the west, are the two big resorts, and in both there is still a remnant of their peace-time atmosphere. You pay for a cabin to change in, and there are a lot of smart and rich women showing themselves off. Some big straw hats and sunshades for sale, and a café (La Bocca di Baca) where you can buy a drink from 9 am until midnight. That is in Positano.
We came here without a car of our own, so that up to date we have had to walk everywhere, with an occasional hitchhike. Nevertheless we have got about. The best spot we have yet found to bathe is a little cove just east of Maiori. There is a beach about 70 yards long, almost shut in by rocks and cliffs. There are rocks to swim to, and dive from, some caves in the cliffs, and the beach is clean shingle. The water everywhere is so clear that you can see the bottom clearly below 15 or 20 ft. of water. There has been an almost flat calm all the time we have been here. All told, it is an almost perfect spot. The bathing, and scenery, is good. The hotel very comfortable, and the food excellent. Being so high up, it is fairly cool and we get a cool breeze all day.
Bob Graham is also here – at the Palumbo. We went over to Positano this morning in his Jeep. But Bob Graham's idea of heaven is to avoid walking, sit in the shade, and drink. That idea is not ours! We have managed to get a car today, so the last three days of our week should see us covering new ground. We may get over to Capri.
This hotel is a delightful spot. It is the first time I have lived in such luxury since leaving home – if ever! Clean sheets and our own bathroom; breakfast from 8.0 till 9.30 am, and a slap-up dinner in the evening; good wines and liqueurs; a cup of tea in the morning at 7.30! All these combined with plenty of exercise and sunshine are just about the perfect rest-cure!
1st September, 1944 – 103 Gen. Hospital
Malaria! I felt bad on the 28th, worse on the 29th, and that evening arrived here with a temperature of 104.6, feeling like death warmed up. Today I am beginning to take notice again (hence this), so should not be here long. It is a bit rough that my first leave for two years should coincide with my first illness for five. Bill and George looked in last night on their way back to Caserta. They had had a good trip over to Capri, but like all these well-known places, it was disappointing. Very nice, but that's all.
Monday 4th September, 1944 – Nocera
Two days now feeling quite fit – but still kept in bed – damnation! I can't think why?
News that we are in Brussels today, also Namur and Lyons. We shall soon be on the Rhine! 8th Army are through the Gothic Line too!
Saturday 9th September, 1944 – Nocera
Still here and bored to death. Have been up and fit for 5 days now, but do not finish treatment until tomorrow. This is a frightful place – filthy town, and the whole countryside covered in volcanic ash.
The news remains good.
Monday 11th September, 1944 – Caserta
Back here at last! And off on tour with Brig. tomorrow. We are going up to A.A.I. at Siena as a start. It should be interesting and good fun. Had a pleasant afternoon yesterday. Hitch-hiked to Vietri from Nocera, and walked along the coast towards Amalfi, had a swim, and walked backed to Salerno for tea. Mick has been posted to 139 Field Regiment R.A. – heard from him today.
Wednesday 13th September, 1944 – Siena
Came up here by car yesterday, with the D.C.E. on tour. We had an excellent run of 321 miles, which we did in just 8 hrs running – not bad! The Brig. flew up, and we met here at 1700 hrs, within 15 minutes of each other. We are staying at 'Fairbanks' – the A.F.H.Q. Camp which moves with A.A.I.. Quite a good show. All bedding (incl. sheets) provided, and usually a room to oneself.
Today we had a very enjoyable day – to 10 Corps at Arezzo, and 10 Indian Div. and 10 Field Company, Sappers & Miners (T.P. Bassett's old Company). They are 'leaning' against the Gothic Line, on a front of about 40 miles. Everything very quiet. The country here is delightful. Far greener and more wooded than in the south, and cooler. We stopped on the way back at Castel di Bolio to pay a call on some Italian Baroness for Gen. Lewis (C.A.O.). A great fortress of a place, it overlooks the country to the south for about 40 miles. It is a most glorious position, on the top of a hill. It had been used by the Hun as an O.P., and we had shelled it quite a lot. But the walls are two or three feet thick, and it was very little damaged. The Baroness and her two daughters were quite pleasant, and spoke English. However, they would try and deny any share in the blame for the War. All Italians do this – but why couldn't they stop the War? Doing nothing is as bad as doing the wrong thing; but they won't realise it.
The Baron (at present locked up by us!) must have admitted to being a Fascist to have been allowed to keep his castle. I find I cannot sympathise with these people. They are completely apathetic. Godfrey-Faussett is C.E. 10 Corps. I met him at Chatham in '39 and in Courtrai in '40 when he was C.R.E. 44 Div.
Thursday 14th September, 1944 – Siena
A most interesting and enjoyable day today. We went up to 13 Corps, north of Florence, and saw 1 Div., 8 Indian Div., and 6 Armoured Div., and their C.R.E.s – Foster, Archibald (late 237), and Arthur Morris. Chris Walkey (C.E.) was fitter than I have seen him, but he looks much older than a year ago.
We went all along the front, and could see our shells bursting in the Gothic Line's defences. We are pushing here pretty hard. The U.S. 2nd Corps are attacking on 13 Corps' immediate left in a few days. Over on the Adriatic side 8th Army's attack has come to a standstill just short of Rimini, but they have engaged all the Hun's reserves.
On 2nd and 13 Corps fronts, it has become a Sapper's War. The Hun has blown every bridge and culvert, and the task of opening the roads is bigger than any equivalent job I have seen. The roads are often corniche, and long sections have been blown down the valley, involving a great deal of blasting and muck-shifting to reopen the road. 13 Corps Troops, and the Div. R.E. are doing a fine job but are using an enormous amount of Bailey. They have had heavy officer casualties, and are short of subalterns.
We saw Florence today, and I took some photos. All the bridges have been very thoroughly destroyed, causing considerable damage to buildings facing the Arno, but apart from this, the city is undamaged. It is very beautiful, and I should like to spend a day or two there and really look around. We had tea at the Officers Club (NAAFI and ENSA are going full blast, although we have only been in the city four weeks).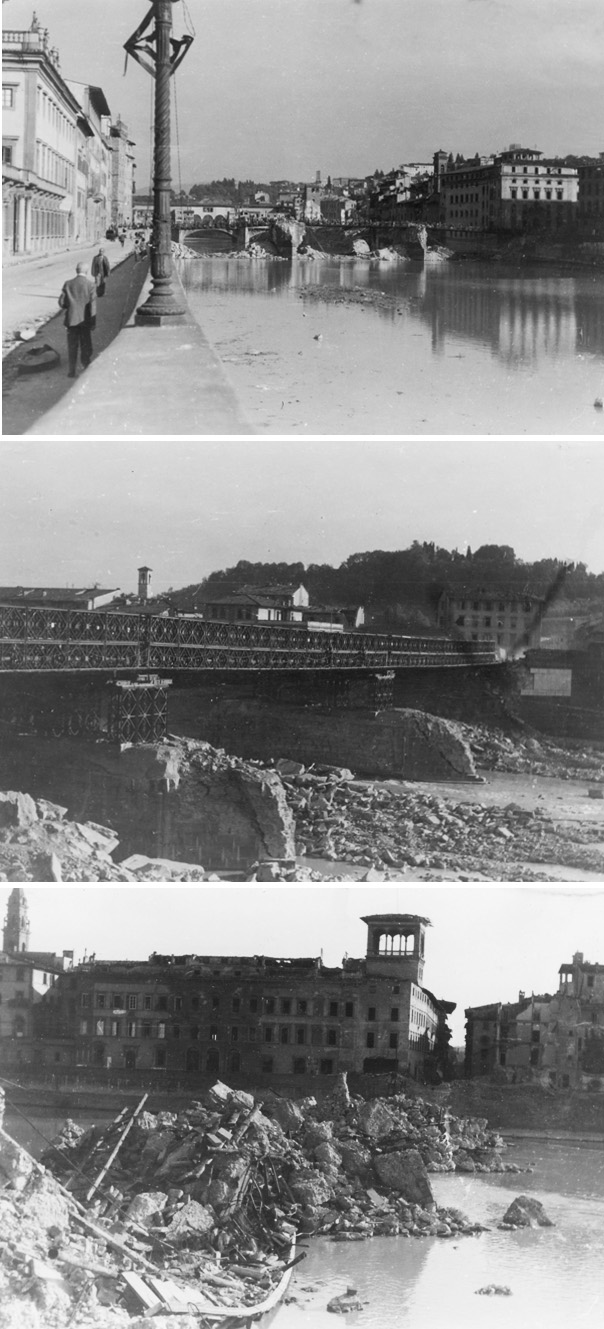 I must get back to a Div.! Seeing the Div R.E. at work makes Caserta sound terribly depressing. It was interesting to note the lavish expenditure of Bailey here. Every bridge is duplicated to provide two-way traffic, and no effort seems to have been made to collect and return spare equipment on sites. It does not tally with Coxwell's sad story of an acute shortage!
Friday 15th September, 1944 – Rome
We had a pleasant run down here this morning, arriving by 1430 hrs, the only incident being a broken throttle cable, which we managed to put right.
This evening the Brig. and I went for a short tour, walking. We saw the Victor Emmanuel War Memorial in the Piazza Venezia, the Colosseum, Castel Sant'Angelo, and St Peter's. Rome seems to be all it is made out to be – very beautiful – but a little spoilt by the odd hoarding or tumble-down house in just the wrong place. St Peter's is very fine, most of it, especially the roof, beautiful, but the High Altar and Canopy, and at least one of the chapels, I thought hideous. St Peter's Square is fine. I took a few photos. We are stopping the night at the Eden – 100% luxury for 70 lire a day.
The Tiber is a miserable little ditch, not much better than the Arno at Florence, but has some fine bridges. We leave for Caserta at 0815 tomorrow.
Below, the Riparazione office at Cassino – the first step in rebuilding the town.
Sunday 17th September, 1944 – Caserta
We got back here for lunch yesterday after a fair run. There was one unfortunate incident – a blow-out, and neither the jack nor the pump worked. That wasted an hour. Tich drove himself the rest of the way – rather too fast! I have done a lot of work today, and have picked things up again without trouble.
Sunday 1st October, 1944 – Caserta
Nothing very exciting in the last two weeks, but one or two developments. Hollway, from the S.M.E., has come to take over my job, and I am hoping to get a job as Adjutant in a Div. Tich put my recommendation for Haifa up to the Chief of Staff, to add weight, but he would not have it on the age limit! – I am six months too young. One thing - I have got an A/Majority for 3½ weeks, so that gives me my 21 days.
Mick has joined 139 Fd. Rgt. in Burma. I hope it is a good unit.
Saw
Madam Butterfly
in Naples yesterday – delightful – and found a present for Elizabeth. I went in with Jock Ewen and LeTocq, and we had a very pleasant day. Last evening, after dinner Tom Coffin, Jock, Col Barron (out from the Assault Trg. & Dev. Centre) propped the bar until midnight, and thoroughly enjoyed ourselves talking shop and undermining the reputations of every senior officer in the Corps!
I have tried to raise a Sapper Rugger XV, and, I think, succeeded. Our first game is on Saturday, and until that is over, I am not making any rash statements.
Tuesday 17th October, 1944 – Caserta
Our first game of Rugger was a success, and we have another this Friday against the Navy. Our big trouble is kit. There is not really sufficient to run even the Soccer, let alone Rugger. I can't understand Welfare – they do not produce a quarter of the Sports kit they should.
Tom Coffin is back in London for ten days, so I am staying on until his return. As I thought, it has now been decided that when I go, an SO II and an SO III is required!
The weather has cleared this week, after three weeks of rain, and we have had some glorious days. It is quite fresh in the morning now, but I have not been a bit cold in K.D. Last Saturday I went for a good walk in the afternoon – climbing the local 'mountain'. It took 2½ hours hard walking there and back. There is another – a bit further away, and a bit higher, which I want to climb, but it will be a 4 or 5 hours show.
Monday 6th November, 1944 – Caserta
I am in the middle of handing over to Bob Harcourt, and should be off to a new job before long. At the moment it is on the cards that I get B.M. of an A.G.R.E., but 8th Army have not yet agreed.
The highlights of this week, otherwise dull, have been a first-class game of Rugger last Saturday, against a South African team; a pleasant day in Naples with Jock and Bill Rowlands, when we saw Aida; and yesterday out with Gen. McNarney on a trip to see Cassino. McNarney is Deputy Supreme Commander. I went along just in case a mine showed itself, but I was not needed, and had a very pleasant day. We went to the top of Monastery Hill to look at the sights, a thing I have been wanting to do for a long time. A picknick lunch (peanut butter and tomato juice to the fore) completed the setting. McNarney appeared to be just the man for the job. He was at school with Eisenhower and Bradley, all regular soldiers. Very pleasant and tactful and lots of common sense. Like Eisenhower, I should imagine he has a way of making people get on together. The Rugger on Saturday was one of the best games I have played in. We won 11-8 after a very fast and clean game. Then followed a very merry if drunken party which left us a bit fragile for Sunday.
Last updated on 12th March 2017