7. AFHQ at Algiers
1st April, 1944 – R.E. Training Depot, Nola
Three days ago I was ordered to report forthwith to A.F.H.Q. for duty as S.O.R.E. (Staff Officer, Royal Engineers). At the moment I am awaiting an Air Passage. I should get away tomorrow on the 12.45 'plane. It is a great disappointment, as I was very happy with the Company, and everything was going very well. However, this job may be very interesting, and may help me to get to the Staff College in the end.
The Cassino battle failed. As far as I can understand it was due to bad planning and control on the part of N.Z. Corps. They refused to commit more than the one Brigade in Cassino, with the result that Heydrich's Parachutists holding out in the town were never properly mopped up. The forward infantry were occupied looking after their tails, and completely lost the initiative. No break-through occurred, and so the follow-up was of course cancelled. Now we hold most of the town, but not the Monastery, which dominates the whole area. The Div have been put in to hold the front north of the town and Monastery, 1st Guards Brigade in the town, and the N.Z. Div in the station and south. Everyone is now awaiting the next step – a do or die show, I fancy. The front has been sorted out a bit recently, with all the Yanks in the Anzio bridgehead, and all British troops in the main front. We have 4th, 6th Armoured and 5 Divs, as well as the Canadian, French and Polish Corps. Still quite an international party!
David Aitchison had an exciting time in Cassino Station, when 36 Bde wanted some shrapnel mines laid in front of their positions. He spent two days up there being shot at all the time, and was very tired when he came in with his platoon. The 5 Buffs were due to be relieved, and would not cooperate, so the party was called off. The Hun had listening posts on the river, only 150 yards from the proposed minefields, and let fly at anything they heard. The Infantry would not clear them up. It was a bit disappointing, but understandable. Buffs forward Company had 1900 shells in their area that night.
For the last week we have been digging dugouts for Div. H.Q. They insisted (that is, General Keightley) on being right forward, so had to be put underground. A fantastic work of labour (One Field Company, one Pioneer Company for ten days), and not a bit comfortable for them. They can watch the Monastery from 'A' Mess – perhaps they get a kick out of it.
2nd April, 1944 – R.E. Training Depot
No luck today, but have a ticket for the 1245 hrs plane tomorrow. So, all being well, I should be in Algiers tomorrow evening. I went in to Naples this afternoon, had a puncture in the Jeep on the way, and saw a film – Rosalind Russell in
Her Man Friday
. Quite good. Lunch and tea at the Officers Club. Part of the Symphony Orchestra (San Carlo) played during Tea, which was very pleasant. They played extracts from the more popular operas, with two very good sopranos, but ended up on
Roll out the Barrel
! Heaseman and Driver Baker enjoyed themselves. I am unfortunately not allowed to take Heaseman with me.
It is good to see a few English women for a change. Naples is full of A.T.S. and W.A.A.Fs but no WRENs.
5th April, 1944 – Algiers
Back to the beginning! I got a seat on the 1245 'plane on the 3rd, and had a delightful trip. We took off just after 1300 hrs, flew straight out over Ischia, until we met the North African coast west of Phillippeville. We then flew along the coast, landing at Algiers at 1930 hrs, nearly one hour late. It was a perfect day. We passed over several islands, and, I think, Cap San Vito on the western tip of Sicily. Bougie looked just the same as ever. I remember seeing the air-photos of Bougie in London in August '42! The whole trip was perfectly smooth, and quite uneventful. By luck, Col. Graham, DDWS, was on the 'plane, so he brought me in his car, which met him at Maison Carrée.
I am S.O.R.E. III (Ops & Trg), Engineer Section (British) A.F.H.Q. The job is not very big, is interesting, but I'm afraid may get very dull at times. We have very little executive control, except in shipping and stores, and are really an intermediary between A.A.I. and W.O., and as such, are of considerable value. We get a very good general view of things, without any question of getting blinded by the necessities and emergencies of a battle. (We are, perhaps, neutral arbitrators!).
Good billet, American food, good office, bad mess. The Yanks seem to eat jam with everything, including fried eggs, bacon, or beef-steak. For breakfast today, we had a sweet scone and fried egg. The Yanks sandwich jam between the scone and the egg! They also have no messes in the sense of a club. Their mess (in which I am) is merely a restaurant.
The British Mess has a long waiting list. I am no. 84 on it! Tom Coffin is G.2 here, and Buchanan D.C.E. The C.E. (Chief Engineer) is one General Elliot, US Army. My predecessor – John Laing. At the moment I am fighting against an inclination to say to myself that the job is no good, uninteresting, and the sooner out the better. I hope things liven up a bit.
Tom Coffin is off to Italy for 10 days tomorrow.
8th April 1944 – Algiers
Four days here now, and things are beginning to sort out. Tonight I met Moss Eker, who was 1st rft for the Company in North Africa, was injured by an A.A. splinter, spent two months at G.R.T.D., until he found himself a job at A.F.H.Q. as I.O. He seems to be quite happy here. Also here is Alan Stewart, who was I.O. at 5 Corps.
9th April, 1944 – Algiers
Easter Sunday – a beautiful day. Hot sun with a cool breeze, and crystal clear air. I went to the early service at the very attractive English church. This church was built in 1909, and has always had a resident CoE padre since. It was packed full, with members of every Service of both British and American forces, The Navy, Air Force, US Air Corps, Wrens, WACs and so on. The singing at the evening service was delightful.
This evening, I went for a walk over the ridge behind the town. The view from the top was remarkable. The whole town and port was visible below, the sea a deep blue, and I could see the coast running away for miles to the east; and the mountains and some heavy cumulus inland. Surely there is no town in the world that can look so fine, and contain such a cross-section of the world. The setting is definitely finer than Naples, the town far cleaner and more modern. Naples is ringed by slums, while there are none here, except in the Kasbah of course, but that is a world on its own.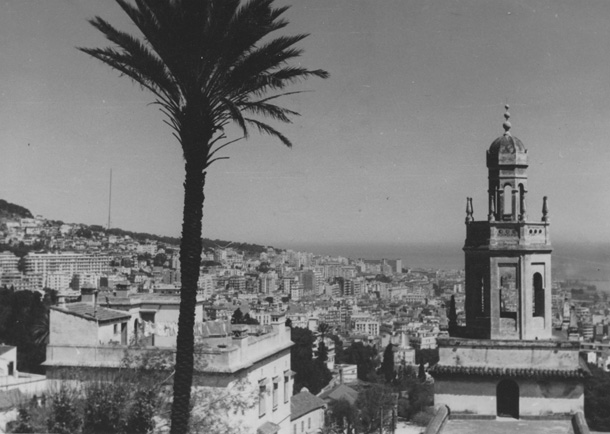 Sent off the bracelet, which I bought in Campobasso, to Pat tonight.
16th April, 1944 – Algiers
The job is now quite O.K. in that I know my way around. Life is rather dull, with only just sufficient work to keep me occupied, and nothing very interesting or exciting. We are very much a fading shadow of our former self, especially since they have made Brig. Cowell-Rogers, C.E. A.A.I. a Major General. The C.E. here is still a brigadier. Tom Coffin is expected back from Italy, and I am a bit anxious of his return. He likes to do everything himself, and is not an easy person to work with.
Went to the D.W. Dance last night. Quite good fun, though there were, of course, far too few women, and rather too much drink. However, I enjoyed myself more than I have done for a long time.
The news is all of Air-bombardment of Europe, the Italian front quite static. It's getting hot, and people are beginning to blossom out into Khaki Drill.
17th April, 1944
My birthday. Nothing in particular to celebrate the day, but nothing to grumble over – just the idea makes the day go well! Went out to Bonfarik this afternoon and saw 1st Armd. Div.'s sweep detector. A very pleasant run out, but the fan belt broke on the way back – we got a tow!
22nd April, 1944
The last three days have been very merry! Last night we got a bit pickled in the St Genevieve Mess – Tom had invited me in to dinner. We ended up by singing all the usual songs very rowdily. The night before that, we went and saw
Here Comes Mr. Jordan
, at the Empire. A first-class film, with Robert Montgomery. The night before that, I saw
Rosie O'Grady
, a very clever, if slightly over-coloured, picture of the 'Naughty Nineties' in America. Betty Grable at her best. I am reading rather an unusual, and attractive, book at the moment,
Fanny by Gaslight
. It is the story from childhood of a girl who was brought up, and lived, amongst the lower London life, but weathered the storms in spite of all. It is most attractively written.
Rained hard yesterday and today. I am not getting sufficient exercise!
Sunday 23rd April, 1944
A pleasant day, with only a little work on in the office. I went to Church this evening. A pleasant Service, with excellent singing, but rather too long. The English church here, just next door to the office, is very attractive, and delightfully cool always. The lilac is in flower now, lots of it all over the place. There are lots of other flowers out now, but I know the names of very few. They all die very quickly in the hot sun.
I walked down to the Tea Shop next to the Aletti this afternoon with Tom. It is a very nice spot, clean and modern, run by the NAAFI. A good tea, too! There is a small orchestra, and the place is seldom overcrowded. The number of troops here is decreasing all the time, and the town is comparatively quiet now, although it is getting back some of its peace-time gaiety. A great many civilians about, and more civilian cars than at home two years ago! The town is far cleaner than anywhere in Italy.
The air war over France seems to be reaching a climax. 18,000 tons of bombs in the past 7 days, on France and Germany, with another 5,000 in the Balkans from Italy. Pat and Mick have both had their leave cancelled. We have got out a map of France and the Low Countries for the office – when?
Monday 1st May, 1944
Another week flown by, without any great excitement. The high-spot was last Wednesday when I saw
Pagliacci
at the Opera House, with Tom Coffin and John Laing. Although some of the singing was a little 'rough', it was done with great spirit. The scenery and costumes were good; as was the orchestra, though lacking a bit in the bass. The opera was followed by 20 minutes of ballet, which I enjoyed even more. This was perfectly done. It was called
Burlesque of a Circus
, and was delightful.
Yesterday, I went out to dinner with Charles Martin of 1st Armoured Div., and John Adderley of Survey. We had a drink at the Cercle Interallie, and then dinner at rather an attractive, but undoubtedly black-market, little restaurant. On the second floor of a block of flats, with no name or indication on the door. An excellent dinner, excellent wine (and an excellent price)! I had the impression that it was also something more than a restaurant...
The weather is perfect now. We sun-bathe on the roof after lunch.
Tuesday 9th May, 1944a
Today, I joined the 'Cercle', or Allied Officers Club, here, having successfully obtained the signatures of two senior officers on my application form. It should be a good show, and provides a place where one can go and get a meal, or take an afternoon off, now and then. I saw the
Madame Curie
film last week – very fine. Greer Garson played Marie beautifully. The film is most accurately taken from the book.
All else going well with little excitement, but much anticipation of coming events. Attacks are expected before long from the UK, in Italy, by the Russians, and their start will mark a new phase in this war. The air war has been terrific recently. I keep a map in the office showing the targets bombed during the week, but keep running out of pins!
Thursday 11th May, 1944
Duty Officer tonight – nothing happening, of course! Had a card from John Townsend-Rose today from Oflag VIII F. Absolutely no news, except that he is there; also with him is Wallace Heath, captured from 237 at Djedeida in November '42. He hints that Tinto, captured with him, had a shot at escaping, failed, and is back in Germany. Half the card was cut out by the censor.
Tuesday 16th May, 1944 – Algiers
This last week has been a bit dull. I find it hard to fill in the evenings, as there is insufficient work to really occupy me, and little real interest in what there is. I have been to three or four films; all quite good, but none outstanding.
Desert Song
was best. A setting of the operetta to a modern story of North Africa involved with a big Nazi plot to open up a railway across the Sahara. Good fun if nothing else!
I had a very pleasant lunch at the Cercle with Tom on Sunday, and lazed all afternoon in the sun. We then went into Algiers for tea at the Tea Shop. They have an excellent String Quartet at the Tea Shop. They are always cheerful, and make the place. It is one of the few real E.F.I. successes, clean and modern, and an excellent tea!
News from Italy is good so far. 5th and 8th Armies have attacked together between Cassino and the sea. It seems to be a very big show indeed, and has gone satisfactorily up to date. The Div. are under 13 Corps over the Rapido south of Cassino. I hope all goes well. They are having some very heavy fighting, and 1st Para. Div. are still in Cassino. Tom is now Lt. Col. D.C.I.E. and has gone to Italy for 10 days.
Friday 19th May, 1944
Yesterday Cassino and the Monastery fell, the town to British, and the Monastery to Polish Corps. The battle has gone well so far. We have taken some 6,000 prisoners in the first week, and have now come up against the Hitler line. The Hun has already committed all his reserves south of Rome. The next few days may be critical. I feel we can destroy the better part of the 10th German Army, and get Rome, if all goes well. If not, and the situation becomes static, it will mean another costly assault on a prepared position.
The Div. are in the centre of the Liri Valley (13 Corps) with 4 Div. on their right, and 1 Canadian Div. on their left.
I have been feeling fitter recently – I think because I have been taking a bit more exercise (though still not really sufficient). It is a pity the country around here is not better for walking. It takes too long to get out of the town (though I have not yet finished exploring). Heard from Pat this week that she has got the bracelet. I am glad. She seems to really like it. She has a new job at Worthy Down and sounds much fitter recently. At last she is clear of the trouble with her broken ankle.
Thursday 25th May, 1944 – Algiers
Tonight we have the news that the 5th Army and the Anzio bridgehead have met! The battle has been going well; Pontecorvo has fallen, and the 8th Army, after breaking through the 'Hitler' line in the Liri Valley, are moving rapidly westward towards Rome. We have taken over 10,000 prisoners, and advanced a maximum of 60 miles in just two weeks. The Hun has committed all his reserves south of Rome, and must be facing the possibility of a complete breakthrough.
This week, on Tuesday, I heard Celia Gousseau and the Radio France Symphony Orchestra at the Salle Pierre Bordes. She played the Emperor, and the Schumann Concerto, and César Franck's Symphonic variations – beautifully. The hall was, of course, packed and she played two encores. The French insist on clapping between movements, which is a pity. The Salles Pierre Bordes is a remarkable hall. Circular, it is attractively decorated, but has bad acoustics. Luckily we were near the front. The dome has a remarkable lighting effect, which makes it appear to have no roof in the centre.
Last night I saw
Cavaleria Rusticana
at the opera. Quite delightful. 'Santuzza' was played beautifully by a girl who is new to the opera here, and has one of the best soprano voices I have heard. More than that, she can act, which cannot be said for all!
Sunday 28th May, 1944 – Algiers
A quiet day today after a fairly hectic yesterday. Early Service this morning.
Last night there was a dance at the St Genevieve Mess. Tom laid on partners, for four of us, from the Fanny unit at Gioville, and a great success it was. We had dinner at the Cercle, (rather spoilt by too much drink) and then went up to the Genevieve about 10 o'clock. We danced in the open on the badminton court. It was lit by many coloured fairy lights and Chinese lanterns, and was quite like peacetime! The girls were a very nice party indeed. For a 'blind' date it could not have been better. I danced the greater part of the time with one Doreen Marshall – very attractive and from Englefield Green. I find my dancing is very rusty indeed.
The Battle in Italy is going very well. It is touch and go now whether the Hun can stabilise the line south of Rome through Velletri. The bridgehead forces (5th Army) are trying very hard to break it now. They have almost reached Route 6 already. The Hun is in danger of having a large force trapped in the Frosinone area. M.A.A.F. are doing all they can to help, flying some 3,000 sorties daily!
I played tennis the other day. Excellent fun, but the balls in the last state of disintegration.
Wednesday 31st May, 1944
The last few days have been very ordinary – rather hotter, plenty of work, dull.
Last night we saw
Pirates of Penzance
done by an all-amateur Services party, which included US and British equally. It was quite first-class, though rather spoilt for us by poor seats. We started off in the 4th and top balcony, where we could not hear; so after the first act, we moved down, but then found ourselves at the side, able to hear, but only able to see a corner of the stage. In spite of that, however, it was most enjoyable. 'Mabel' in particular was well cast and had a delightful voice. The 'Major General' was one Sapper Newall, R.E., also excellent; 'Mabel' was a W.A.A.C.
Have been reading the book Mum sent me
There's Rosemary, there's Rue
– the autobiography of Lady Fortescue, the wife of John Fortescue, the historian. It is a fascinating book, which gets better all the time. Very simple and quiet, and rings very true and real. I still sunbathe after lunch on the roof of my billet. The sun is so hot now that I must have a bath afterwards but I am more sunburnt than ever before. I hope to take tomorrow afternoon off and go out to bathe at Gioville.
Learnt today that we must move to Italy early August! We work on a long-term policy here! News from Italy continues to be good. We failed to cut Route 6 at Valmontane, but look like breaking through the German line south of Lake Albano, which will jeopardize all the southern approaches to Rome. It seems to me that, by forcing a disorderly retreat, we may force the enemy to use the Tiber as a stop line, with the consequent damage to Rome. We do not now look like trapping much of the 10th Army south of Rome, but I fancy the best he can do is to withdraw as rapidly as he can north of Rome. He is by no means disorganised, but fighting hard and moving back slowly in good order all along the front. How I wish I was still with 256! They are somewhere in the Arce – Ceprano area, SE of Frosinone.
Saturday 3rd June, 1944 – Algiers
Sent Mum £300 cheque this evening for Savings Bonds, very late though for her 'Salute the Soldier' Week. Tomorrow I have to go and talk to the I.T.C. on mines, so I have spent the evening writing up a lecture. It is difficult to cover in one hour a subject which takes months to learn!
Wednesday 7th June, 1944 – Algiers
This is the biggest week yet! First, Rome fell on the 4th, to the 5th Army. Our SS Bde were with the first troops in. There was practically no fighting in the city and, unbelievably, the Hun did not blow the bridges. It is extraordinary that he allowed opinion to rob him of a major obstacle at a time when his withdrawal was becoming disorganised. Anyhow, the big question of the 'Eternal City', over which the world has been arguing for many months, is at last settled!
We are driving north very fast, taking Civitavecchia, 30 miles from Rome, today. The S.A. Armoured Div. is pushing north for Terni, with 6 Armd. Div. behind them. I fancy the 8th Army will now take the lead. The opinion is that the line will not stabilise south of Florence, if then.
Second, is the invasion of France yesterday – 6th June. The Second Front at last! It is too early yet to know just how things are going, but 21 Army Group have 3rd, 50th, 3rd Canadian, and 6th Airborne Divs, and 5 U.S. Divs, ashore. It must be a great day for 3 Div., who have waited over four years for this! The Air Forces flew 14,000 sorties yesterday – stupendous!
Heard today that George Tuck has been wounded in Italy.
I saw the film
Cross of Lorraine
at the Colisée last evening. It is a fine film, well cast and well produced, though very bitter in its story. It is a tale of the Resistance movement in France, and it went down well last night – invasion night! There were some brutal prison camp scenes but, on the whole, no exaggeration, which made the film ring true.
Work here gets less and less. I long for a more active job. I shall start shouting when I have done my first four months. Then I may get away in six!
Heard today that my second film is on the way from Cairo – and 25 negs printed, which is 100%.
Saturday 17th June, 1944 - Algiers
Photos arrived. Quite good, but grain and tone below standard of first lot. They were Panatonic, these Isochrom. Am off to Salerno by air tomorrow to see a demonstration of U.S. Assault methods – should be fun. Will probably be away four or five days, and hope to go up to A.A.I.
Nothing happening here, but in Italy and France, things have been going well. In France we have a bridgehead of nearly 80 miles perimeter and 10 miles or more deep, 20 Divs ashore, and no serious setbacks, although the Hun has committed 14-15 Divs including 5 Panzer Divs. In Italy, Alexander thinks he will reach Florence by 1st July – that is 6 miles a day – maybe!
Saw the film
Jane Eyre
on Wednesday. Good and follows the book accurately. I gave a lecture today to 569 Army Troops Company on operations in Italy up to Ortona.
On Tuesday, I had a very pleasant dinner with none other than Joss Adams. He is on his way home an an O.C.T.U. instructor. After dinner, we drank Curacao and talked shop hard, and finally retired to my billet and consumed a bottle of Scotch! We felt bad next morning. Joss had no transport, so he and Ronnie Whittock stayed the night. Ronnie was adjutant 13 Corps Tps R.E., and knew Dick Flatt, about whom he had some tales to tell. George Barker (214 in '41) and Tom were also in on the party.
Tuesday 27th June, 1944 – Algiers
A lot has happened in the last 10 days! I was to have got away to Italy on the 18th, but the plane had some trouble, and we had to wait the night at Maison Blanche. We caught the early 'plane – 0730 hrs, and had lunch at Capodochino (Naples) airport – incidentally in pouring rain, which worried us a bit, as we had bought K.D. only. Hackett and Ballard (U.S.) were with the party, of which I was the only British member. The flight over was quite uneventful. I booked a room for 3 nights at the British Transit Hotel (La Patria) in Naples, after an unsuccessful attempt to get into the American hotel with Hack. We drove down to the I.T.C. Salerno, after dinner.
At Salerno we were put up on board an L.C.I. which was comfortable, and I found myself with, of all people, Alan Harris, from 5 Corps (Sherborne and 78 Div.). He was the only other Sapper at the demonstration, from all Italy! Next day, the demonstration went on, quite out of accord with the schedule, and we came back from the beach at ten-thirty, in the dark. They blew such an almighty crater in the underwater obstacles that a minor atoll was formed and they could not beach the LCT – so half the show did not happen. We spent the day watching from our LCI, going ashore on LCUPs to see results. It was all good fun, and I got very sunburnt.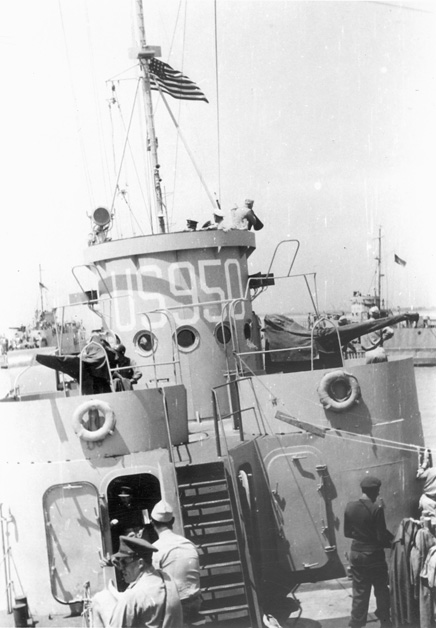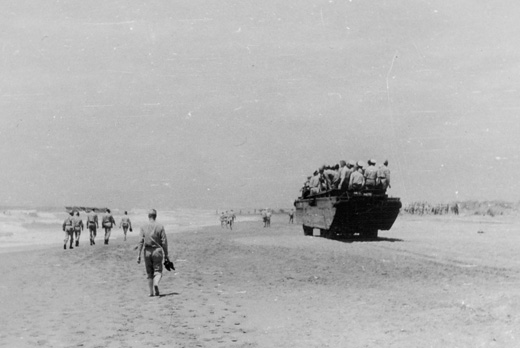 On the 21st, we did nothing all the morning. I had lunch at the excellent Officers Club, and we drove out to the beach (only six of us remained from the initial 200 spectators; the rest had given up). That afternoon we saw the most interesting part of the show – while I bathed amongst a forest of steel rails waiting for the tanks to get ashore! Back to Naples by ten, and I thanked the Lord I had booked a room two days before! Otherwise it would have been a night out.
The next day I booked a seat on the 'plane for the 23rd, saw a film, had lunch at the Club, and saw
Rigoletto
at the Opera (San Carlo). The latter was excellent. I am very pleased to have seen it.
Back to Algiers without incident. No great change. A great party on Saturday given by Jerry Chambers, who is off to the Staff College, and Tony Colclough, who is hoping to go and be a soldier in Italy. Tom, Le Tocq, and myself invited the Fannies – Doreen (in excelsis!), Ray and Stella. We had an excellent evening in our billet. 569 A. Tps Coy put up some lights, and we danced in the forecourt, and had drinks indoors, talked on the roof. A remarkably good band turned up. It was No. 14 on our list, and the last to be tried – and was laid on that morning! All Italian P.W.s, and mainly strings, which suited the setting well.
We move to Italy in a month's time – to the Palace at Caserta. The news is good. We captured Cherbourg yesterday, after 3 days' bitter fighting. In Italy the advance goes on, although the Hun has been able to form a fairly straight line. He has committed 27 Divs since 11th May; and has perhaps 14 left, or their equivalent, all disorganised and tired. My kit arrived through M.F.O. today! Three months from Italy, but undamaged.
29th June, 1944 – Algiers
I saw
Desert Song
at the Opera last night. It was excellent, and I think the singing there is as good as one could get anywhere. It was decidedly better than Naples – especially in the smaller parts and the Chorus.
5th July, 1944 – Algiers
In one week we are off to Caserta. Although things will be far more primitive there at first, I am extremely glad we really are moving at last. At Caserta, we should be far more 'in touch' with things, and will be in the country. I leave with Tom and Bill Shirreffs on the 12th or 14th. The advance baggage goes tomorrow. Work has brisked up the last two days, and we are busier than at any time since I came here. I have had (?) to work after dinner the last three nights! I still cannot get used to the life here. Parties almost take precedence over work, (and in many cases actually do). So many people here do not appreciate the urgency of the War – maybe I am too serious-minded, but it is such a contrast after being in a Field unit.
We had a most enjoyable Tennis tournament last Sunday. Very hot, but no very strenuous tennis. We drew for partners, and I played, very badly, with Kate Cooper, one of the two D.W. ATS. The two girls, Kate and Tina, are a very nice pair, but quite irrepressible.
Sunday 9th July, 1944 – Algiers
The routine here is slowly breaking up, in view of our move, and we are the better for it.
I have been out swimming twice in the last week. On Friday I went over to Tipaza (Shenoa) with Bill R[owlands] and Tocq. We had a perfect bathe and tea (?) at the French hotel there. Tipaza is the site of a big Roman town, and is full of ruins, not all dug up yet. Very fine Roman baths and some magnificent mosaics. I wish I had been able to explore! The beach is clean reddish-yellow sand, which reminded me rather of Sicily. It was a delightful spot. The hotel is used as an officers' rest camp, for six or eight at a time.
Today we went out to Sidi Farrouch, where the beach is nearly as good, but more crowded. I am very sunburnt tonight! We met John Lavell, O.C. 569 Army Troops Company, there. He wanted me to give his blokes another 3 hour lecture on the Italian Campaign next week. Luckily I will have gone by then! I am off Wednesday.
Tonight we hear we have taken Caen in Normandy after bitter fighting. The Hun has twelve Divs in that sector, including seven armoured Divs! In Italy, the enemy is fighting hard to stabilise the line south of Leghorn and Ancona. We are pushing him back slowly. Fighting is very heavy and casualties numerous on both sides.
Mick left home about 3 weeks ago. I fancy he is bound for India; I cannot find his draft in the Italy lists! Mum and Dad have finally decided to sell 'Tanglewood'. A good thing, but sad! She fancies Cambridge.
Last updated on 26th November 2019