9. Onto the Po with 255 Fd. Coy.
Wednesday 29th November, 1944 – Forli
I was posted from A.F.H.Q. as Brigade Major 8th Army Group R.E. (B.M. 8 A.G.R.E.) w.e.f. 14th November, but Mac Young, late Adjutant 5 Corps Troops, was also posted by A.A.I. – so I came here to 255 Field Company, much to my delight!
I came up from Caserta with George Bartley (D.A.A.G. R.E.), and we had a very pleasant trip stopping one night with Andy Gilmour in Rome, and one night in Ancona. In Rome we had an expensive evening, starting out at the Grand with a dinner that cost us £2-10/- each, then the Apollo, a rather low dance hall which closed however at 10 o'clock, and finally the Canadian Officers (Maple Leaf) Club, where we watched the dancing and drank Rye Whisky and Vermouth) a surprisingly smooth mixture!).
This Company is good, and things are now settling down well. The subalterns are all rather inexperienced, but the right type – except one. Derek Tamblyn, 2 i/c, is first class. Derek was a subaltern in 558 with Paddy Geary.
At the moment we are fairly busy, with no very interesting jobs – mainly road and bridge maintenance, and a few bridge reconstruction jobs. We will move forward before long to reopen the main axis (Route 9) beyond Faenza, which should fall before very long.
4th February, 1945 – Chattenden House, Florence
Things have gone well during the past two months, although we have not had any very special jobs to do. We have had a month with the Poles up at Brisighella, building their Div. axis for them.
The Poles are curious people to work for – they are first-rate at fighting the Hun, and individually quite pleasant. But on the average, they are rather suspicious of us, and not very cooperative. They keep asking whether we will help them against Russia after Germany has been beaten! They hate the Russians as an inheritance – with a deep-seated distrust. They hate the Germans purely on account of the present War. The fall of Warsaw was a blow to them – bad enough the Germans there; worse the Russians. They must change that idea, or they will suffer for it.
Our H.Q. is back in Forli now, at the Becchi's house, which we occupied in November, three days after the Germans moved out. It is a good billet. We have one Platoon at Brisighella still, the other two at Forli, training. I came here on leave yesterday, driving over the mountains by Route 67, in my Jeep, with Lewis, my driver.
Chattenden House is a lovely place. A big country house three miles north of Florence, it was owned in peacetime by an Englishman. I am sharing a room with Nixon, O.C. 501 Fd. Coy, of 56 Div. It is delightful to have hot water, electric light, and carpets on the floor again!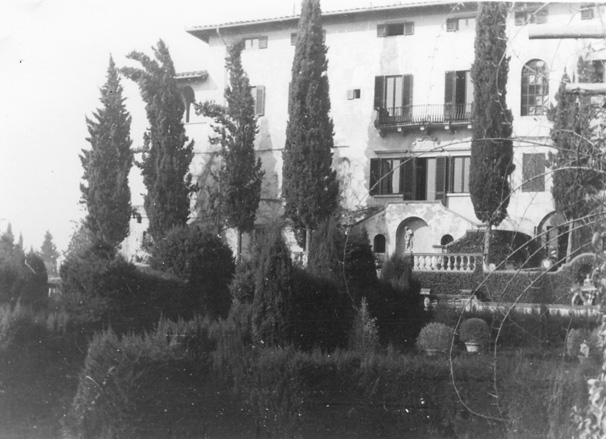 Today we have explored Florence, but have not seen a great deal yet. We looked at the Cathedral, but I thought it clever but ugly outside, and very plain and ordinary inside. Nixon goes on Monday, which is a pity.
9th February, 1945 – Florence
I am due to return to the Unit tomorrow. It is the end of a really enjoyable week, and although I will not be sorry to be back – a week away is long enough – it could scarcely have been better. The thing I enjoyed most was a walk I did yesterday morning up to the top of the hill behind Fiesole. It was a lovely day, and I kept almost entirely to lanes and paths. At the top the view was quite lovely. There was the Arno Valley spread out below, with a layer of mist over the river, through which the taller buildings in Florence pushed up. In the other direction the hills rolled away into the Apennines – snow covered – which stretched right across the horizon. It was as fine a view as I have seen. Deep blue sky with a few flecks of cloud; snow covered mountains, and the green wooded hills in the foreground.
The next best thing this week was the 78 Div. pantomime
Cinderella
, which I saw two nights ago. Put on by the Div. with an all-male cast, including 3 Sappers, it was quite the best show on, and kept the house rocking with laughter for three hours!
It was good to see the Div. again - I met Harry and Robin Dunn, and then Tom Price. They are very fit, but a little tired, I think. They have been up in the mountains in pretty beastly conditions for over four months. Rumour has it that they are changing places with 10 Indian Div., so we shall see more of them soon.
Tom Price got a second MC recently for beating up a Jerry patrol. So also have Ronnie Denton and Pooh Mellor.
The rest of the week I have seen many films, a lot of Florence, and had many good dinners! Sightseeing is not my strong point, so I have not really seen all the places I should, but I do not regret it. One of the more memorable events has been the Beating Retreat by the bands of the Coldstream Guards on Tuesday, and the London Scottish today. The weather has been excellent, today being the only wet day. I hope it will be fine tomorrow, for the journey back to Forli.
Wednesday 28th February, 1945 – Capua
Got back from Florence without incident, and since then we have been at Forli with two platoons at Brisighella and one training on the Ronco. Now we have arrived here, at the Div. Bridging Camp for 10 days' Bailey Pontoon training. We had an excellent trip down, staging at Foligno and Anagni. At Foligno we had excellent accommodation, at Anagni an open field, but it made no odds for the weather was perfect. Today it was really hot – as June at home.
We were glad to get rid of the Brisighella job. The fine weather made it decidedly unpleasant, and our luck could not hold out indefinitely.
78 Div. turned up at Forlimpopoli soon after I got back from leave, and I saw 256 several times. Last week we played them football, but got beaten 7-1; even so, it was a good game, and 1-0 at half-time. We hope to beat them next time – when we get back. I was overjoyed to hear from Mum that Pat had managed to call in at Fylde Court last week.
Thursday 22nd March, 1945 - Brisighella
Our 10 days at Capua were a great success. We got back on the 12th without incident – except for a very pleasant evening in Rome on the way up. I went in and visited Marchesa Cavalletti, which was a most interesting if disturbing call. The Italians seem to be quite incapable of organising themselves. In Rome food is plentiful, but entirely controlled by the Black Market at prices about 100 times peacetime level.
We are now up here on road maintenance, and have become 10 Corps Troops which is a very welcome change. We are off for a party with the Gurkha Brigade, which looks promising! We are moving to Cesena in a few days time to train with the Brigade.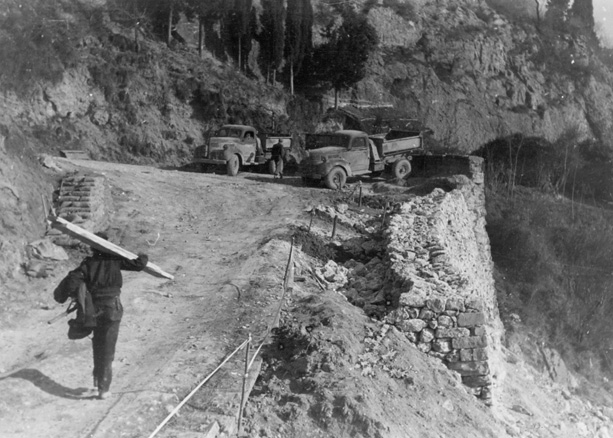 20th May 1945 – Ferrara
The worst lapse yet! Just two months to write up! Since March we have done a lot, and changed a lot. After a week or so with the Gurkhas south of Faenza, during which we had one operational job – John Walker took a party out at night and destroyed a very big farmhouse which the Hun was using as a strongpoint. He put in 700 lbs of Aminol, but it did the job beautifully. He also put down two Shrap. mines, on which we later found a dead German.
We then moved to Bellaria, and spent a delightful two weeks in the house of one Valduci ('Guy' to us), brother in law of Lupe Velez. We met a lot of better class civilians, ran a dance and a first class dinner party. We also bathed, did a lot of valuable training, and held two Company cross-country runs. The Company learnt a lot, and got fit, and by the end of it I had no doubts as to the future.
The Battle came on the 9th, when 1,000 Flying Fortresses bombed the Hun between the Senio and the Santerno, dropping only about 50 tons on our own troops, which was a good figure for the Yanks. (At Cassino they dropped some 200 tons our side of the line!).

We followed the battle until the Poles were over the Santerno, then we passed through them. From then on we were in an Armoured Div. role – over the SiIllaro, Idice, Reno, Po, and Adige. Not to leave out the Gaiana which was our biggest show. On that night, 18/19th Joe Beasley was wounded and we lost four of the lads.
After that, we came under the command of N.Z. Div, a first class crowd with a fine C.R.E. – Col. Hanson. We did a lot of work all the way, especially on the Po and Adige, where we did a great deal of heavy rafting.
We stopped behind on the Adige to look after the crossings, Corps Troops still being busy on the Po. 13 Corps (N.Z. Div. and 6 Armoured Div.) never stopped until they got to Trieste. They did wonderfully well, whereas 5 Corps, who should have gone ahead on our right, got stuck south of the Po and were very slow.
Then we started getting messed around, after rejoining 10 Corps Troops. Ficarolo – Imola – Bellaria – Ferrara. We moved four times in a week without achieving anything.
Now we are maintaining the Po crossings here, and expecting to improve them. The jobs required are obvious, and I have put up projects for them, but the higher-ups seem incapable of making a decision. If they make one, it is wrong. So work has fallen into the background, and the troops' welfare is top priority. Trades union hours are the form. We have a cracking good canteen and club, run by Garry, a leave camp on Lake Garda, and parties off to Venice every now and then.
I hope I get to Staff College. If not I shall go to the Far East. I cannot bear the prospect of these peace conditions for long! Of course there is one major stumbling block – Pat! I must go home first, and then it will be hard to leave again.
The great thing is that we had a battle as a Divisional Unit, and did well. Brig. Barker was most complimentary. In part it was equally due to Pip Page and his Assault Squadron who were under command. Dukoff-Gordon was the second half-squadron commander in 'D' Sqn, commanded by Philip Bradfer-Laurence. It was an efficient and happy unit. Duke and Pip were at A.F.H.Q. with me, Philip in 5 Corps in North Africa.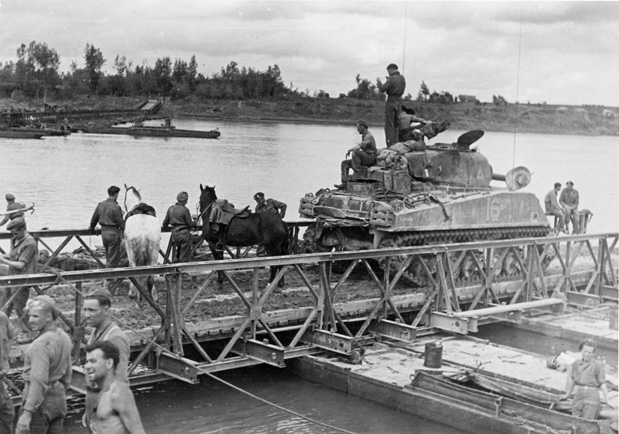 25th June 1945 – Ferrara
We are now very busy on the new Barge Bridge over the Po – all is going well and we should be more or less finished in three weeks. The canteen has proved a tremendous success. Our turnover in the first month was 1,500 pounds! We now have a big amplifier and loudspeaker system, with two microphones and three speakers; an indoor and outdoor dance floor, stage, bar, snack bar, and so on. I really feel it must be the best unit canteen in Italy!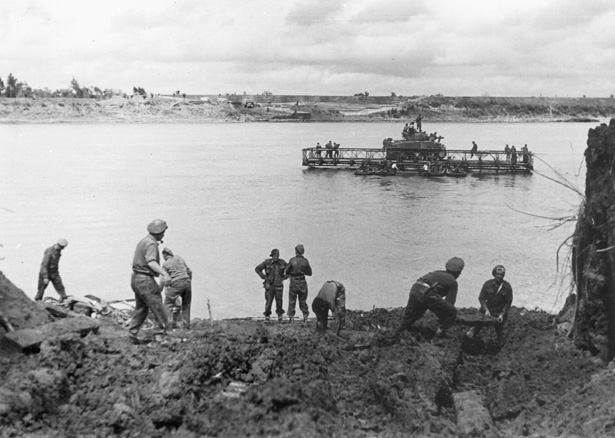 Awards for the last battle have gone through, and John Walker got the MC – very well deserved, and Sapper Clarke and CSM Oliver were each awarded the M.M.. I think from the unit's point of view, they were all well deserved, for we did well.
---
CITATIONS
There were four awards to members of 255 Fd. Coy. after the Gaiana crossing, and these are the citations.
Sapper Douglas Charles Clarke – Military Medal:
"On the night of the 18/19th April Sapper Clarke was one of a Section ordered to construct a crossing for armour over the Fiume Gaiana, by blowing gaps in the floodbanks with explosive, at M 089482.
Shortly after the work had started, the site came under and accurate enemy mortar fire. The Section took cover at the foot of the floodbank.
Sapper Clarke, seeing that the shelling was likely to continue and cause considerable delay, shouted 'Come on chaps, let's get the job done', and himself led the way up the floodbank and continued placing the charges.
The remainder of the Section followed him, and the work continued without pause until the job was completed, in spite of continued enemy fire.
This was the first occasion on which this Section had experienced accurate shellfire, and but for the splendid courage and example of Sapper Clarke, the completion of this vital crossing might have been much delayed."
CSM Stanley Oliver – Military Medal:
"On the night of 18/19th April Sergeant Oliver was Platoon Sergeant of a Platoon ordered to construct a Bailey Bridge over the Fiume Gaiana at M 086477.
By 2330 hrs, the Platoon Commander had completed his reconnaissance, and ordered his Platoon up to a RV near the site. On arrival, the area of the demolished bridge was under heavy and accurate mortar and shellfire.
Sgt. Oliver ordered the Platoon to take cover, and with his Platoon Commander and two or three other Sappers completed the setting out and placing of the rollers and base plates.
Construction started as soon as the equipment arrived, in spite of continued shelling and progressed rapidly with only one minor interruption necessitated by the attentions of a sniper. The bridge was completed and opened at 0615 hrs.
During construction Sgt. Oliver never left the site, and during this time his example was a great encouragement to his Platoon. The completion of this Bridge in time to allow our armour and supporting weapons forward at first light, was only made possible by the splendid example and leadership of this N.C.O. and of his platoon commander."
Lieut. John James Montague Walker – Military Cross:
"On the night 18/19 April, Lieut. Walker was ordered with his Platoon to construct a Bailey Bridge over the F Gaiana at M 086477.
As the site was in enemy hands prior to the attack at 2200 hrs, daylight reconnaissance was not possible.
Lieut. Walker followed the leading infantry and was thus able to carry out a detailed reconnaissance and order up the bridging equipment required by 2330 hrs.
Construction started as soon as the equipment arrived in spite of constant enemy mortar and shellfire on and near the site, although this enemy fire continued throughout the night, work progressed rapidly and the bridge, 60 ft long, was opened to our tanks at 0615 hrs.
The construction of this bridge, vital to the operation, in six hrs under such conditions was only made possible by the most careful organisation and by the splendid example, determination and leadership of this Officer and of his Platoon Sergeant."
Peter Kidner – Military Cross:
"Major PWE Kidner, OC 255 A. Fd. Coy RE was placed in command of all RE resources of the 43 Gurkha Lor Bde Gp. for the ops 9 Apr-2 May. The RE task included the bridging of three major water obstacles and the bridging and dozing of many smaller canals and obstacles. The speedy and efficient bridging of these obstacles was absolutely vital to the success of the pursuit. "On the 14 & 15 Apr the advance up to the River Sillaro was hotly contested by the enemy and was impeded by five large obstacles. Well ahead with the leading elements Major Kidner recc'ed forward with complete disregard of danger, selected his sites and got his men onto the job at the first possible moment. As a result the armour and support weapons of the Brigade Group were always hot on the heels of the Infantry. On 15/16 April after a bridgehead had been established across the River Sillaro, Major Kidner had the task of bridging the river and ensuring the passage of two armoured regiments and Brigade consolidation vehicles in the shortest time.
"The only practical crossing place was under heavy mortar and shell fire, but undeterred, Major Kidner quickly got the work started, crossing places were speedily made in spite of technical difficulties and casualties and the armour and infantry in Kangaroos were able to get across and capture Medicina by a surprise assault.
"At the crossing of the River Gaiana 0847 on the night 18/19 April two crossing places for armour had to be made. The battle was a fierce one, and all possible crossing places were kept under heavy enemy mortar and shell fire for most of the night. Recces were quickly done and work begun. But owing to the marshy nature of the ground and casualties from enemy fire, work was difficult and slow. Throughout the night Major Kidner moved from place to place directing, encouraging and inspiring his men. Before dawn the crossing places were made and the armour and consolidation vehicles moved forward to join the leading infantry. Throughout the recent operations Major Kidner by his skill, outstanding example and complete disregard of danger has played a vital part in ensuring the complete success of all our undertakings."
---
It looks as if I have come to the end of this diary - at a fitting time! I shall not go on with one until something new crops up. I hope I get home to the Staff College in a few weeks now – the nominations should be out soon.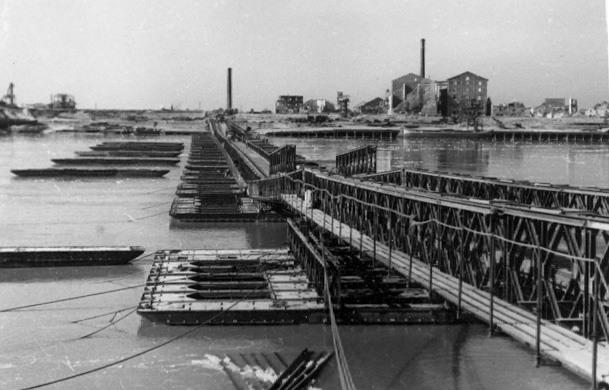 End of Diary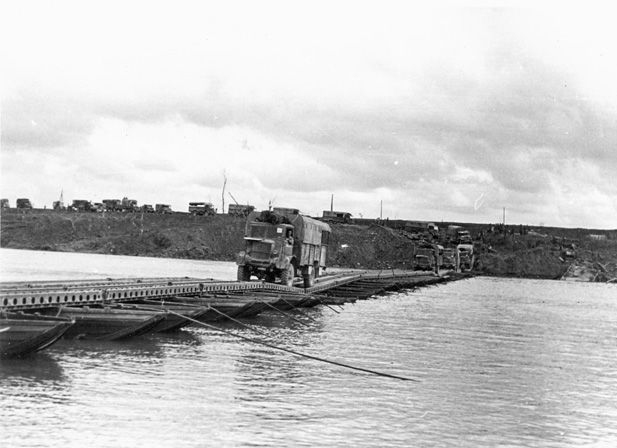 Last updated on 12th March 2017